Widener University is a private, metropolitan university with a Main Campus in Chester, PA, and law schools in Harrisburg, PA, and Wilmington DE.
Our Location
At the crossroads of innovation, preparation, and I-95, Widener University is situated just 20 minutes from downtown Philadelphia on a 110-acre campus that's brimming with character and beauty.
You'll learn in a vibrant community that feels like a second family in state-of-the-art facilities including our on-campus television production studio, nursing simulation labs, finance lab, and modern robotics engineering and computer science facilities. More than 85 percent of our undergraduates enjoy on-campus living, choosing between residence halls, fraternities, and sororities.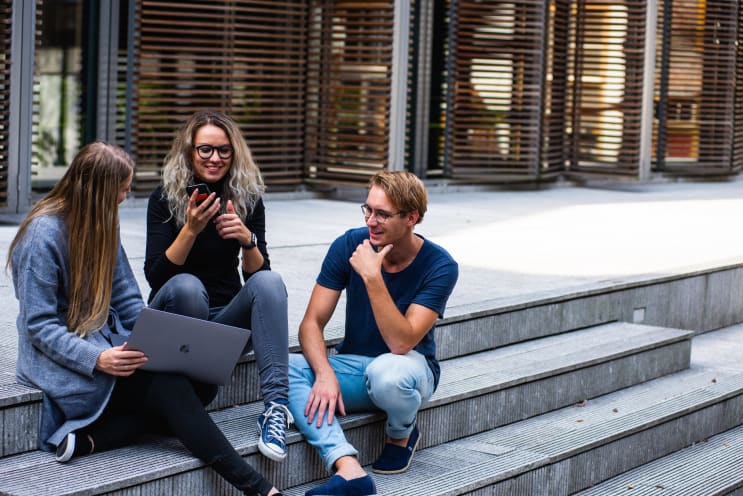 Academic Programs
More than 40 undergraduate majors and 50 minors.
Numerous dual degrees and joint majors, such as environmental science/biology and psychology/social science.
An exploratory studies program that helps you select a major that best suits your goals.
50+ graduate and professional programs, with several degree options available online.
Nationally recognized leadership, civic engagement, and paid co-op programs that prepare you for a successful life and career.
Students
2019 Enrollment: 6,496 (including 3,215 undergraduate, 2,248 graduate, and 1,033 law students)
2019 Average Freshmen SAT Score: 1124
Diversity: Students represent 49 states and 22 countries, with 30% of the student body consisting of U.S. students of color and international citizens.
Faculty
Our undergraduate student-to-faculty ratio is 13 to 1.
91% of our faculty hold a doctorate or the highest degree in their fields.
Our faculty have acquired more than $1M in grant funding for innovative research.
Financial Aid
Average merit scholarship for freshmen: $105,000 over four years
Average merit scholarship for transfers: $17,000 per year
Civic Engagement
79% of Widener undergraduate students engage in service or civic engagement. That's 27% higher than the national average.
In the 2018-2019 academic year, Widener offered 50 service-learning courses where 1,160 students participated in 11,600 hours of service.
Alumni
We have alumni in all 50 states and around the world.
Widener alums earned an average mid-career salary of $100,100, placing our graduates in the top 18 percent nationwide, according to PayScale's College Salary Report.
According to the National Association of Colleges and Employers, 94 percent of Widener's 2019 graduates achieved their intended career goals (employment, graduate education, or military/other service) within six months of graduating.

Points of Pride
Proven. Results.
Our points of pride not only designate us as a top-tier university, but they also demonstrate the resources and connections we offer that lead students to successful and rewarding careers.
At Widener, we are proud to be recognized as one of the Philadelphia-region's leading universities. We excel by providing an academic experience that is not only distinguished by excellence but also prepares students with the intangible leadership qualities employers are seeking.
A Widener degree will position you for success. When our students graduate, they don't just start careers—they continue the work that they have been doing all along.
Widener's inclusive academic community will offer you a variety of signature programs and experiences that will transform you into a scholar, a leader, and a globally engaged citizen.
University Honors
Top Tier University: Nationally ranked by U.S. News & World Report
Best in the Mid-Atlantic: Widener ranked among the 2020 Best Mid-Atlantic Colleges & Universities.
Best Value College: Named a best value college in Greater Philadelphia by Niche.com
2020 Great College to Work For: Widener was honored by The Chronicle of Higher Education in one of the largest, most-respected workplace recognition programs in the country.
Student Success
Top 18%: Payscale ranks Widener in the top 18% nationwide with an alumni mid-career salary of $101,100.
94% of Grads Achieve Career Goals: Within 6 months of graduation, 94% of the Class of 2019 was employed, in grad school, or in military/other services, according to survey data.
Top Programs
Region's 1st Undergraduate Robotics Engineering Major: Widener offers Pennsylvania's first undergraduate robotics major, and one of very few nationwide.
1 of 6: schools nationwide designated as a Center of Excellence for Advancing the Science of Nursing Education.
Top 10: We're ranked among the 10 best colleges in the country for engineering.
A Nationally Accredited Business School: Widener's School of Business Administration is one of only 5% worldwide accredited by the AACSB.
Top 10: Pennsylvania college for social work
Top 5: Ranked as a top school for health care management in Pennsylvania.
Best for Trauma Specialists: Our online MSW program was recognized for our emphasis on trauma-informed care.
Ranked 11 out of 50: On the list of Editors' Choice 50 Best Accredited PsyD Programs for 2020
#6: Best online college in Pennsylvania
Vision & History
An institution steeped in history, here at Widener, we honor our past as we look toward the future.
A legacy of leadership in innovation.
Our history as a former military college has given Widener a strong foundation and has created a lasting set of values that are reflected in the university's mission statement today.
As a first-choice university, Widener is a dynamic, inclusive academic community, transforming students into scholars, leaders, and globally engaged citizens.
These values are a guiding force for the entire campus community and are infused into the curriculum through opportunities like life-changing study abroad experiences, hands-on internships or co-ops, and the development of strong leadership skills.
Mission Statement
Here at Widener, a leading metropolitan university, we achieve our mission by creating a learning environment where curricula are connected to societal issues through civic engagement.
Our mission at Widener includes the following tenets:
We lead by providing a unique combination of liberal arts and professional education in a challenging, scholarly, and culturally diverse academic community.
We engage our students through dynamic teaching, active scholarship, personal attention, and experiential learning.
We inspire our students to be citizens of character who demonstrate professional and civic leadership.
We contribute to the vitality and well-being of the communities we serve.
Widener Values
We put Widener's values—experiential learning, leadership, and career preparation—at the center of every program, we offer. These values are reflected in rigorous academic expectations and high-impact educational practices that promote student engagement and learning.
Whether they're going for a bachelor's, master's, or doctoral degree, students have experiences that are directly derived from our educational philosophy that encourages them to have community-based experiences at home and abroad.
Hands-on learning in small classes. Enrolling at Widener enables students to learn more than just the facts; they engage in experiential learning projects where classroom knowledge is applied to real-world issues, often through service-learning courses. Over 75% of Widener students participate in service or volunteer activities. It's no wonder why Widener ranks among Newsweek's top 20 service-minded colleges.
Transformative leadership opportunities. Every academic program affords students multiple experiences to develop competency, character, and courage as part of their leadership development, including the option to pursue a minor in leadership studies. Widener's co-curricular and extra-curricular programming is also designed to help students develop characteristics associated with professional and civic leadership and earn a leadership certificate along the way.
Real-world on-the-job experience. Our internships and co-op education programs consistently get high marks from students and employers alike. In fact, Widener offers one of the rare co-op programs in the area in which students can gain a year of paid work while still completing their degree in four years.
Widener's core values help our graduates make their mark in the world.
We're all Widener! At Widener, anyone and everyone can step up to be a leader. Widener is committed to diversity and this commitment is one that values the perspectives of each of our community members.
Our focus on diversity emphasizes three key values:
We're all valued.
We're all contributors.
We're all Widener!
When a plurality of viewpoints are valued, explored, and seen as opportunities for learning and personal growth, we all benefit.
Locations
Chester
Address
One University Place
Chester PA 19013
19013
Chester
,
Pennsylvania
,
USA