University of Southampton Malaysia
A Global University
Our Malaysia Campus in the EduCity development in Iskandar Puteri, Johor, enables students to experience the University of Southampton's world-class education at around 60 per cent of the cost of the same degree in the UK.
Obtain a unique 'Southampton' education in Malaysia: two years of study in Malaysia followed by two years of study in the UK. We have educated students from Malaysia for over 50 years and enjoy good links with South-East Asia which span many disciplines, levels of education and research.
Our partnerships in the region include the University of Malaya, the Universiti Teknologi Malaysia, Universiti Teknologi Petronas, the National University of Singapore and Nanyang Technological University. Join us to be part of a forward-thinking institution that upholds innovation and exploration at the centre of its education; join us to forge a successful global future.
Our alumni community is a rich, diverse network of former students that covers the globe
Our world-class academics are at the cutting-edge of their disciplines, bringing a positive impact to every continent
Our business, government and non-government organisation partners span the globe
We are part of the Worldwide Universities Network, a collaboration of knowledge from around the world
World Class Facilities
At Southampton, you will have the opportunity to develop original thinking, push boundaries and create solutions to global challenges using facilities that are as advanced as our thinking.
Ever since we pioneered research that laid the foundations for the creation of the Web, we have been developing an understanding of computer sciences. Our Web Science Institute is where students and researchers come to investigate how the Web will continue to change the world.
We are pushing the boundaries of performance sport. Using a combination of our large-scale facilities, including wind tunnels and towing tanks, our engineering research is helping elite athletes gain that vital competitive advantage.
We have invested £8m in our undergraduate teaching and project laboratories for electrical engineering, together with extensive computing facilities. Our cleanroom is the largest multidisciplinary cleanroom of its type in the UK, offering world-class facilities to our undergraduate students.
The Engineering, Design and Manufacturing Centre (EDMC) is a professional engineering workshop, used by students and researchers. Its extensive facilities include 3D printers, CNC equipment, CAD/CAM software and a training workshop.
Your Student Life in Malaysia
Campus
Our Malaysia Campus is set within EduCity - one of the most important developments in Iskandar Malaysia. It is a pioneering concept of best-in-class education partners, including globally recognised universities such as Southampton, Newcastle and Reading, all sharing international-standard sporting and recreational facilities. On campus, you will stay in modern living accommodation, which is equipped with a cafeteria, launderette, prayer room, indoor games room, outdoor badminton, basketball court and a picturesque roof terrace with views of the surrounding area.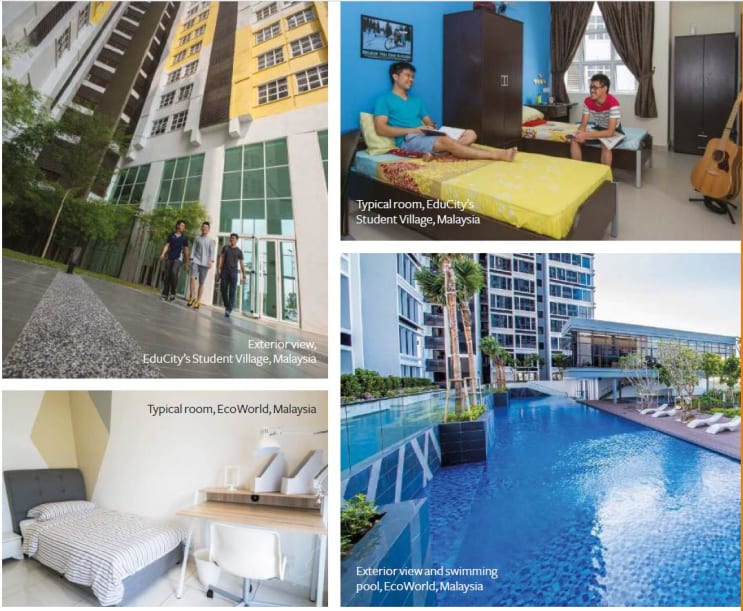 Surrounding area
In the heart of Malaysia's economic zone, EduCity is 8km from the Second Crossing Bridge to Singapore. It is easily accessible via the Coastal Highway that directly links Medini with Johor Bahru, and the Malaysia Singapore Second-Link Expressway. Singapore's regional aviation hub, Changi International Airport, is a 60-minute drive away and we are just 30 minutes from Senai International Airport.
Sport
Students at our Malaysia Campus have access to the exceptional physical recreation and sports facilities at EduCity, which includes a 6,000 capacity sports stadium with a football/rugby pitch, and a 400-metre athletic track that complies with the Association of Athletics Federation standards. There is also an aquatic centre with an Olympic-size swimming pool, which meets International Swimming Federation standards for water polo and synchronised swimming.
Your Student Life in the UK
Years three and four are spent at our campus in the UK, which offers a friendly, vibrant and diverse atmosphere for work and leisure. Each of our seven campuses has their own distinct feel but all share a sense of community in which your studies and social life can flourish.
Shape Your Future
Southampton Mechanical Engineering graduates are successfully employed at high-profile organisations such as: Aston Martin Lagonda, BAE Systems, Deloitte, Dyson, Ford, Fujitsu, GE Aviation, GlaxoSmithKline, Jaguar Land Rover, JP Morgan, Lloyds, Malaysia Airlines, McLaren Automotive, Panasonic, Ricardo, Rolls-Royce, Sahara Force India Formula 1 Team, Siemens

We are:
A founding member of the Russell Group
A top 20 UK university (The Times and Sunday Times Good University Guide 2019)
A top 100 global university (QS World University Rankings 2019)
No. 4 for Mechanical Engineering - (The Times Good University Guide, 2020)
No. 3 for Electrical & Electronic Engineering - (The Times Good University Guide, 2020)
No. 6 in the UK for Aeronautics and Astronautics – (The Complete University Guide 2020)
Targeted by top employers
Locations
Johor Bahru
Address
No. 3, Persiaran Canselor 1,
Kota Ilmu EduCity,
79200 Iskandar Puteri, Johor,
Johor Bahru
,
Johor
,
Malaysia
Southampton
Address
SO14 0DA
Southampton
,
England
,
United Kingdom