Read more on the school's website
Successfully study between Stuttgart and Lake Constance
University of Albstadt-Sigmaringen
Modern laboratories, small groups, help with finding a job, close contacts to companies, a family atmosphere and professors who take their time - this is what the Hochschule Albstadt-Sigmaringen offers.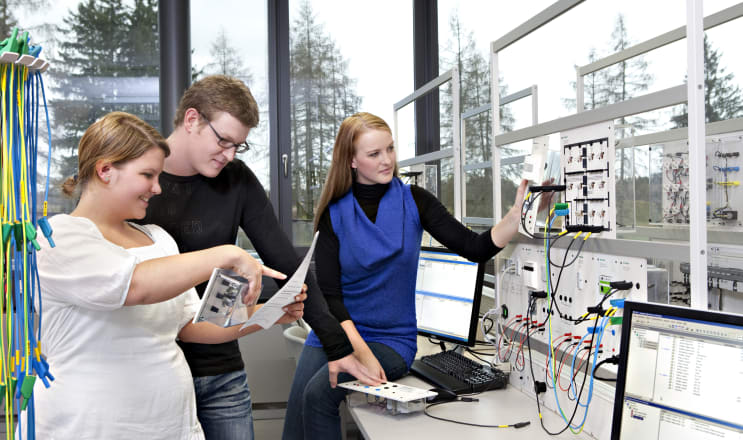 Practical and service-oriented
Around 3,500 students are enrolled at two locations. Practical orientation is very important at the University of Applied Sciences (HAW). The students are looked after as individually as possible and modern technical equipment is available for the studies.
The Career Center offers help with internships or job searches, and the International Office supports students who want to gain international experience. In addition, the university endeavors to make the study and working conditions family-friendly and is certified as a "family-friendly university audit".
24 degree programs
The university offers 13 seven-semester Bachelor programs:
mechanical engineering
Textile and clothing technology
Material and Process Engineering
industrial engineering
Technical computer Science
IT Security
business computer science
bioanalysis
Smart Building Engineering and Management
Food / Nutrition / Hygiene
pharmaceutical engineering
business management
Energy industry and management
In addition, there are eight consecutive - ie continuing - Master courses:
Business and Management
Industrial Engineering - Production Management
Mechanical engineering - Computer supported product development
Systems engineering
Textile and clothing management
Facility and Process Design
Biomedical Sciences
Business Analytics
Three extra-occupational online-based master's programs complete the profile:
Data Science
Digital forensics
IT Governance, Risk and Compliance Management
In the ranking of the Center for Higher Education Development (CHE), the Albstadt-Sigmaringen University of Applied Sciences lands repeatedly in the top groups with its degree programs. In a nationwide comparison, the university in the heart of Baden-Wurttemberg does not have to hide.
Applied research
The university is active in research in its various disciplines. Especially for students in the master's programs there are many opportunities to work on research projects. The Institute for Applied Research (IAF) bundles and promotes the activities. It is also an important link between research companies and the university.
Mission statement of the Hochschule Albstadt-Sigmaringen
Personal, successful, innovative
The Hochschule Albstadt-Sigmaringen is a university of applied sciences in the fields of technology, economics, computer science and life sciences. We offer a science-based, practice-oriented and international standards-appropriate teaching in both basic and further education. Our university members conduct applied research at a high level and successfully transfer knowledge and technology to the economy. In teaching and research there are partnerships with universities and scientific organizations at national and international level. In addition, close contacts are maintained with regional and national companies.
Personally
Short paths, service orientation, openness and a trusting relationship between the university members characterize the university climate at both locations. The personal contact between students and teachers as well as manageable groups provide modern learning facilities and seminar rooms ideal learning conditions. We are committed to all matters relating to the students and strive to provide them with individual support. The reconciliation of family and study or job is specifically facilitated with us. All university members have equal opportunities, regardless of gender, age, nationality or social background.
Successfully
"Successfully studying" is the goal and benchmark of our offers. The graduated study structure with the Bachelor's and Master's degrees enables a basic and advanced academic qualification and promotes internationality as well as student mobility. The students learn in a practice-oriented way, acquire suitable occupational competence and can develop themselves personally. Graduates have excellent career opportunities thanks to the university's strong links with companies in various sectors. The goal is to further develop the university and to constantly improve the good results in teaching and research.
Innovative
Our university members are optimistic and flexible in facing the diverse challenges of higher education in the 21st century. Our courses and transfer services are constantly being revised and are geared to the current requirements of the economy. Since the world of work is constantly changing, the preservation of professional qualifications over the entire duration of employment is given special importance. Innovative on-the-job training concepts are therefore just as much in focus as practical research projects on future challenges in companies and society.
The mission statement of the Hochschule Albstadt-Sigmaringen
The Hochschule Albstadt-Sigmaringen bases its actions and goals on the following mission statement and the principles based on it:
As the University of Applied Sciences, we focus on teaching and increasing knowledge through practical teaching, further education, research and development.
We are committed to the freedom of teaching and research and to the principles of science and sustainability.
Our values, principles and our understanding of performance are borne by our students, teachers and staff.
We are guided in all areas by the principle of student-oriented action.
Our university is characterized by a personal atmosphere.
We have a high expectation of performance for all members of our university.
We expect motivation, motivation and team spirit from our students.
We embody and live equality, equality and diversity - also as ambassadors beyond the borders of our university.
Our university teaches core competences in the fields of technology, business, computer science and life sciences. We qualify our students professionally, ethically and socially competent in order to create added value in their jobs and in society.
We stand for application-oriented research. This will strengthen the innovative and economic power of the region and its companies in particular. We achieve this through collaborative, interdisciplinary concepts and efficient technology transfer.
By closely integrating our research with teaching, we can ensure the modernity, attractiveness and sustainability of our degree programs.
We maintain close and trusting contacts to our graduates, to our friends and supporters and to our partners in business and science.
We maintain and expand our international networks. This allows our students and scientists first-class access to qualifications and knowledge.
We see entrepreneurial thinking and action as a significant opportunity for development opportunities for our university. We therefore promote innovative concepts in research and teaching.
Digitization opens up great opportunities for us as a university in rural areas. To transfer knowledge, as a teaching content and as a research and knowledge object, we use digitization and digital transformation to strengthen our university.
Locations
Sigmaringen
Prof.Dr. Markus Lehmann
Address
Sigmaringen
,
Baden-Württemberg
,
Germany