Zhejiang University/University of Illinois at Urbana-Champaign Institute
Home ›
China ›
Zhejiang University/University of Illinois at Urbana-Champaign Institute

We are a partnership between Zhejiang University and the University of Illinois at Urbana-Champaign. We provide extraordinary learning experiences with boundless possibilities We are committed to educating innovators in engineering and leaders of tomorrow.
ZJU-UIUC INSTITUTE
The Zhejiang University-University of Illinois at Urbana-Champaign Institute (the ZJU-UIUC Institute or ZJUI ) is a new cooperatively-run engineering college. By introducing globally-renowned engineering curricula and resources from UIUC, complemented with contributions from counterpart colleges and departments from ZJU, the ZJU-UIUC Institute will provide a world-class engineering education.
Founded in 1897, Zhejiang University is one of China's oldest and most prestigious institutions of higher education. Reporting directly to the Ministry of Education, Zhejiang University is a "211 Project" and "985 Project "university with strong support from central, provincial, and local governments. It is a member of the C9 League and the Association of Pacific Rim Universities.The engineering programs of Zhejiang University ranked 4th in the World Best Global Universities Rankings published by US News & World Report in 2016.
The University of Illinois at Urbana-Champaign
Founded in 1867, the University of Illinois at Urbana–Champaign (UIUC) is a public research-intensive university in the U.S. It is a founding member of the Big Ten Conference and a member of the Association of American Universities. The university is considered to be a "Public Ivy" institution. UIUC ranked 4th in the Academic Ranking of World Universities in Engineering/Technology and Sciences, published in 2015.
Research
The ZJU-UIUC Institute breaks down boundaries between traditional engineering disciplines and does not plan to establish discipline-based departments or institutes. Instead, it creates cross-disciplinary teams and activities and encourages multidisciplinary knowledge convergence and cross cooperation. Corresponding to this cross-disciplinary emphasis, experimental classes that include Engineering and Systems Science, Information Systems and Digital Science, and Energy and Environmental Engineering Science, are organized for advanced students. Courses that emphasize entrepreneurship and creative problem solving are incorporated throughout the curriculum. Design courses include students from multiple degree programs, working together. These activities cultivate innovative talents with cross-cutting and multidisciplinary knowledge.
Faculty Pool
Outstanding scholars established in their fields
Professors of international stature
Members of the National Thousand Youth Talents Plan
Faculty Source
The University of Illinois at Urbana-Champaign
Talents recruited from top-tier international universities that include MIT, UC Berkeley, UIUC, CalTech, ZJU, Tsinghua, Cambridge, etc.
Zhejiang University
International Campus
The ZJU-UIUC Institute is based on the Zhejiang University International Campus. To explore new models of higher education that combine the best practices of the east and west, draw from advanced educational experiences around the world and cultivate innovative talent with an international vision, Zhejiang University initiated development of an International Campus in February 2013. The plan was approved by the Ministry of Education in October 2015, and the first students enrolled in September 2016. The International Campus emphasizes a residential college model. Each residential college provides a friendly and supportive learning and - living environment. Each student has a private bedroom, shared bathroom, and common living space. Each College offers library facilities, study rooms, discussion and interactive spaces, laundry facilities, activity spaces, and fitness rooms.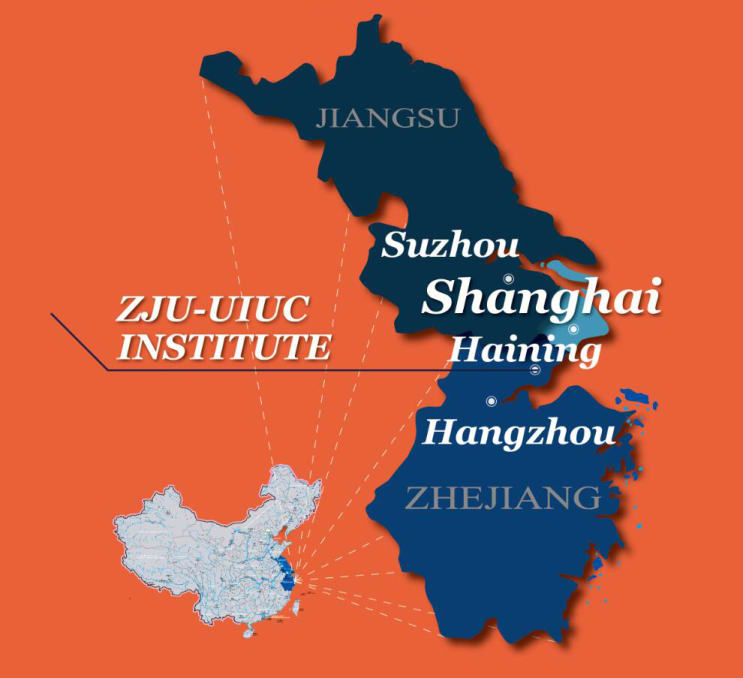 Location
The International Campus is located in Haining in northeast Zhejiang province. Haining is at the heart of the Yangtze River Delta economic zone, with Hangzhou to the west, Suzhou to the north, and Shanghai only 120 kilometers to the east. There are five domestic and international airports within 2 hours' drive, The Shanghai-Hangzhou high-speed railway crosses the town. Multiple expressways in and around the city connect to Hangzhou, Suzhou, Shanghai, Ningbo, and the rest of China.

Scholarships
1) International Excellence Scholarships
The most highly qualified applicants will be granted an International Excellence Scholarship, which covers :
·Full tuition: CNY 200,000 per year
·Accommodation on Haining campus: CNY 8,000 per year
·International student medical insurance: CNY 800 per year. (Relevant medical insurance items can be found at www.lxbx.net).
·Living allowance: CNY 1400 per month
Each scholar will be reviewed annually and renewed up to four academic years on the conditions that the student meets requirements for satisfactory progress toward the degrees and follows the rules of Zhejiang University and of the University of Illinois at Urbana-Champaign.
2)Support Scholarships
In 2018, each international student admitted, but not receiving an International Excellence Scholarship, will be granted a support scholarship, which covers:
·Partial Tuition Waiver: CNY 80,000 per year
·International student medical insurance: CNY 800 per year. (Relevant medical insurance items can be found at www.lxbx.net).
Renewable up to 4 academic years, subject to a similar annual review as for International Excellence Scholarship.
Please apply via https://my.zjui.illinois.edu/submit/login.asp