BA in
BA in English Language and Literature
University of Roehampton London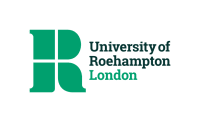 Introduction
This undergraduate degree is designed for students who enjoy studying English language and English literature equally, and who seek a deeper insight into both.
The programme benefits from being rooted in two academic departments, the School of Arts where language and linguistics are taught, and the School of Humanities and Social Sciences, where students study a wide range of English literature. This 'dual home' creates a distinctive programme of study that offers a uniquely wide range of module choices.
The English language and linguistics element of the course looks at how language works, and how we communicate with one another, with a particular focus on 'real language' use and on sociolinguistics. Teaching takes place in the spectacular new Sir David Bell media hub, with its state of the art digital facilities. For the English Literature part of the course, students will encounter texts and writers from around the world and from contemporary London, alongside the study of Shakespeare, children's literature, issues such as gender and sexuality in literature and much more. Literature teaching is delivered by a diverse and passionate community of readers, writers and thinkers who are all published experts in their fields.
The range of modules offers a breadth of study that will cater for your own interests as well as your career aspirations. For example, the English literature choices include Digital Humanities, Copywriting and Black British and American Writers, while the English language modules include Language Disorders, Multilingualism and Semantics. Professional placements are available and facilitated through the Roehampton careers service.
The ability to analyse language and appreciate literary texts are skills that transfer to a wide variety of careers. However this programme also specifically offers a combination of modules that will prepare students to teach secondary English up to A level – both English Language and English Literature – after completing a one-year postgraduate teacher training course (PGCE).
Schedule by year of study
Year 1: Provides students with the basic tool kit to study English Language and Linguistics at an advanced level. The English Literature component introduces key critical and theoretical approaches, and a range of literature across all periods.
Year 2: Language modules The Sociolinguistics of Gender and Media Language prepare students for key areas of English Language teaching. In English Literature, students study key period modules including the Romantics and Victorians, and Modern and Contemporary Literature.
Year 3: Language Acquisition completes the coverage of A-level language topics for those students wishing to progress to a secondary PGCE. English Literature features a compulsory module Tragedy: Classical, Shakespearean, Cinematic. Students will also have the option to take the Dissertation in English Literature, which may be a sustained piece of written research but which can also comprise a special project.
Placement Year
This course offers all students the option of a one-year paid work placement, to boost their employability even further. If you choose this route, you will take the placement following year two of your course, and then return to complete your degree.
Curriculum
Here are some examples of modules you may take on this degree course.
The Sociolinguistics of Gender
Media Language
Language Acquisition
Language, Society and Power
Discovering Literature
Literature and Media
Literature in Context: Popular Literature and Culture
Language, Society and Power
These modules are those we currently offer and may be subject to change each year.
Career Opportunities
Career Options
This course is of particular interest to students aspiring to teach English in secondary schools up to A level. These students will undertake a one year PGCE after graduation which will qualify them to teach both A level English Language and English Literature.
Other typical career options for English graduates include journalism, editing, copywriting, podcasting, editing, marketing, policy-making and fundraising.
Our careers team is available to support you from the start of your studies until after you graduate. They will help you build your CV, prepare for interviews, and meet and learn from successful graduates working at the top of their careers. You'll also have opportunities to work with our partners across London and beyond, and to attend a Roehampton jobs fair where you can find out about graduate opportunities and meet employers.