BSc in
BSc in Sustainable Design Engineering
University of Prince Edward Island

Scholarships
Explore scholarship opportunities to help fund your studies
Introduction
The Faculty of Sustainable Design Engineering at UPEI offers a progressive and innovative four-year Bachelor of Science in Sustainable Design Engineering degree which recognizes the need for broad and balanced engineering education. The program follows current trends in engineering education and focuses on student outcomes. Small class sizes within an activity-based learning environment allow faculty and staff to be student-centric and to provide specific and timely input to individual students.
Students are exposed to a broad base of knowledge and skills in engineering science, natural science, mathematics, and complementary studies in concert with an applied project-based design stream simulating the engineering profession. Students entering the degree program will be actively engaged in the profession of engineering from day one, providing creative and sustainable solutions to society's problems. The degree program is designed to provide a highly flexible learning environment that is responsive to the dynamic needs of students and the industries that employ them.
In addition to fundamental science, engineering science, and mathematics courses, students are required to develop skills in engineering design, communication, analysis, project management, professional ethics, and more. With a solid grounding in these fundamentals, students in Program Years 3 and 4 can enhance their technical knowledge by choosing an engineering focus area:
renewable energy
bioresources
sensors, optics, and imaging
robotics and industrial automation
advanced manufacturing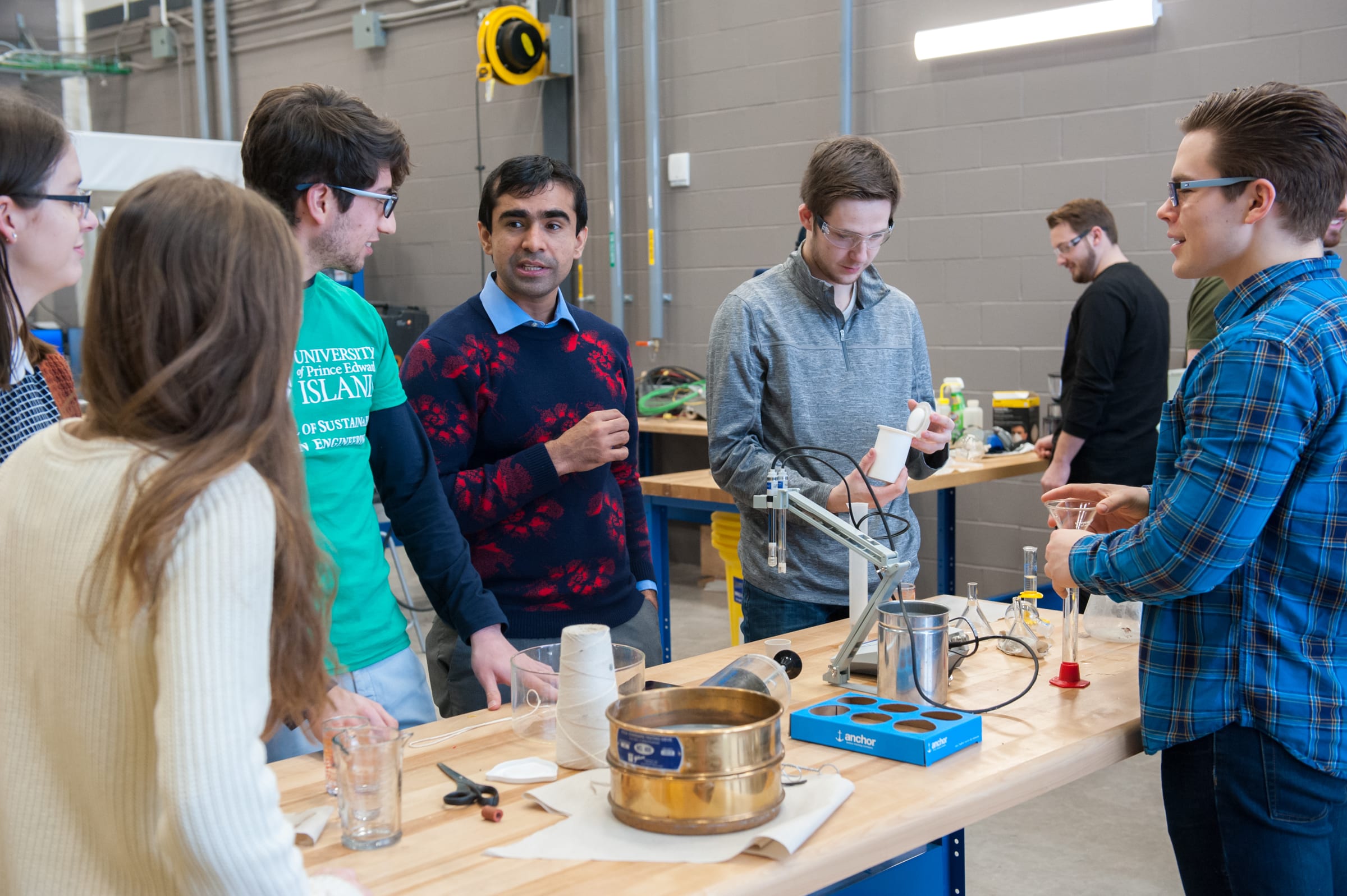 Calendar Courses
100 Level
121 Engineering communications
122 Engineering analysis
131 (Formerly 132) Computer programming with engineering applications
152 (Formerly 151) Engineering and the biosphere
200 Level
212 Geology for engineers
221 Engineering projects I
222 Engineering projects II
224 Introduction to structural engineering
225 Materials science
231 Strength of materials
234 Engineering dynamics
235 Kinematics and dynamics of machines
242 Fundamentals of environmental engineering
243 Engineering economics
252 Fundamentals of process engineering
261 Thermo fluids I
262 Thermo fluids II
281 Electric circuits I
282 Electric circuits II
300 Level
322 Engineering measurements
326 Materials, mechanics, and manufacturing
327 Machines and automatic control
334 Introduction to mechatronics engineering
337 Mechatronic system integration and interface design
338 Real-time embedded systems
339 Mechatronics computer-aided product development, modeling, and simulation
344 Introduction to sustainable energy engineering
345 Wind and water power
346 Solar energy and electricity storage
349 Chemical energy conversion
354 Introduction to bioresources engineering
357 Engineering applications of biological materials
358 Soil mechanics
363 Thermofluids III with heat transfer
371 Project-based professional practice I
372 Project-based professional practice II
381 Systems engineering
382 System dynamics with simulation
385 Engineering applications of numerical methods
400 Level
421 Facilitated study and experimental practice
423 (Formerly 443) Technology management & entrepreneurship
431 Advanced fabrication techniques and computer-integrated manufacturing
432 Control system design
433 Innovations in biomedical engineering
435 Advanced robotic dynamics and control
437 Fluid power control
441 Macro energy systems
444 Advanced energy storage
445 Fluid loads on energy structures
447 Microgrids
451 Geoinformatics in bioresources
453 Fundamentals of agricultural machinery
455 (Formerly 359) Chemical and biological processes
471 project-based professional practice III
472 project-based professional practice IV
Careers
Automotive Engineer
Energy Engineer
Product Designer
Developer
Mechanical Engineer
English Language Requirements
Certify your English proficiency with the Duolingo English Test! The DET is a convenient, fast, and affordable online English test accepted by over 4,000 universities (like this one) around the world.