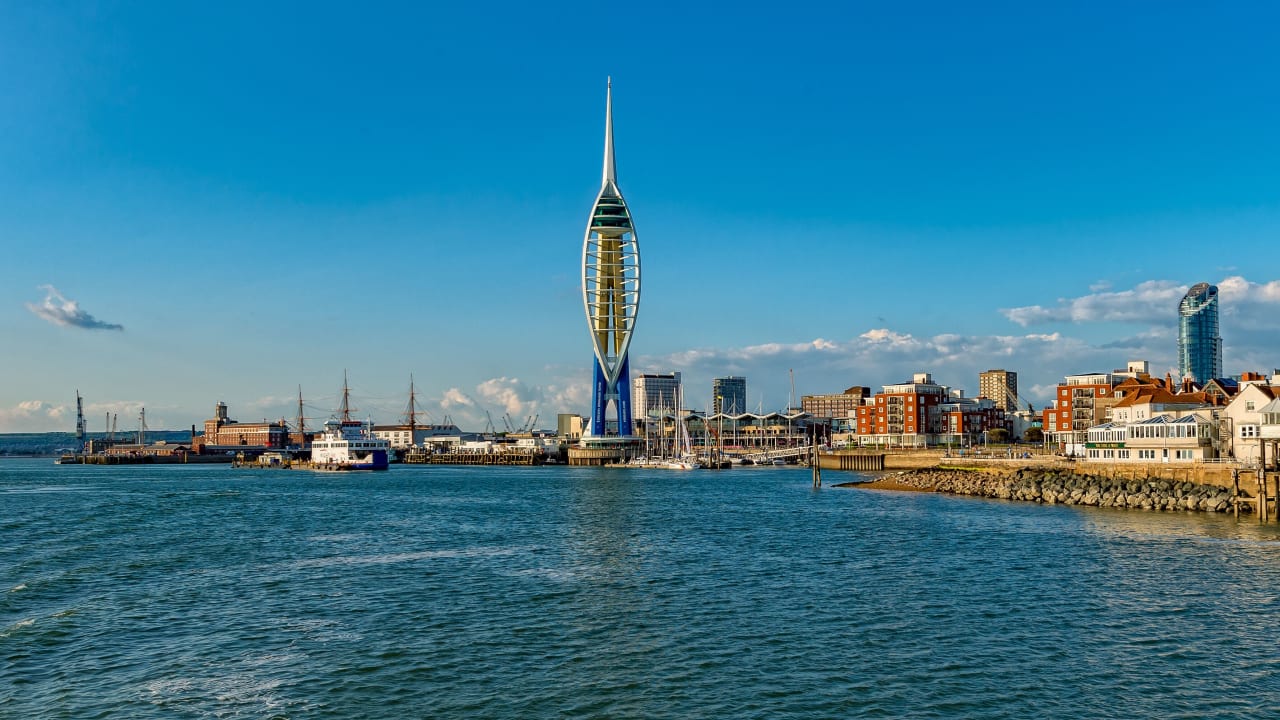 BSc in
BSc (Hons) Forensic Psychology
University of Portsmouth

Key Information
---
Campus location
Southsea, United Kingdom
Tuition fees
GBP 9,250 / per year *
Application deadline
Request info
Earliest start date
Sep 2023
* for UK/Channel Islands and Isle of Man students/EU residents | £18,300/year: international students
Introduction
Explore how psychological knowledge informs criminal investigations and forensic practice, and help to understand offending behaviour on this BSc (Hons) Forensic Psychology degree, accredited by the British Psychological Society (BPS).
While a psychology degree covers the mind and behaviour in a wider sense, studying forensic psychology means focusing on the way people think, act and feel in relation to crime and legal issues.
Course highlights
Put your investigative techniques to the test in our Forensic Interviewing Suite, which features thermal imaging cameras, eye tracking and virtual reality (VR) technology and advanced digital and video analysis
Have the chance to study abroad or take part in a year-long work placement, boosting your employability prospects after the course
Learn from forensic psychology practitioners involved in the International Centre for Research in Forensic Psychology, the largest academic research centre for forensic psychology in the UK
Become eligible to apply for graduate membership of the British Psychological Society (with a 2:2 or higher) – an essential first step to becoming a professional forensic psychologist
Accredited by:
This degree offers eligibility for Graduate Basis for Chartered Membership (GBC) of the British Psychological Society (BPS), if you graduate with a 2:2 or higher.
Scholarships and Funding
You may be able to partly or fully fund the costs of your study with a bursary or scholarship. You can use these alongside student loans, and you don't have to pay them back.
Whether you can get a scholarship or bursary depends on your circumstances. So they aren't available to everyone.
These are the scholarships and bursaries we currently offer to home (UK) students. You may also be eligible for some of these scholarships and bursaries if you have refugee status or are seeking asylum.
The University of Portsmouth Bursary – £750 a year
Care Leavers Bursary – £1,750 a year
Stand Alone Bursary – £1,000 a year
Young Carers Bursary – £500 a year
Unite Scholarship – a free place in halls
Greenwich Hospital Bursary – £3,000 a year
Sport Scholarship
NHS Learning Support Fund – at least £5,000 a year
Best Begins Scholarship – £5,000
Portsmouth Football Club Partnership Scholarship – £3,000 a year towards course fees
Sanctuary Scholarship
Sanctuary Language Bursary
Curriculum
Modules
Year 1
Core modules
Applying Psychological Research Skills – 40 credits
Exploring Psychology – 40 credits
Forensic Psychology in Context – 20 credits
Perspectives in Psychology – 20 credits
There are no optional modules this year.
Year 2
Core modules
Biological & Cognitive Psychology – 20 credits
Individual Differences & Psychometrics – 20 credits
Professional Development and Employability – 20 credits
Psychological Research Methods – 20 credits
Quantitative Data Analysis – 20 credits
Social & Developmental Psychology – 20 credits
Placement year (optional)
In this course, you can do an optional work placement year between your 2nd and 3rd years to get valuable experience working in the industry.
We'll help you secure a work placement that fits your situation and ambitions. You'll get mentoring and support throughout the year.
Year 3
Core modules
Psychology Research Project (Extended) – 40 credits
Psychology Research Project – 20 credits
Optional modules
Comparative and Evolutionary Psychology – 20 credits
Cybercrime, Policing and Security – 20 credits
Educational Psychology – 20 credits
Exploring Data for Forensic Psychology – 20 credits
Introduction to Teaching – 20 credits
Issues in Clinical and Health Psychology – 20 credits
Neuroscience – 20 credits
Psychology of Criminal Investigations – 20 credits
Psychology of Investigations – 20 credits
Psychology of Offending Behaviour – 20 credits
Psychology of Security – 20 credits
Social Construction of Disability – 20 credits
Trauma, Memory & Law – 20 credits
We use the best and most current research and professional practice alongside feedback from our students to make sure course content is relevant to your future career or further studies.
Therefore, some course content may change over time to reflect changes in the discipline or industry, and some optional modules may not run every year. If a module doesn't run, we'll let you know as soon as possible and help you choose an alternative module.
Placement year
After your second year, you can do an optional work placement year to get valuable longer-term work experience in the field. A placement year gives you the opportunity to apply your knowledge in a real workplace, boosting your employability and making you stand out to employers after the course.
You can work for a company or organisation here in the UK or overseas, or you could go independent by setting up and running your own business with other students.
Whichever route you choose, you'll receive support and guidance. Our specialist team of Science and Health Careers advisors can help you with finding a work placement and improving your employability skills. They'll provide you with a database of placement vacancies, support with your job search – including help with applications and interviews – and support throughout your placement year.
Potential prison placements
Previous students have completed work placements in medium secure units, youth offending teams and prisons, including:
HMP Bronzefield
HMP Ford
HMP Winchester
Potential placement destinations
Other students have taken placement roles in organisations, including:
Broadmoor High-Security Hospital
Hampshire Constabulary Student Watch
Catch 22 - a not-for-profit business involved in offender management, rehabilitation and victim services
Motiv8 - a charity working for safer communities for young people and their families
Study abroad
You'll also have the chance to study abroad at one of our partner universities in Europe or Asia, which is a fantastic opportunity to explore a new destination and experience the world as an international student.
Many of our students describe their time spent studying overseas as truly life-changing, as well as an excellent way to stand out to future employers.
Rankings
Psychology at the University of Portsmouth is ranked 5th of the modern universities for research quality
Research Excellence Framework (REF) 2021
Career Opportunities
Forensic psychology is the study of the mind as it relates to legal issues, investigations and criminal behaviour. It includes everything from the moment a crime is committed (before an arrest) through to a criminal investigation and the following legal proceedings, to the monitoring, rehabilitation and release of an offender back into the community.
In this BSc (Hons) Forensic Psychology, you'll gain hands-on experience conducting research on forensic topics with developments at the forefront of psychological science. You'll explore the patterns and behaviours of offenders and victims, build skills in gathering and analysing forensic data, and learn how to present your findings.
When you complete the course with a 2:2 or higher, you'll be eligible for graduate membership of the British Psychological Society (BPS), which is an essential first step to becoming a Chartered Forensic Psychologist. To become Chartered, you'll also need to do further academic training for up to 5 years, including an MSc Forensic Psychology.
As a Chartered Forensic Psychologist, you'll be ready for a career in HM Prison and Probation Service (HMPPS), within the NHS (such as in rehabilitation units and secure hospitals), or within social services including the police service, young offenders units and the probation service.
What areas can you work in with a forensic psychology degree?
Many graduates go on to do an MSc in Forensic Psychology after the course. You could also start a career in areas such as:
teaching
health-associated professions
social welfare
police work
probation service
research
Graduate roles and destinations
Roles our previous graduates have gone on to include:
clinical psychologist
forensic psychologist
educational psychologist
counsellor
health planning analyst
They've taken roles in the following organisations:
National Probation Service
Ministry of Defence
North East London NHS Foundation Trust
Potential salary
As a trainee forensic psychologist within HM Prison and Probation Service (HMPPS), you could expect a starting salary of between £27,021 and £34,461.
Once you qualify as a Chartered Forensic Psychologist, you could earn from £37,218 and £46,846 and up to £53,952 as a senior Chartered Forensic Psychologist.
Working for the NHS in 2021, you would start as a trainee forensic psychologist for £32,306 to £39,027 (Band 6). With a role as a Chartered Forensic Psychologist, your salary could reach up to £45,839 (Band 7) or more with further experience.
Ongoing careers support
After you graduate, you can get help, advice and support for up to 5 years from our Careers and Employability Service as you advance in your career.
English Language Requirements
Certify your English proficiency with the Duolingo English Test! The DET is a convenient, fast, and affordable online English test accepted by over 4,000 universities (like this one) around the world.
Program Admission Requirements