Bachelor in
Degree in Forest and Natural Environment Engineering
University of Oviedo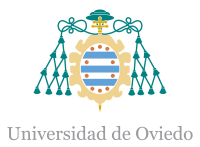 Introduction
Admission profile
Recommended Baccalaureate with passed University entrance exam: Sciences and Technology.
Recommended higher degree training cycle: Management and Ordination of Natural Resources and Landscape
Access Test for people over 25, 40 or 45 years old.
University degree.
The recommended profile combines the capacity for observation, synthesis and analysis of the medium. Interest in experimentation and research, nature, the environment, energy, computing and new technologies. Ability to provide solutions to problems from a technical, competitive and innovative point of view.
Professional outings
The areas of professional performance are the evaluation and sustainable management of forest areas and the natural environment, planning, management and use of the forest, management and conservation of wild fauna, restocking and restoration, aquaculture and hunting. Planning and industrial transformation of forest products, environmental impact studies, etc.
Professional profiles:
Teaching and / or research
Wood industries
Industries of other forest products
Comprehensive management of public and private forests. Protected spaces
Management of hunting and fish farming areas
Nurseries and gardening
Execution of engineering projects and construction management
Distribution and Credits:
Basic Training: 60
Mandatory: 156
Electives: 12
End of Degree Project: 12
Mention in Forestry Operations
Qualifying degree for the profession of Forest Technical Engineer (Order CIN / 324/2009, BOE 02-19-2009).