Bachelor in
Degree in English Studies
University of Oviedo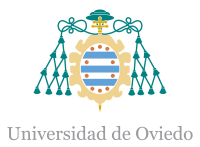 Introduction
Admission profile
Recommended Baccalaureate with the University entrance exam passed: Humanities and Social Sciences.
Higher education training cycle.
Access Test for people over 25, 40 or 45 years old.
University degree.
Interest in the theoretical knowledge of the English language, its literatures and cultures. Interest in the practical application of communicative competence in the English language. Skills for critical analysis and reflection. Restlessness for communication and ability to do so.
Professional outings
Research, development and innovation in the linguistic and literary field.
Public and private teaching: non-university and university. Lectors, conversation assistants, etc.
Literary criticism. Linguistic advice and mediation in different socio-cultural areas and companies.
Editorial activity: selection of originals, text and style correction, preparation of manuals, dictionaries, etc.
Translation and interpretation.
International relations in different organizations and institutions.
Characteristics of the center
Facilities and services
All classrooms and seminars have new technology equipment (computer, projector, internet, etc.). The Faculty has meeting rooms, social spaces, computer rooms, a dining room for students, etc.