Bachelor in
Degree in Electrical Engineering
University of Oviedo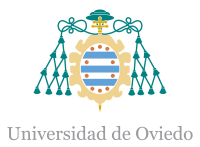 Introduction
Admission profile
Recommended Baccalaureate with passed University entrance exam: Sciences and Technology.
Recommended higher level training cycle: Mechanical Manufacturing, Building and Civil Works, Installation and Maintenance, Transportation and Maintenance of Vehicles, Energy and Water.
Access Test for people over 25, 40 or 45 years old.
University degree.
It is recommended that students have the following abilities and skills:
Comprehensive reading and correct oral and written expression.
Knowledge of Mathematics, Physics, Chemistry and Graphic Expression with a Baccalaureate or equivalent base.
Management of computer tools at the user level (operating system, word processor, spreadsheet, database ...).
Basic knowledge of experimental techniques and laboratory work.
Observation, attention and concentration skills.
Aptitude for numerical and logical reasoning.
Ease of understanding and reasoning about abstract models that generalize the particular aspects of practical cases.
On a personal level, it is recommended that students:
Have creativity, imagination and desire for innovation.
Be organized and methodical students in your activities.
Be receptive, practical and open to improvising solutions.
Positive attitude towards teamwork, communication and responsible performance.
Interest in aspects related to the industrial field.
Be determined to dedicate yourself to continuous learning, curious to stay up-to-date on recent advances in science and technology.
Professional outings
The studies of the Degree in Electrical Engineering aim to provide the student, in addition to a solid basic training, a good specific training and also in general skills, so that they can join any field of work within Electrical Engineering, adapting to new challenges that appear constantly in any discipline of Engineering.
The Degree offers two intensifications:
Industrial Electrical Equipment and Facilities
Electric Power Systems
The most common work areas of the Graduate or Graduate in Electrical Engineering will be industrial production, and the maintenance and operation of electrical systems and devices, participating in activities in practically all sectors of economic activity: construction, electrical, electronic, chemical, gas, mechanics, metallurgy and industrial derivatives in general, as well as in education and public administration. In addition, his multidisciplinary training also allows him to carry out horizontal activities in the company, such as project feasibility studies, supplier control, customer management, etc.
Professional profiles
Graduates in Electrical Engineering are trained to perform the following tasks in the field of industry, administration and services:
Management and organization of electrical projects of various kinds.
Management positions in electrical or related industrial plants.
Analysis and execution of solutions to problems in the design, construction and supervision of electrical systems.
Generation, transmission and distribution of electricity.
Implementation of quality management systems.
Teaching and / or public or private research
Professional attributions
The Degree in Electrical Engineering qualifies for the exercise of the profession of Industrial Technical Engineer (Order CIN / 351/2009, of February 9, which establishes the requirements for the verification of official university degrees that enable the exercise of the profession of Industrial Technical Engineer, BOE No. 44 of February 20, 2009).
The general powers of the Industrial Technical Engineer are regulated by:
Royal Decree-Law 37/1977, of June 13, on attributions of Industrial Experts (BOE No. 144 of June 17, 1977).
Law 12/1986 on regulation of the professional powers of Architects and Technical Engineers (BOE No. 79 of April 2, 1986).
Royal Decree 1954/1994 regarding the homologation of titles (BOE No. 275 of November 17, 1994).
Law 38/1999 on Building Planning.
According to Law 12/1986 of April 1, Graduates in Electrical Engineering, being Technical Engineers, have the following professional attributions within their specialty:
The drafting and signing of projects whose purpose is the construction, reform, repair, conservation, demolition, manufacture, installation, assembly or exploitation of movable or immovable property, in their respective cases, both principally and accessory, provided that they are included due to its nature and characteristics in the technique of each degree.
The management of the activities that are the object of the projects referred to in the previous section, even when the projects have been prepared by a third party.
Carrying out measurements, calculations, evaluations, appraisals, expert opinions, studies, reports, work plans and other similar works.
The exercise of teaching in its various degrees in the cases and terms provided in the corresponding regulations.
The management of all kinds of industries or farms and the exercise, in general with respect to them, of the activities referred to in the preceding paragraphs.
Academic outings
Postgraduate
The Degree in Electrical Engineering allows access to the Master's Degree in Industrial Engineering at the University of Oviedo, an official master's degree that enables the exercise of the profession of Industrial Engineer.
Distribution and Credits:
Basic Training: 60
Mandatory: 126
Electives: 42
End of Degree Project: 12
Characteristics of the center
Facilities and services
Degree studies are taught at the Gijón Polytechnic School of Engineering on a campus equipped with large common spaces and with all the necessary technological equipment to provide the best technical training in classrooms and laboratories.
Mobility and international relations
We promote student exchange through international mobility programs such as ERASMUS / SÓCRATES and LEONARDO DA VINCI that allow a large number of students to study abroad and / or carry out internships in European companies through double degree agreements with various universities . Likewise, there are SICUE agreements with several Spanish universities.
Internships, employment and tutorial action plan
Students have the possibility of doing external internships in more than 300 companies in the Science and Technology Park and in other entities based on the Campus, serving as a contact strategy with recent graduates for their incorporation into the company.