Bachelor in
Degree in Computer Software Engineering
University of Oviedo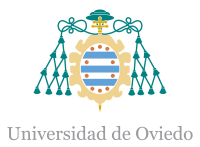 Introduction
Admission profile
The most notable professional opportunities are the direction and management of projects, the analysis and development of computer systems, the creation of video games, the development of software for robots, mobile devices and the Web; as well as auditing and computer forensics.
Professional profiles:
Management and exploitation of information technologies.
Systems engineer.
Software engineering.
Systems and databases administration.
Consulting and advice.
Project audit and certification.
Teaching and / or research in the field of information technologies.
Distribution and Credits:
Basic Training: 60
Mandatory: 144
Electives: 18
Compulsory External Internships: 6
End of Degree Project: 12
Characteristics of the center
Facilities and services
The Center, founded in 1982, was one of the pioneers in Spain. It has fully equipped classrooms and laboratories with all the services for students: computer labs, meeting rooms, etc., and it is located next to the sports facilities and the university halls of the University of Oviedo.
Mobility and international relations
There is the possibility of obtaining the bilingual itinerary by taking subjects that are offered in English in the first two years of the Degree. The bilingual title is obtained by exceeding 120 ECTS of training in English. This bilingual training may also include stays in the ERASMUS / ERASMUS Internship Program. The center has a large number of ERASMUS agreements (Germany, France, Ireland, Poland…) and other types of international agreements (United States, Mexico, etc.). Likewise, there are SICUE agreements with several Spanish universities.
Internships, employment and tutorial action plan
Internship agreements with more than 60 companies and institutions. In addition, the center offers an Official Master in Web Engineering that is having a great international impact and success in terms of employability.