BA in
English and American Studies BA
University of Nyiregyhaza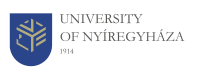 Introduction
The aim of the program is to train experts who have a proficient command of the English language and have profound knowledge regarding English-speaking cultures.
Specialization
English Studies (50 credits, mainly for those wishing to continue their studies on MA-level; Secretarial and Management (50 credits, chiefly for students of a more practical orientation).
Curriculum
Major courses
Written Text Comprehension, Writing Skills, Speech Practice, Vocabulary Building, Use of English.
Introduction to Literature, British Literature, American Literature, Stylistics, Gender and Literature in English, Introduction to British Culture, The Culture of the English Speaking Countries.
Introduction to Linguistics and Applied Linguistics, Descriptive Grammar, Lexicology, Sociolinguistics, and Dialectology.
Cognitive Semantics, Pragmatics, History of English.
Presentation Techniques, Negotiation Skills in English, Business English, Individual Research, and Project Work.
Career Opportunities
They will be competent in managerial positions in national or international organizations, companies, local councils, cultural management, education, journalism, and public relations. They may also continue their studies in any English MA program.