BSc in
B.S. in Marine, Atmospheric, and Earth Science (ACT/SAT optional)
University of Miami Rosenstiel School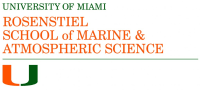 Introduction
Check out our open house recording from October 2021 here!
The Rosenstiel School Undergraduate Program offers both Bachelor of Science and Bachelor of Arts undergraduate degree options. The program curriculum includes sciences, mathematics, and liberal arts, allowing students to develop interests in and appreciation of the arts, humanities, and social sciences as well as the natural sciences.
With six different majors-marine science, oceanography, marine biology and ecology, geological sciences, marine affairs, and meteorology-as well as various areas of specialization, you can customize your academic path to reflect your individual interests and aptitudes. ACT and SAT waived/not required!
https://undergraduate.rsmas.miami.edu/index.html
Marine Science
(Double Major)
Since its founding in 1977, UM's double major Marine Science program has established itself as one of the top programs in the country. The interdisciplinary program deals with the study of the world's oceans: their physical and biological constituents, the influence of oceanic resources on human society and the conservation and future development of those resources.
The breadth of the Marine Science major is complemented with depth in a required second major within one of the basic or applied sciences. Approved second majors are Biochemistry, Biology, Chemistry, Computer Science, Engineering (all disciplines), Geological Sciences, Mathematics, Meteorology, Microbiology & Immunology, and Physics (pure or applied).
https://undergraduate.rsmas.miami.edu/academics/majors/marine-science-dual-major-programs/index.html
Marine Biology and Ecology
The Marine Biology and Ecology major is designed to give students a strong background in biology (genetics, molecular biology, cellular and organismal physiology, ecosystem science) and quantitative skills (mathematics, computation, statistics) as well as research experience in our different sub-disciplines. These sub-disciplines include biomedicine, genomics, evolution, physiology, microbiology, immunology, and ecology.
https://undergraduate.rsmas.miami.edu/academics/majors/marine-biology-and-ecology/index.html
Marine Affairs
Marine Affairs prepares students to contribute to the policy development and management of coastal and marine resources through the integration of scientific, economic, and social perspectives.
Research at UM focuses on aquaculture, fisheries management, political ecology, natural resource economics, coastal zone management, marine spatial planning and marine protected areas, coastal and ocean law, and marine cultural resources.
https://undergraduate.rsmas.miami.edu/academics/majors/marine-affairs/index.html
Oceanography
A degree in oceanography will provide students with specialized knowledge in important ocean science sub-disciplines as well as a broad understanding of the ocean as a key component of the Earth System.
Students advance the understanding of physical, chemical, and biological processes in the ocean and their interactions. Students learn first-hand about instrumentation and methods to measure the oceans using both in-situ and space-based sensors, and about laboratory, analytical, and numerical models to understand oceanic processes.
https://undergraduate.rsmas.miami.edu/academics/majors/oceanography/index.html
Meteorology
The Meteorology major (within the atmospheric science department) emphasizes a strong math and physics background for understanding the physical processes governing the motion and composition of the atmosphere. Faculty research strengths include hurricane research, tropical meteorology, air-sea coupling, cloud observations, climate, and climate change. An active student atmospheric science club facilitates group travel to conferences and local meetings with professionals.
We are a leader in tropical meteorology because we can observe it firsthand. Hurricane research is based in the Miami area which is a prime location to learn from the environment.
https://undergraduate.rsmas.miami.edu/academics/majors/meteorology/index.html
Geological Sciences
Geological Sciences is concerned with Planet Earth, including: Earth's origin and evolution, mineral and natural resources, environmental preservation, natural hazards, paleoclimates, and the history of life. Highlights of the undergraduate program include research experience within the various sub-disciplines of geological science and hands-on field experience around the world. Students of the Geological Sciences pursue careers in the environmental sciences, petroleum or mining industries, research, or outreach and education.
https://undergraduate.rsmas.miami.edu/academics/majors/geological-sciences/index.html