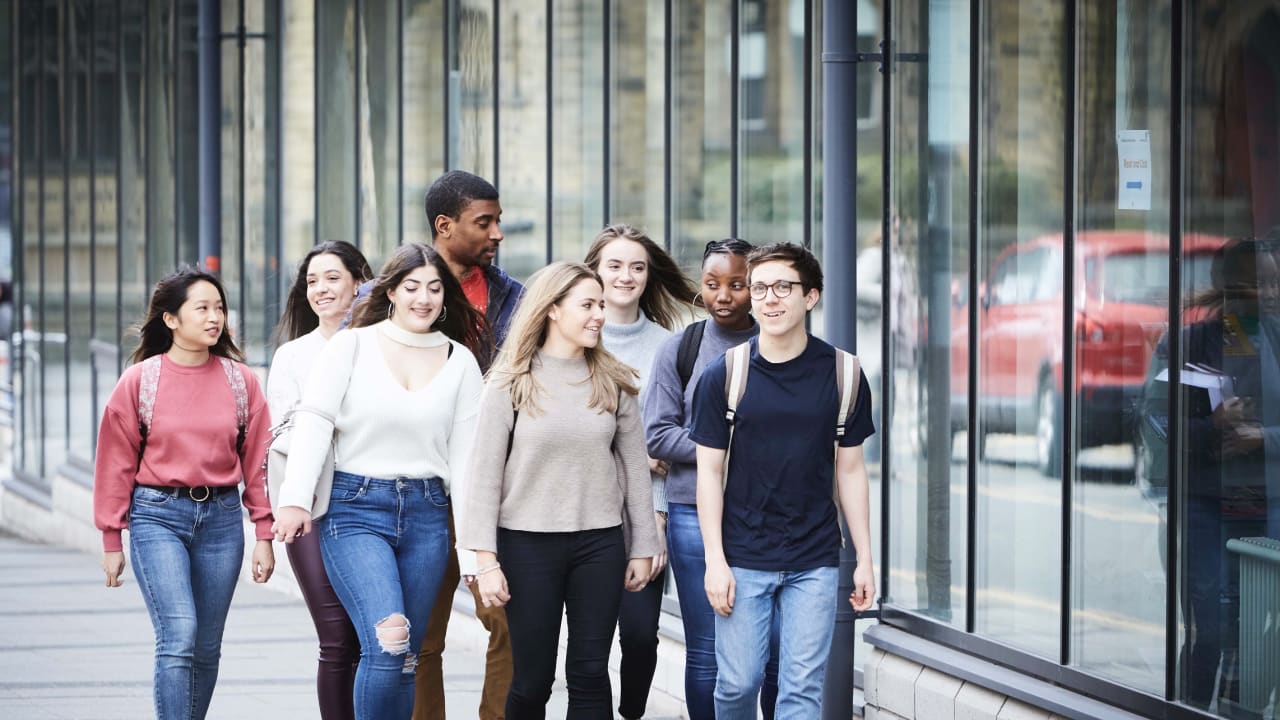 BA in
BA Sociology
University of Leeds, Faculty of Social Sciences

Key Information
---
Campus location
Leeds, United Kingdom
Application deadline
Request info
Earliest start date
Request info
Introduction
The BA Sociology degree examines the interconnections between individuals and wider society. You'll explore changing social, cultural, economic and political processes such as the identities, inequalities and policies that shape our lives.
Bridging big ideas and practical problems, you'll consider how classical, contemporary and emerging styles of thought or the ideas of key thinkers can shed light on social issues such as crime, disability, family and gender issues, racism, social care and youth unemployment. You'll examine social inequalities, protest and struggles overpower, and question what it means to be a 'good citizen' today.
A wide variety of optional modules will allow you to focus on topics that suit your interests and career plans, from poverty to gender studies, violence or consumerism. Your studies will be informed by the latest research being conducted within the School by academics with an impressively diverse range of interests.
Quantitative Research Methods (QRM) pathway
You'll have the opportunity to apply for a place on our BSc Sociology with Quantitative Research Methods pathway which gives a quantitative skills focus to your final year of study with compulsory modules in this area. This pathway will help you develop advanced analytical skills, which are in demand across the public, private, and third sectors.
You will learn statistical analysis techniques and their application to real data (e.g. survey data or statistical data relating to poverty, crime or electoral behaviour amongst others) using statistical software. You will also write a dissertation in which you will analyse quantitative data to examine a sociology/social policy research question.
This pathway is open to all students as long as you attain a 2:1 across all modules in your second year and a 2:1 in the Sociology and Social Policy Research Methods module. You are not required to have done Mathematics at A level.
Scholarships and Funding
If you have the talent and drive, we want you to be able to study with us, whatever your financial circumstances. There is help for students in the form of loans and non-repayable grants from the University and from the government.
Curriculum
Year 1 encourages you to think sociologically, discovering key concepts and debates within the subject and using them to question standard explanations of social issues. Core modules will introduce you to the methods and techniques of social research, and you'll examine the processes which led to the formation and emergence of modern societies.
This provides the foundation for the following year when you'll explore the important thinkers and traditions in the history of sociology, examining social integration, power, social change, the individual, society and forms of culture, belief and consciousness. From there you'll start to gain specialist knowledge in your chosen areas through a selection of optional modules, focusing on topics from disability studies to tourism, crime and the sociology of health.
In your final year, you'll research a topic of your choice in-depth to complete your dissertation, showcasing the skills you've gained throughout the course. Around this, you'll choose further optional modules examining issues such as interpersonal violence, class divisions and protest movements.
Course structure
Year 1
Compulsory modules
Discovery modules

Understanding and Researching the City
Understanding and Researching Contemporary Society
Identities, Inequalities and Policy in Contemporary Society
Sociology of Modern Societies
Formations of Modernity

You will also choose 20 credits of discovery modules.
Year 2
Compulsory modules
Optional modules
You will choose 60 credits from lists of optional modules in the school.

Sociology and Social Policy Research Methods
Central Problems in Sociology

State of Emergency: Social science and the COVID-19 pandemic
Crime, Law and Regulation
Disability Studies: An Introduction
The Sociology of Gender
Crime, Race and Ethnicity
Debates in Childhood and Youth
The Sociology of Culture

Discovery modules
You will also choose 20 credits of discovery modules.
Year 3
Compulsory modules
Optional modules
You will choose 40 credits of optional modules

Sociology Dissertation
Research Skills for your Dissertation

State of Emergency: Social science and the COVID-19 pandemic
Disability and Development
State Crime and Immorality
Contemporary Children, Young People and Families
Global Terrorism and Violence
Gender, Technologies and the Body
Ethnicity and Popular Culture

Discovery modules
You will also choose 20 credits of discovery modules.
Discovery modules
Throughout your degree, you will benefit from a range of opportunities to expand your intellectual horizons outside or within your subject area.
This course gives you the opportunity to choose from a range of discovery modules. They're a great way to tailor your study around your interests or career aspirations and help you stand out from the crowd when you graduate.
Learning and teaching
We use a range of teaching and learning methods to help you gain diverse skills. These will include seminars and workshops where you can discuss in more depth the topics set out in traditional lectures. We emphasise the importance of participation, presentation skills and group work.
Independent study is also a vital element of the course, as it allows you to develop your research and critical skills while preparing for taught sessions.
You'll also have a personal tutor – one of our academics – who will be on hand to offer you guidance and support on academic issues, such as module choices, as well as career and personal matters.
In this course, you'll be taught by our expert academics, from lecturers through to professors. You may also be taught by industry professionals with years of experience, as well as trained postgraduate researchers, connecting you to some of the brightest minds on campus.
Assessment
Modules will use a variety of assessment methods. As well as traditional exams, you could also be asked to complete projects based on essays and case studies, policy briefs, group presentations, work logs, research briefs, project proposals or development agency reviews. In your final year, you'll also submit a 12,000-word dissertation.
Career Opportunities
Graduate destinations
Our graduates are ideally equipped to work in the public and third sector including in the Civil Service, teaching, youth work, fostering/children's services, probation services, social work, prison service, housing and homelessness prevention.
They have also secured employment with some of the biggest international companies in human resources, communications management, broadcasting and advertising.
Postgraduate opportunities
Graduates from the BA Sociology are well prepared for postgraduate study across a range of disciplines. Our graduates have gone on to study social research, gender studies, disability studies, social policy, teacher training, journalism, occupational therapy, human resources, marketing, social work, and criminal justice studies.
Careers support
We encourage you to prepare for your career from day one. That's one of the reasons Leeds graduates are so sought after by employers.
Leeds for Life is our unique approach to helping you make the most of University by supporting your academic and personal development.
The Careers Centre and staff in your faculty provide a range of help and advice to help you plan your career and make well-informed decisions along the way, even after you graduate.