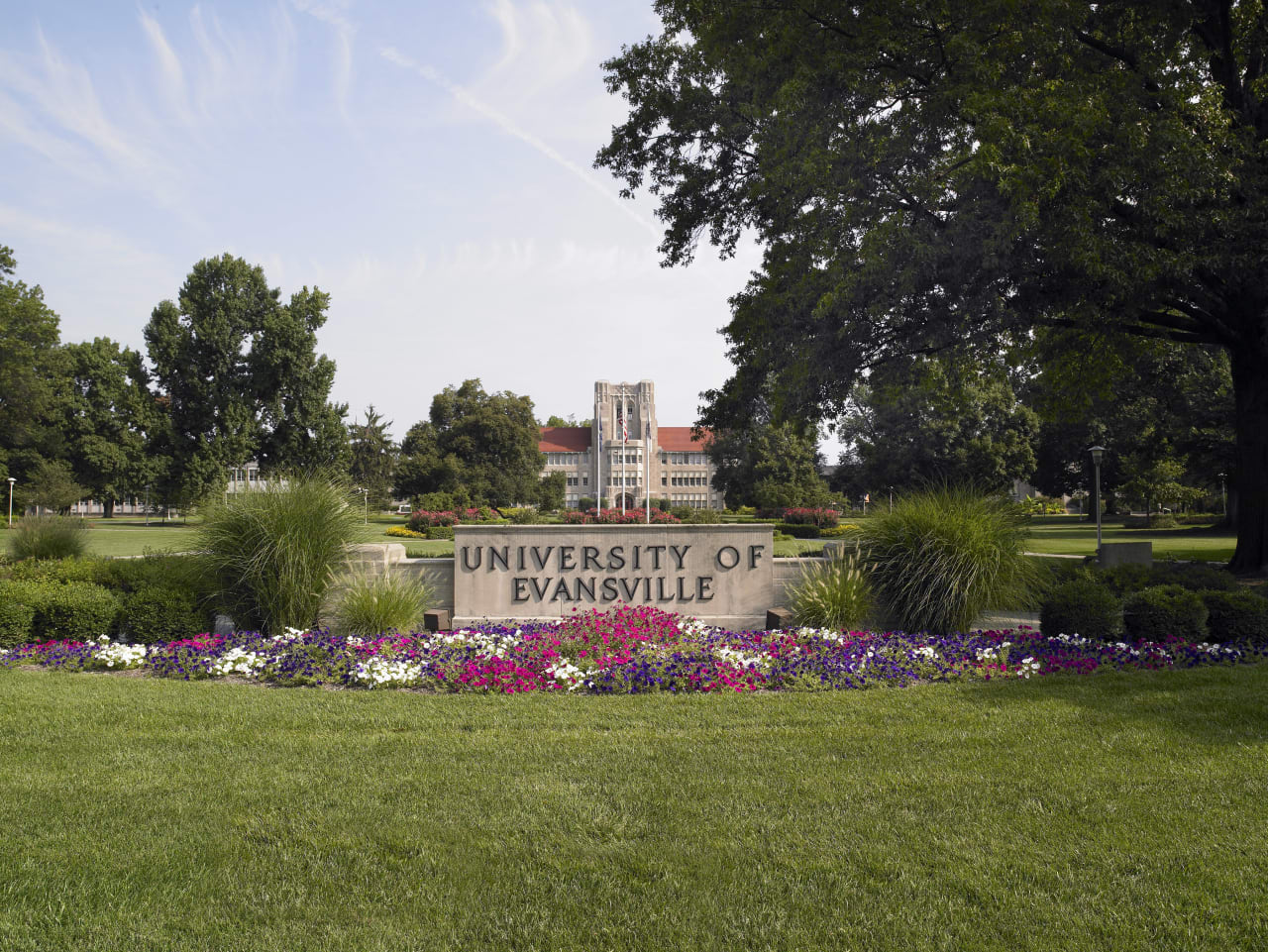 BSc in
BSc in Mechanical Engineering
University of Evansville

Key Information
---
Application deadline
Request info
Earliest start date
Request info
Scholarships
Explore scholarship opportunities to help fund your studies
Introduction
With a rigorous curriculum taught by our talented faculty, UE's mechanical engineering program offers students the skills and tools they will need to succeed in today's job market.
Students will benefit from a broad-based education that encompasses applications as diverse as:
automotive or aerospace vehicles
power generation
manufacturing processes
plastic and other petrochemical products
electronic hardware
These applications require a fundamental understanding of:
the static and dynamic relationships between forces
the nature of materials
principles of energy conservation and transformation
design and analysis of machines
the transmission of heat
the flow of fluids
The mechanical engineering curriculum provides a rigorous treatment of fundamental principles in these subject areas and the necessary background in mathematics and the basic sciences to prepare students for these courses. Through elective choices, students may investigate special areas of mechanical engineering including internal combustion engines, turbomachinery, power plants, mechatronics, and advanced computational methods.
Beyond the Classroom
Internships
Students can benefit from semester-long, full-time professional work experiences through internships. Internship placements are set up through ME faculty or the Office of Career Services and Cooperative Education.
Co-Op Program
Mechanical engineering majors are encouraged to participate in cooperative education (co-op) program. Students benefit by not only receiving a B.S.M.E. degree in five years, but also four additional terms of industrial experience as a mechanical engineer. About 25 percent of mechanical engineering students participate in the co-op program.
The real value of the co-op program is the experience that it provides. A co-op job can be a financial benefit, but the net income from one term at work does not typically cover the cost of one term in education. The co-op program gives employers an opportunity to look at a student as a prospective employee without making a commitment to long-term employment. Likewise, the co-op program gives the student a chance to look at a company and gain some experience before entering the work force.
Co-op students normally get a higher salary offer upon graduation than non co-op students. In many cases the co-op employer provides a long-term employment opportunity for the co-op student upon graduation.
The typical co-op student goes to school the first two years just as his or her fellow students. At the end of the sophomore year the student begins their co-op period and works through the summer. The student returns to school in the fall, but works in the spring. Thereafter, the student alternates between work and school.
Co-op students have a wide range of employers to choose from. Employers are located in the immediate Evansville area, in the surrounding region of Indiana, Kentucky and Illinois and at various places throughout the country. Some of the companies who hire UE mechanical engineering co-op students are listed below:
George Koch Sons, LLC.
LexMark
Wright-Patterson AFB
NWSC Crane
General Electric
Alcan Ingot
GE Aircraft Engines
ALCOA
Patriot Engineering
Toyota
Boeing
Cinergy
Kimball International
Crane
Electronics Research Inc.
Vectren Energy Delivery
Fermi National Accelerator Lab
Whirlpool
Sumitomo Electric Wiring Systems
Union Pacific
Louisville Gas & Electric Company
Fiat-Chrysler Automobiles
Curriculum
Bachelor of Science in Mechanical Engineering
The Bachelor of Science in Mechanical Engineering (B.S.M.E.) requires at least 127 hours of course work distributed as follows:
General Education (37 Hours Minimum)
First-Year Seminar (3 hours)
Fine Arts (3 hours)
Humanities (9 hours)
Social Science (6 hours)
Health and Wellness (1 hour)
Mathematics 221 (4 hours)
Chemistry 118 and Physics 210 (8 hours)
Mechanical Engineering 495 (3 hours)
Foreign Language (6 hours or proficiency)
In addition, the University proficiency requirements for writing in English must be met.
Required Courses (75 hours)
Mathematics 222, 323, 324
Physics 211
Engineering 212, 213, 230, 232, 352
Electrical Engineering 210, 215
Engineering 366, 390
Mechanical Engineering 101, 197, 297, 330, 344, 345, 360, 362, 368, 397, 452, 497
Electives (15 hours)
One of Mechanical Engineering 424, 432, 434, 446, 448, 453
One of Mechanical Engineering 462, 463, 466, 468, 470, 472, 473
Three hours of technical elective from Mechanical Engineering, Civil Engineering, Computer Science, Electrical Engineering, Engineering, Mathematics, Physics, Biology or Chemistry; three hours free elective.
Program Outcome
Program Educational Objectives and Student Outcomes
The mission of the mechanical engineering program is to provide a personalized educational experience for talented and motivated students who seek a Bachelor of Science in Mechanical Engineering degree.
Definitions:
Student Outcomes - Narrow statements that describe what students are expected to know and be able to do by the time of graduation.
Program Educational Objective - Broad statements that describe the career and professional accomplishments that graduates are achieving three to five years after graduation.
ME EAC-ABET Program Educational Objectives:
Graduates shall be engaged in professional practice, continuing education, and/or other activities benefiting society.
Graduates shall have developed habits consistent with an attitude of professionalism, an awareness and appreciation for different cultures, and the understanding of engineering influence in a global context.
ME EAC-ABET Student Outcomes:
(same as EAC-ABET 1 through 7 criteria)
Students shall demonstrate an ability to identify, formulate, and solve complex engineering problems by applying principles of engineering, science, and mathematics
Students shall demonstrate an ability to apply engineering design to produce solutions that meet specified needs with consideration of public health, safety, and welfare, as well as global, cultural, social, environmental, and economic factors
Students shall demonstrate an ability to communicate effectively with a range of audiences
Students shall demonstrate an ability to recognize ethical and professional responsibilities in engineering situations and make informed judgments, which must consider the impact of engineering solutions in global, economic, environmental, and societal contexts
Students shall demonstrate an ability to function effectively on a team whose members together provide leadership, create a collaborative and inclusive environment, establish goals, plan tasks, and meet objectives
Students shall demonstrate an ability to develop and conduct appropriate experimentation, analyze and interpret data, and use engineering judgment to draw conclusions.
Students shall demonstrate an ability to acquire and apply new knowledge as needed, using appropriate learning strategies
English Language Requirements
Certify your English proficiency with the Duolingo English Test! The DET is a convenient, fast, and affordable online English test accepted by over 4,000 universities (like this one) around the world.