BSc in
Bachelor of Science in International Politics and Government
University Bocconi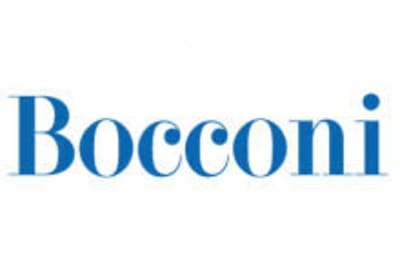 ---
Campus location
Milan, Italy
Tuition fees
EUR 12,689 / per year *
Application deadline
Request info
Earliest start date
Request info
* *subject to adjustment
Scholarships
Explore scholarship opportunities to help fund your studies
Introduction
This BSc is the first undergraduate program offered by Bocconi in the field of political science, with a small multicultural class group of selected, highly motivated students, and a dedicated international faculty. Due to its flexibility, students spend one semester studying abroad at a partner university and have the option of doing an internship.
You will learn how to interpret the evolution of social, economic and political systems in an international perspective, to understand the mechanisms of decision-making within national and international institutions, and develop skills needed for implementing and evaluating policies.
You will acquire a toolbox of soft and hard skills through active learning from a wide array of subjects: politics, economics, management, law, history, and quantitative methods. Great emphasis is placed on three moments of policy-making: designing public policies which are both economically efficient and politically sustainable; implementing public policies with an effective approach; and evaluating public policies using modern quantitative and qualitative techniques.
The program is hence important for the development of abilities for future national and international policy-makers, active players in international organizations and regulatory authorities, and managers in international private firms dealing with an increasingly important non-market environment.
Program Structure
First Year
Main topics
Political Philosophy
Economics (micro and macro)
Political Science
Quantitative Methods
First foreign language
Computer science
This program features an international, policy-oriented approach to studying government and politics. In the main courses, you will learn the core topics of the program (political science, political economics, history, and international relations) and acquire research tools (mathematics, statistics, policy evaluation, and negotiation skills) to interpret the evolution of political, economic and social systems from a decidedly international perspective.

Second Year
Main topics
International Relations
Political Economics
Global History
Management of Government Organizations
Second foreign language
Soft skills seminar
In the second year, you'll keep studying the main topics related to the political science area, while acquiring the competencies needed to evaluate and implement public policies in an effective and economical way.

Third Year
Main topics
Public Governance
Sociology
Media and Political Communication
4 electives
Exchange program
Internship
Final report
In the last year, you will be able to personalize your study plan by:
Picking some electives
Taking part in a compulsory exchange program at prestigious universities such as

Sciences Po (France),
The University of British Columbia (Canada),
University of California (US),
University of Chicago (US),
Princeton University (US),
Fundação Getulio Vargas (Brazil),
University of Hong Kong (China),
Yale-NUS College (Singapore),
Australian National University (Australia)

Doing an internship in Italy or abroad in many areas, including international organizations, regulatory authorities, financial and private firms dealing with non-market environments.
Program requirements are subject to change.

International Opportunities
Studying abroad can be a great opportunity for growth both academically and personally, allowing you to challenge yourself in a multicultural environment. The Exchange Program gives you the chance to spend one semester abroad at a partner university, starting in your Bachelor of Science program.
Exchange Programs
One-semester programs with prestigious partner universities, including:
University of Pennsylvania, Wharton School, USA
New York University, Stern School of Business, USA
University of St. Gallen, Switzerland
Korea University, Business School
University of Sydney, Australia

Career Opportunities
The majority of graduates in International Politics and Government are likely to go on to graduate studies. They can nevertheless access the labor market directly.
Graduates may work in the analysis, communication, implementation, and assessment of public policies. Their skills include examining and interpreting elements for the external environment and their changes, considering the historical, legal, economic, sociological and political landscape, including with an international perspective; a mastery of qualitative and quantitative analysis tools suitable to defining public intervention policies and the assessment of their impact; understanding the lines of action for institutional and public communication, applying the most appropriate tools and techniques; and supporting political and administrative leadership (e.g. documentary research, writing reports and minutes, organizing meetings).
Career opportunities include work at international, national and local public institutions (e.g. municipalities, European Commission, United Nations), companies in highly regulated sectors (e.g. energy, environmental and mass media sectors) and political analysis institutions and research centers.
Admission
Every year, Bocconi University selects the best candidates and sets a number of students who can be admitted to its programs in order to guarantee the best welcoming conditions and success in the academic path and to facilitate the entrance of our Graduates in the professional world.
Usually, a total of 2700 places are available for Bachelor of Science and Integrated Master of Arts in Law programs' first-year students. Classes are made up of approximately 100 students for BSc programs taught in English and approximately 120 students for BSc programs taught in Italian. The Integrated Master of Arts in Law classes (taught in Italian only) are made up of around 140 students.