Bachelor in
College sommelier
Universidad Nacional de Chilecito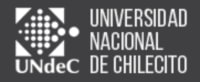 Scholarships
Explore scholarship opportunities to help fund your studies
Introduction
This career offers you the professional knowledge to provide services in the gastronomic and wine sectors. A professional training up to the demands, mainly, of the wine world so that you can attend to every detail and provide a quality service. The art of the Sommellerie is the quality of providing excellence to each event with ethical values ​​of respect and passion.
What are you going to learn during the race?
You will know everything related to the organization and development of the gastronomic service, especially that of the tourist circuits of hotels and restaurants. You are going to learn to communicate and market products from the area, meeting consumer demand. You will acquire skills for the writing of menu cards distinguishing varietals, vintages, styles of wines, prices, geographical regions, or continents. You are going to learn how to manage a cellar and supervise the correct service of the wine at all events.
How is the race?
The degree course is face-to-face and lasts 3 years. The study plan is made up of 28 subjects. The academic training includes activities outside the classroom and a supervised internship path that will allow you to develop yourself by applying your knowledge of enology, ceremonial, languages, among others, in gastronomic and wine-growing activities in the region and throughout the country.