BA in
BA Film & Motion Design
University of Europe for Applied Sciences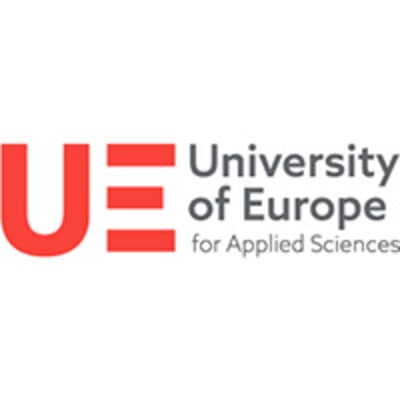 ---
Campus location
Berlin, Germany
Tuition fees
EUR 708 / per month *
Application deadline
Request info
Earliest start date
Sep 2023
* EU applicants: 708 €; monthly Non-EU applicants: 12,100 € yearly
Introduction
Frame by frame: helping tomorrow's film professionals reach their goals
UE's practice-oriented Film + Motion Design program teaches and tests basic methods, concepts, and techniques for the design of time-based media. From camera work and sound design to analog stop-motion animation, CGI, and 3D modeling to digital compositing, hybrid film and visual music, the course offers a broad spectrum of possibilities for creative expression.
Our way of communicating, thinking, and feeling is characterized by digital, interactive, and time-based media. Being able to develop and design these professionally is one of the most exciting and future-oriented activities. In the world of film and motion design, you are part of these innovative developments.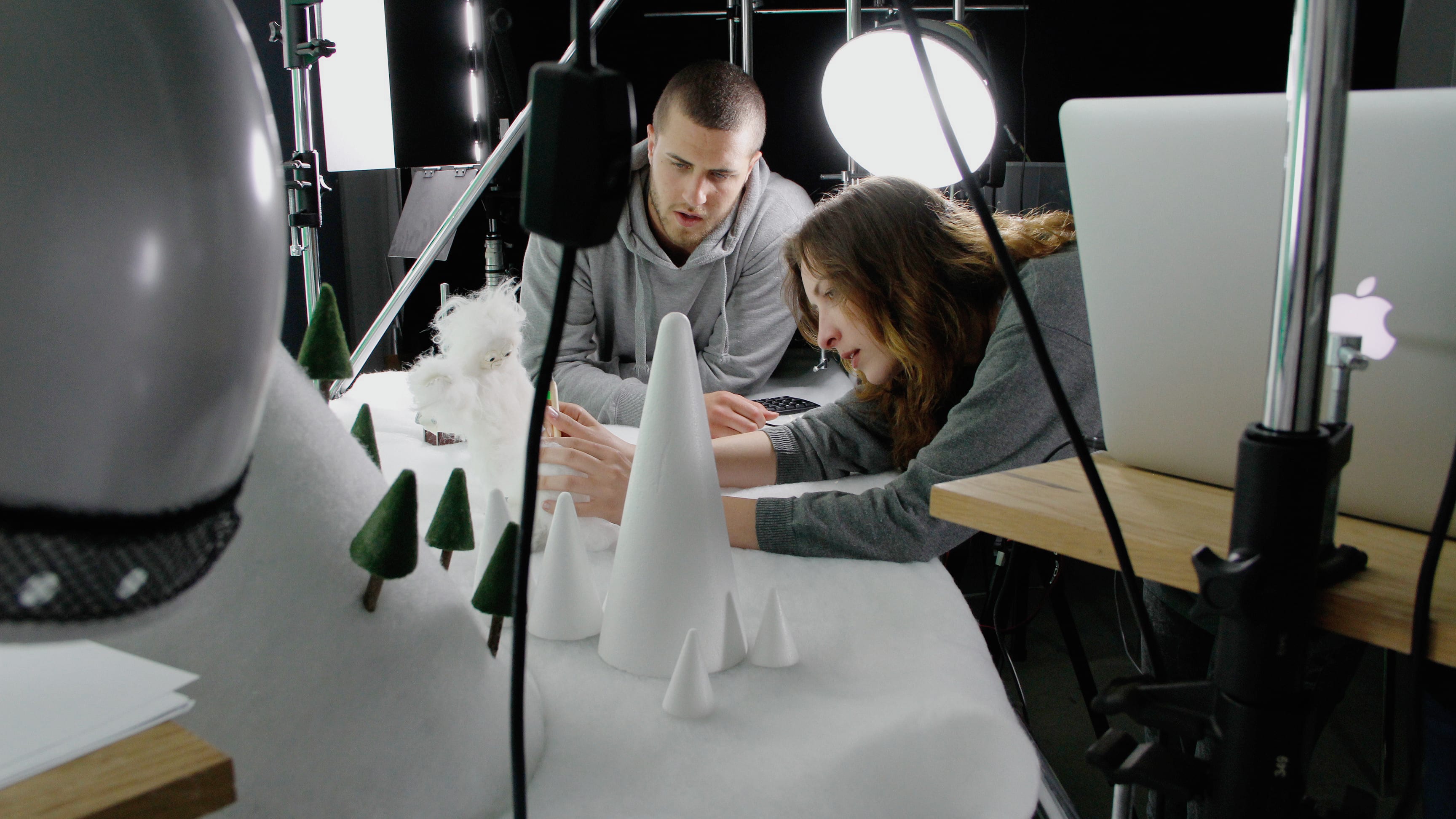 Whilst enrolled on the Bachelor's in Film + Motion Design program, you will learn exclusively from renowned lecturers within the creative industry and can use the professional equipment at the University of Applied Sciences Europe which includes a green screen studio, VR equipment, an animation studio and many more for your study projects. Our teaching focuses on your individual advancement in small learning groups and in a friendly, familiar, and creative atmosphere. Through our interdisciplinary subject selection, a large number of practical projects, semester abroad, and internships, you can actively shape your studies and career path.
With a future-oriented, accredited Bachelor's in Film + Motion Design, we offer you the opportunity to fully develop your artistic potential in a personal environment. Study in seven project-oriented semesters at the University of Applied Sciences Europe in Germany, the first institution to offer Film + Motion Design as a course of study and offer a wide range of optional courses.
Course Requirements
Application requirements:
Please note: All documents in a different language require an official translation to English or German.
Application form
High school/bachelor diploma and transcripts (Or equivalent occupational diploma officially translated to English or German.)
Language Proficiency* (or request to waive**)
CV
Copy of Passport
Letter of motivation
Non-EU applicants only: €3,000 deposit (This reservation fee will be deducted from the total amount of study fees)
UE Art & Design questionnaire
Portfolio
Portfolio Requirements: 5 - 8 work samples in which the moving image is the focus - be it filmed or animated, digital or analog. All kinds of picture series (storyboards, flipbooks) and also other creative projects are welcome. Videos such as MP4, Vimeo, or YouTube links.
*Language Proficiency:
Please note: German-taught programs need both English/German language certificates.
IELTS 5.5 overall
TOEFL iBT72
TOEFL ITP (paper based) 543
Pearson Test of English (Academic) 59
Pearson Test of English (General) Level 1
Cambridge English Advanced and Proficiency 160 overall
Cambridge Exam First (FCE)
TOEIC Listening/Reading 785, Speaking 160, Writing 150
PASSWORD 5.5 (no less than 5.0 in each component)
EF SET (50-minute Test) 51 (only for students applying with an MOI (Medium of Instruction) letter)
Duolingo 90
**Language Waiver:
To request a language test waiver, you must have studied in a country where the official first language is English:
At least nine months in duration;
Full-time;
Undertaken at a recognized institution where teaching and assessment throughout the course are entirely in English;
Has been completed within 2 years of the start date of the course to which you are applying;
Medium of Instruction (MOI) should indicate English + EF SET or any accepted English proficiency certificate requested.
Facts:
Degree: Bachelor of Arts (B.A.)
Campus: Berlin and Hamburg
Language of instruction:

German (Hamburg)
English (Berlin) (in accreditation)

Starting semester:

Winter semester: September
Summer semester: March

Internship semester / semester abroad: 5th semester
Credits: 210 ECTS
Highlights:

Focus on individual development in small learning groups and a personal atmosphere. Creative freedom, professional equipment, and practical projects. Teaching by renowned lecturers from the creative industry.
Special features of studying at the University of Applied Sciences Europe
At the University of Applied Sciences Europe, you will study in small classes, which will enable you to individually develop your talent and establish personal contact with your teachers. Our professors and lecturers are experienced experts from the private sector and bring their industry networks to the course.
Thanks to our wide range of subjects, you can have a say in the content of your studies and expand them thematically. The practice-oriented approach of our university means modern facilities such as a green screen studio and an animation studio as well as integrated internships and/or semester abroad are available.
Studying at the University of Applied Sciences Europe in Germany
We put emphasis on internationality. That is why we were ranked among the top 25 performers in student mobility and international orientation worldwide (U-Multirank 2016). Our numerous international students come from all over the world to pursue a highly valued (state and ZEvA recognized) German degree that is entirely taught in English.
Germany, known as the country of innovators, is the perfect place to get your degree. Germany is the largest economic power and the center of high tech and automotive technologies in Europe. Additionally, Germany is a particularly safe and livable country with relatively low tuition fees and affordable living costs. Furthermore, Berlin is known as Europe's startup capital, a magnet for creatives, and "place to be" for young people and entrepreneurs.
That's why we encourage international students to come here and study with us. You can apply with your national school degree now. We will then take a look at your application and guide you through the process.
Contents of the studies - semesters abroad, internships and more
In this predominantly project-oriented course, students will acquire basic design skills and the handling of current media technologies, as well as skills in the format-specific conception and realization of moving images. In terms of the creative basics, you will deal with many facets of moving image design: storytelling, camera and light control, VR motion design, 2D and 3D animation, and much more.
In practice-oriented seminars and through the interdisciplinary and international grounding of the university, you are prepared in this program of studies in the best way to step into the media industry, in which both qualifications and your professional network count. In the course of your studies, you will develop a comprehensive portfolio of projects with partners from culture, research, and business.
Study Film + Motion Design and make a career
With the focus on time-based design, the Film and Motion Design course prepares you for a variety of current and future professions in the fields of film, animation, design, iconography, and media art. Your job opportunities are as varied as the media landscape itself.
After graduation, you will be expected to have a wide range of interdisciplinary skills as a motion designer, digital designer, or film designer. You will be employed or freelance for agencies, television stations, film or game productions, in the entertainment industry, the liberal arts, advertising or knowledge transfer, in the media production of museums, trade fairs, theatres, and event stages.
Tuition fees and financing
In contrast to public universities, the quality standard at UE is guaranteed by tuition fees. This ensures that we can continue to offer you modern equipment, experienced lecturers, and a constantly growing network.
Apply for a Film + Motion Design degree course
You can apply online for a bachelor's program such as the Film + Motion Design program one year before you start your studies. For both the winter semester and the summer semester you can submit your application until shortly before the start of your studies.
Important: When applying, you must choose one of the courses directly. However, you can still change courses later.