BSc in
Bachelor of Science in Psychology- online
Thomas University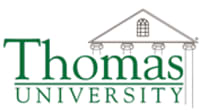 Scholarships
Explore scholarship opportunities to help fund your studies
Introduction
The Psychology degree can be attained via campus-based studies or fully online, or a student can mix their courses, taking some on campus and some online. The Mission of the undergraduate program in Psychology is to prepare students for a wide range of career options in human services, administration, criminal justice, health, business, and education. The Psychology department has two student organizations: Psi Chi is the T.U. chapter of the National Honor Society in Psychology and the Psych Club which enhances a community spirit among the Psychology majors.
Important features:
Individual attention
Develop interpersonal, analytical, writing and research skills
Prepare for a wide range of career options in human services, criminal justice and education for example
Engage in current research in the field of psychology; the first step for a T.U. graduate degree in Psychology, Social Work or Rehabilitation Counseling
Psychology is the study of behavior, mental processes, emotions and their biological bases. Understanding self and others is a tremendously valuable tool that helps psychology majors prepare for careers in a broad variety of settings. These may include medicine, law and law enforcement, education, healthcare, youth services, business, architecture, engineering, wellness, sports, science, and research. The Thomas University Psychology Department fosters a professional atmosphere of intellectual curiosity by encouraging students to examine the latest research trends within the field and to obtain firsthand practical experience alongside regional mental healthcare providers. The online psychology degree from Thomas University is a convenient way for both traditional and non-traditional students to earn a degree that adapts to their lifestyles. Many of our psychology baccalaureates have continued on to graduate-level study, while others have gained employment in the field immediately following graduation. Thomas University offers two student-led organizations: the Psychology Club, which offers a university-wide discussion forum and Psi Chi Chapter 896, which has been part of the national honor society in psychology since 1996.
English Language Requirements
Certify your English proficiency with the Duolingo English Test! The DET is a convenient, fast, and affordable online English test accepted by over 4,000 universities (like this one) around the world.