Bachelor in
Business Administration - Accounting (Bachelors)
Trinity Baptist College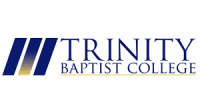 Scholarships
Explore scholarship opportunities to help fund your studies
Introduction
The Accounting concentration prepares the student with the necessary skills to succeed in commercial, public, non-profit, or governmental accounting and provides the foundation for additional study and licensure. Coursework in the accounting program helps equip the student to master the requisite skills and competencies of an accountant or financial executive, and be prepared to work in business or Christian ministry.
Key Courses
BUS201 Financial Accounting
An introduction to financial accounting, this course focuses on the financial reporting of enterprises to external decision makers. It introduces and examines the accounting cycle, including journalizing and posting transactions, accounting for merchandising businesses and preparing financial statements, including the income statement, balance sheet, statement of retained earnings, and cash flow statement, in accordance with generally accepted accounting principles.
BUS202 Managerial Accounting
Managerial accounting introduces concepts, procedures, and decision models that help managers improve business decision making. Managerial accounting is focused on meeting the financial information needs of internal users. The course presents various systems for calculating the cost of a product or service; tools for the evaluation of business segments; models for making decisions concerning a wide variety of special decisions; and planning and budgeting for operations.
ACC301 Intermediate Financial Accounting I
An in-depth study of financial statement preparation, accounting theory, and accounting practice for current assets and non-current assets, and related income effects. The application of generally accepted accounting principles in financial accounting and reporting.
ACC302 Intermediate Financial Accounting II
Continuation of ACC301 with emphasis on accounting theory and practice for long term liabilities and shareholder equity accounts, and related income effects.
ACC331 Cost Accounting
An in-depth study of the role of the modern management accountant and the application of traditional and activity-based cost analysis to diverse industries and manufacturing operations. Characteristics of business costs are analyzed and the principles of various cost systems are examined. Emphasis is given to the use of cost systems and data in strategic and managerial decision making.
ACC417 Advanced Financial Accounting
Accounting theory and practice for business combinations, consolidations, intercompany transactions, foreign operations, statements of cash flow, and other selected topics.
ACC422 Accounting Information Systems
This course addresses problems and issues related to computer-based accounting information systems. It presents fundamental principles of systems development for performing general financial accounting and management accounting functions with emphasis on internal controls.
*Students should consult their home state requirements if they desire to seek the CPA or CMA designation. The State of Florida requires TBC graduates to enroll in a graduate program and complete 15 graduate hours prior to receiving the CPA designation.