Bachelor in
Sustainable Business and Technology (B.Eng.)
Trier University of Applied Sciences

Introduction
Innovative. Interdisciplinary. International. Sustainable Business and Technology.
Build the foundation for your career at the edge between business and technology! Our interdisciplinary Bachelor program at Germany's most sustainability-oriented university incorporates all aspects necessary to meet the demands of young students seeking a global perspective.
In six semesters, you will study business and engineering through innovative learning concepts. Our focus on sustainability, green technologies, and a globally interrelated perspective provides future graduates with excellent key qualifications and enables them to master the challenges of our time.
Real-life business projects, as well as training in organization, methods and communication skills, complete our students' academic and personal profile.
As a special benefit, German language and intercultural communication modules will pave the way for a possible professional life in Germany or German enterprises abroad.
Accreditations
Trier University of Applied Sciences has been system accredited since October 2017 by the German Accreditation Council, a foundation of public law with legal capacity that the federal states have set up for accreditation and quality assurance in teaching and learning at German universities.
The program "Sustainable Business and Technology" was accredited in 2017.
Ideal Students
Business or Technology? Still undecided?
If you decide to study as an industrial engineer, you will receive an education that covers both aspects. We have also integrated language courses into our program as an elementary core competence in an increasingly globalized world. So you have to like breadth, be an all-rounder – you're not likely to become a highly specialized expert.
After graduating from high school, you are well prepared for this degree program. However, many applicants choose this degree program after they have already had experience with another degree program and are simply even more curious and want to get more of a taste of other fields.
Scholarships and Funding
There is a wide range of funding opportunities and scholarships in Germany that international students can apply for. For students who are enrolled at our university, there are also advisory services on-site.
We do not provide scholarships for applicants. The German Academic Exchange Service (DAAD) provides several scholarships for foreign students.
Many of our students work at our university in our numerous research or administrative projects as part of a temporary job, which allows them to earn some extra money to finance their studies.
Curriculum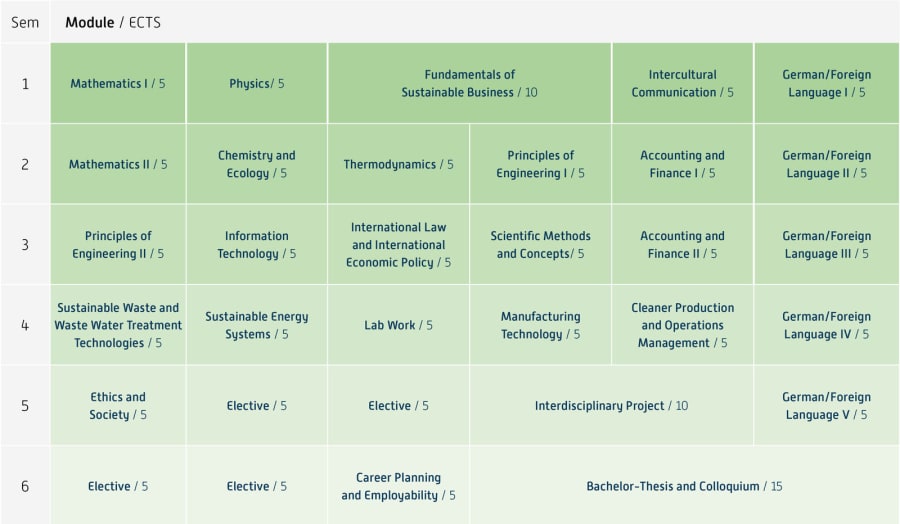 Rankings
"Some like what we do"
For many years, the Environmental Campus has consistently been recognized for its special profile in sustainability. The German government, UNESCO, and many other organizations have already honored us with important prizes and awards. We are very proud of this. Here are some examples of recent awards:
CHE 2021: In 2021, the Environmental Campus degree programs achieved outstanding results. A total of nine top rankings were achieved by the department's degree programs in environmental and business administration, business and environmental law, as well as its international and continuing education programs.
CHE is the most comprehensive and detailed ranking of German universities and universities of applied sciences. It contains facts on university study, teaching, equipment, and research, as well as students' opinions on study conditions at their HEI, and, for some subjects, how professors view the reputation of departments.
GreenMetric Awards 2020: The Environmental Campus was awarded "Germany's Greenest University" and occupies an outstanding 6th place worldwide among 918 universities in the international GreenMetric 2020 ranking and remains in first place nationally for the fourth year in a row.
The GreenMetric ranking ensures a holistic assessment of universities' sustainability activities and is divided into six weighted categories: Infrastructure (15%), Energy and Climate Protection (21%), Waste Management (18%), Water (10%), Mobility (18%), and Teaching and Research (18%).
Career Opportunities
The markets of the future are becoming more complex and the resulting challenges are often interdisciplinary.
With their comprehensive perspective on production and business processes, industrial engineers are experts in solving interdisciplinary problems. When engineers without sufficient economic knowledge encounter economists with a limited technical background, the workflow suffers.
Industrial engineers understand both sides: designers and production planners, project managers, sales and marketing staff. They have a comprehensive view on business processes and solve problems with a view on technology as well as business. Industrial engineers make sure products work – and sell.
Job chances for industrial engineers educated in Germany are excellent. They work in all areas of the economy, in small and large enterprises, industry and commerce, consulting and insurance, utility companies, and the public sector:
Marketing, technical sales, and distribution
Innovation management, product development
Production planning and manufacturing
Materials management and logistics
Controlling and business optimization
Quality and environmental management
Consulting and management