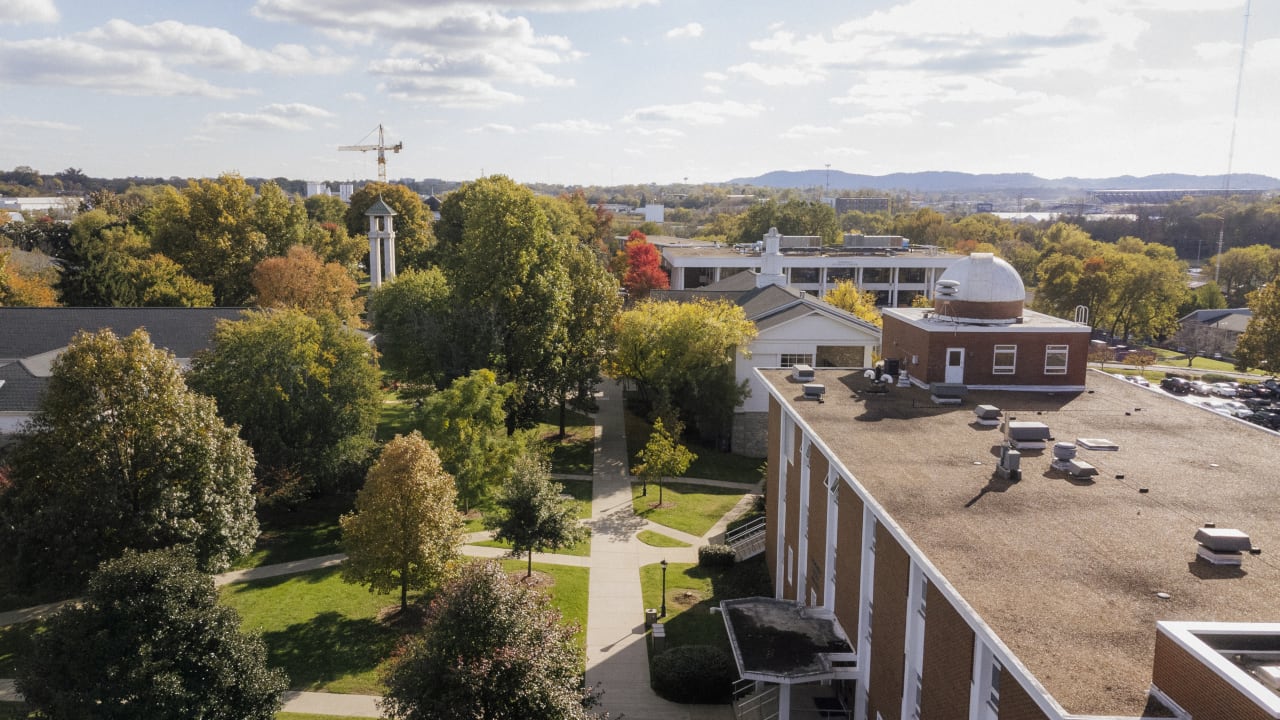 BSc in
Bachelor of Science in Organizational Communication
Trevecca Nazarene University
Key Information
---
Campus location
Nashville, USA
Tuition fees
USD 28,590 / per semester *
Application deadline
Request info
Earliest start date
Aug 2024
* per 12-18 credit hours
Introduction
Trevecca's Bachelor of Science in organizational communication is a versatile and highly applicable degree that equips you to use strong communication skills to evaluate issues within any organization and apply effective solutions. Through relevant and engaging coursework, you will strengthen your relational communication, critical thinking, and problem-solving skills.
Program Benefits
Learn from faculty who possess high degrees in their fields, who have relevant and valuable real-world experience, and who make an effort to know you personally.
Graduate with a versatile and applicable knowledge base.
Enjoy our small class sizes and supportive campus community.
Take advantage of incredible internships and job opportunities available in the exciting Nashville market.
What to Expect
Large organizations, small businesses, churches, government organizations, not-for-profit agencies, and educational institutions all need strong organizational communication to function effectively and efficiently. As a student in Trevecca's organizational communication program, you'll gain the knowledge and skills you need to be a servant leader in any organizational setting.
Your coursework will enable you to understand the modern-day issues facing organizations and their members and to establish strong communication strategies to address them. On top of gaining a strong foundation in communication theory, you'll strengthen your relational communication, critical thinking, and problem-solving skills.
Our highly accessible faculty members will create strong mentoring relationships with you and will give you individualized attention as you pursue your unique goals and career path. They will help you seek out and choose from the exciting internship opportunities available in the Nashville market whether it be in entertainment, healthcare, manufacturing, finance, social services, or another field.
Why Choose Trevecca?
Founded in 1901 and a leader in online education for more than two decades, Trevecca helps students discover and pursue an individual calling by providing innovative instruction; cultivating a supportive, Christ-centered community; and establishing relationships that open doors.
Recognized nationally and locally for academic quality, Trevecca has earned a reputation for providing the world with servant leaders, problem solvers, and difference makers. Trevecca's holistic approach to education encompasses intellectual, social, emotional, physical, and spiritual growth.
As a Christian university, we offer programs that explore the ways faith intersects with your field of study. This means you can gain your organizational communication degree in a supportive, Christian community with small classroom sizes and engaged faculty members who care about you, your faith, and your goals.
Curriculum
General Education — 51 hours
Major — 34 hours
COM 2025 Principles of Intercultural Communication 3
COM 2620 Foundations of Media Writing 3
COM 2750 Human Relations in Organizations 3
COM 3000 Principles of Public Relations 3
COM 3010 Theories of Communication 3
COM 3260 Organizational Communication 3
COM 4000 Advanced Public Speaking 3
COM 4060 Social Influence 3 or COM 4560/CED 4560 Leadership in the Christian Organization 3
COM 4510 Career Internship in Communication Studies 1-3
COM 4550 Research Methods in Communication Studies 3
COM 4800 Senior Project in Communication Studies 1-2
Choose one of the following — 3 hours
BUS 2300 Introduction to Entrepreneurship and Small Business Management 3
BUS 3700 Introduction to the Healthcare Industry 3
COM 3040/BUS 3040 Human Resources Management 3
COM 3150/MKT 3150 Sales Fundamentals 3
POL 3000 International Relations 3
PSY 3120 Social Psychology 3
COM 4510: 3 hours required
COM 4800: 1 hour required
Additional Requirement — 2 hours
ITI 1900 Business Information Technology 2
Minor (Student's Choice) — 15-18 hours
General Electives — 15-18 hours
Total Credit Hours: 120
Career Opportunities
Your organizational communication degree from Trevecca prepares you to enter any number of graduate programs or to enter a wide variety of careers in nearly any industry or field. More specifically, your degree positions you for roles such as:
Human resources director
Public relations director
Director of community engagement and fundraising
Events coordinator
Corporate trainer
Account manager
Customer service director
English Language Requirements
Certify your English proficiency with the Duolingo English Test! The DET is a convenient, fast, and affordable online English test accepted by over 4,000 universities (like this one) around the world.