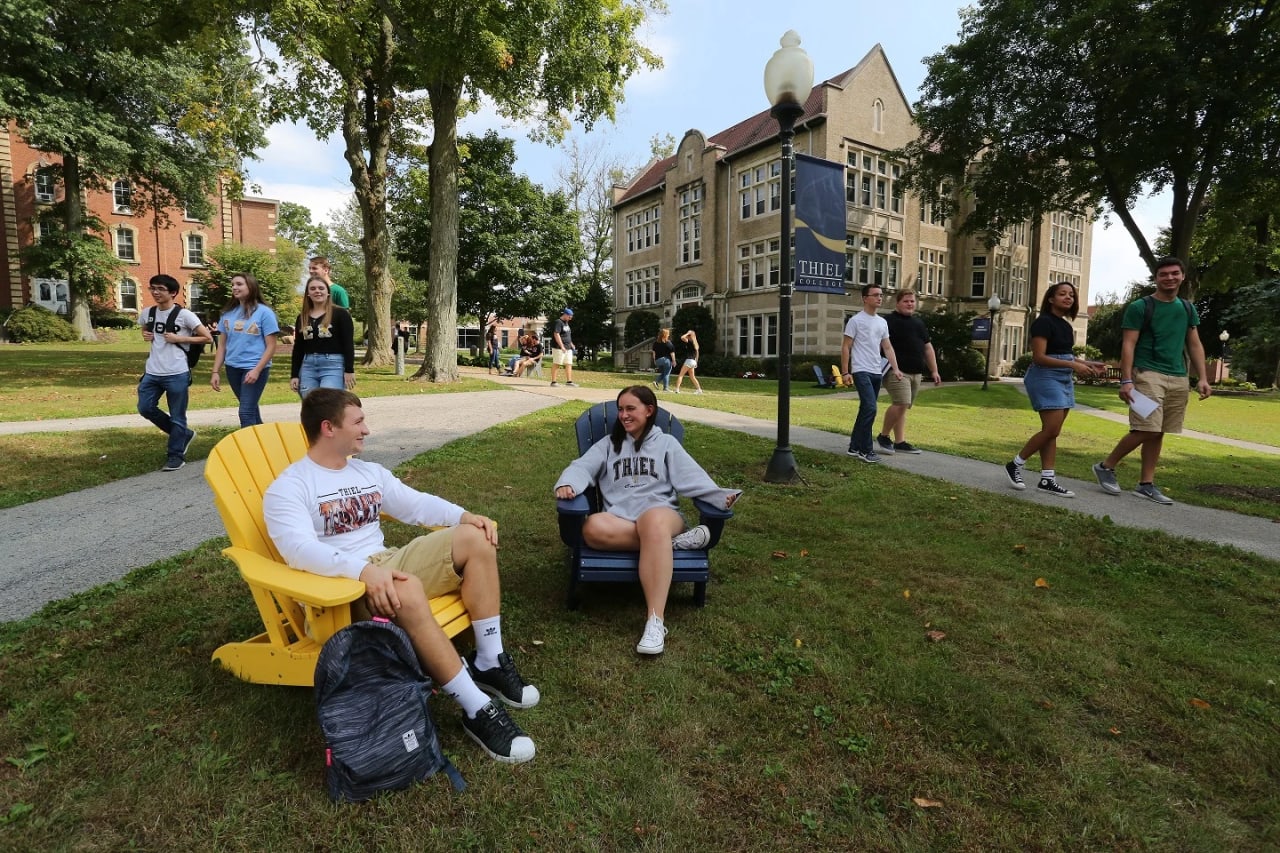 BSc in
Bachelor of Science in Exercise Science
Thiel College

Key Information
---
Campus location
Greenville, USA
Tuition fees
USD 33,620 / per year *
Application deadline
Request info
Earliest start date
Aug 2023
* full-time tuition 2022-2023
Introduction
As an exercise science major at Thiel College, you'll study human movement and how the body responds and adapts to physical activity, health, exercise, and sports. This will prepare you for a career as an exercise specialist, athletic director, conditioning coach, personal trainer, and many more careers in health and wellness or athletics.
In courses that range from classroom environments to totally hands-on learning opportunities, you'll study kinesiology, human anatomy, and strength and conditioning. You'll also receive stringent professional preparation as well as intensive research and internship opportunities. Best of all, your courses in Exercise Science are combined with a core curriculum in the Liberal Arts that encourages creativity and critical thinking, two skills essential for success in this growing field.
Major Features
Develop a strong foundation in human anatomy, kinesiology, medical terminology, and the physiological basis of exercise and physical fitness
Work closely with exercise, rehabilitation, recreational, educational, and athletic professionals in classes and through a variety of internship opportunities
Preparation for professional certification exams by the National Strength and Conditioning Association or American College of Sports Medicine to qualify students to enter the workplace or continue on to graduate school.
Program Outcome
Through an interdisciplinary and comprehensive approach, students will gain knowledge in the scientific foundation of human movement, physical activity, exercise sport, and performance. This curriculum will prepare students for a wide variety of graduate and professional programs, or for diverse careers in health-related professions.
A student who graduates from Thiel College with a major in Exercise Science will:
Understand exercise science principles and their implications/applications.
Experimentally analyze, critique, and interpret problems in the exercise science field.
Effectively communicate scientific concepts in both written and oral forms.
Be effectively prepared for discipline-related employment, or admission into a graduate/professional program.
Curriculum
Major Requirements
Must take all of the following:
EXER 105 Intro to Exercise Science
EXER 205 Facility Management
EXER 305 Exercise Testing/Prescription (Lab)
EXER 310 Kinesiology
EXER 315 Exercise Physiology (Lab)
EXER 405 Strength and Conditioning (Lab)
EXER 410 Seminar/Certification
And one of the following:
EXER 490 Ind Study in Exercise Research
EXER 495 Internship
Related Math and Science Courses
Must take all of the following:
BIO 117 Medical Terminology
BIO 284 Human Anatomy
BIO 294 Human Physiology
MATH 211 Elementary Statistics
AH 125 Nutrition
Career Opportunities
Strength and Conditioning Coach – earn an average salary of $58,623 applying scientific knowledge to train athletes with the goal of improving athletic performance*.
Assistant Athletics Director - earn a median salary of $78,642 helping to run the athletics program for an educational institution or park district**.
Exercise Specialist – earn a median annual salary of $43,935 helping individuals who have various medical conditions improve their overall health and fitness***.
Wellness Director – earn a median salary of $54,799 for consists of managing staff, implementing strategies planning programs that benefit a group's health, safety and wellbeing****.
Exercise Physiologist – earn a median salary of $19.65 per hour or $40,872 per year helping clients set health goals, and administering exercise programs to achieve those goals.*****
Additional Careers - Exercise Science is an excellent undergraduate major if you are preparing for graduate study and a career as a Physician Assistant, Physical Therapist, Occupational Therapist, Chiropractor, or Athletic Trainer. The curriculum provides you with a strong science base including anatomy, exercise physiology, and kinesiology, and then allows you to meet specific graduate school requirements while earning your Exercise Science degree. Thiel College currently has articulation agreements with several graduate schools.
*www.nsca.com/salary-survey
***https://www1.salary.com
****https://www.payscale.com
*****https://www.payscale.com