Bachelor in
Bachelor of Arts
The American College of the Mediterranean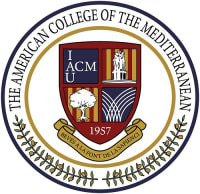 Introduction
The American College of the Mediterranean (ACM) is a U.S. college in Aix-en-Provence, France. ACM is a leader in international education and provides an American-style education with a global focus. The majors and minors at The American College of the Mediterranean reflect the site-specificity of our campus in Southern France and the Mediterranean and build upon ACM's academic tradition as a leader in international education. ACM offers fifteen different bachelor's programs, as well as the option to self-design a field of study from a wide range of course offerings. ACM's flexible and individualized curriculum allows students to design their own major, in conversation with their academic advisor, to fit individual academic interests.
Academic Majors/Courses
Art History / Business Administration / Communication Studies
French Studies / History / International Business / International Relations
Management / Marketing / Mediterranean Studies / Painting / Political Science
Psychology / Self-Designed Field of Study / Visual Arts / Wine Studies
Minors
Art History / Business Administration / Communication Studies / Environmental Science
French Studies / History / Hospitality Management / International Business
International Relations / Liberal Studies / Mediterranean Studies / Peace & Conflict Studies
Philosophy / Political Science / Psychology / Religious Studies / Visual Arts / Wine Studies
Curriculum
Core curriculum
In order to complete a bachelor's degree at The American College of the Mediterranean, regardless of major or program of study, students must complete the requirements outlined in the General Education Core Curriculum. The Core Curriculum aligns with the mission of ACM, which is to provide excellence in international education, inspire intercultural awareness, and prepare students for success in a global community through the study of European and Mediterranean history, languages, cultures, and contemporary issues. Core courses are in the academic areas considered by ACM faculty to be necessary for a well-rounded liberal arts education. The purpose of these courses is to provide students with a chance to explore diverse subject matter, to think critically through a variety of lenses and viewpoints, to make connections across disciplines, and to become informed and thoughtful global citizens. About 55 units of students' total of 124 units of undergraduate study will be Core courses. Certain classes in the student's major area of study may also count toward Core Requirements on a case-by-case basis.
Field Study Component: Field experience is woven throughout all courses at ACM, giving students the ability to make real-world connections, to immerse themselves in the French and surrounding Mediterranean Basin culture, and to learn outside the classroom.
Social Issues in the Global Community: As part of its mission, ACM strives to create global ethical leaders and policymakers in an increasingly interconnected global community. The site-specificity of ACM allows students to engage in classroom discussions on European, French, Mediterranean, and North African topics facilitated by accomplished and well-traveled faculty. As a part of ACM's "Social Issues Across the Curriculum'' initiative, students and faculty weave topics related to race, class, and gender into everyday discussion both in and out of the classroom.
Core Curriculum Requirements
Language foundations
Foreign Language (French, Arabic, Spanish) - 12 units or fourth-semester competency
Composition (English) - 3 units
Literature (Language of choice) - 3 units
Arts and humanities foundations
History - 6 units
Philosophy Ethics (does not include Business Ethics) - 3 units
Fine Arts (Photography, Sculpture, Studio Art, Creative Writing, Art History) - 6 units
Religious Studies - 3 units
Social sciences foundations
Behavioral Science (Anthropology, Sociology, Psychology) - 3 units
Political Science (International Relations, Economics) - 3 units
Math and Sciences foundations
Mathematics - 3 units
Physical Science (Geography, Chemistry, Environmental Science) - 3-4 units
Life Science (Biology, Ecology) - 3-4 units
Global diversity requirement
ACM requires that students take one course (3 units) that is marked with a Global Diversity (GD) distinction during their time at ACM. These courses explore and analyze typically underrepresented groups of people on the global stage, and incorporate international and cross-cultural studies.
Scholarships and Funding
ACM is sensitive to students' diverse financial backgrounds and therefore offers need-based financial aid packages and merit-based scholarship opportunities to fit each student's unique situation. Students must complete the degree program admissions process and the financial assistance application process in order to be considered for financial aid. For more information regarding financial aid, scholarships, payment plans, and work-study opportunities, please see the Scholarships & Financial Aid page on the ACM website.
Ideal Students
The ideal ACM applicant is adventurous and internationally-minded and interested in completing a bachelors degree in the Mediterranean context. ACM offers the benefits and features of an American-style education that are recognized world-wide, including small class size, faculty members focused on teaching rather than just research and student life programming, all in the heart of Europe.
Students who wish to live or work internationally in the future will benefit from multi-cultural classrooms where the focus is cultural learning and exchange.