BSc in
BS in Biochemistry
Spring Hill College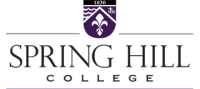 Introduction
Are you fascinated by the genetic code? Would you like to learn more about the chemistry, molecules, and chemical processes necessary for life to exist? Do you love research and hands-on experience?
As a biochemistry major at Spring Hill College, you'll have the opportunity to follow two professional tracks: human biochemistry designed for students interested in pre-med or the allied health fields, or molecular biochemistry and research.
Why SHC?
At Spring Hill College, we're making our mark – With our small class sizes and affordable tuition, Spring Hill College is uniquely qualified to provide a high-quality education to our students. Our Jesuit, Catholic college education is renowned as a well-rounded higher education approach, with an emphasis on empowering students with a passion for knowledge and personal growth. With our recent tuition cut, Spring Hill College is one of the most affordable private colleges in the country.
We're curious and inspired – Forbes Magazine has ranked Spring Hill College as one of the top ten best colleges for return on investment (ROI). In our class of 2021, 92% of graduates attained placement six months after graduation through employment, graduate/professional school, internship, or service.
We're doers – Our students contribute 24,000 hours on average to the local community through the Foley Center each year. 100% of the 2020 graduates that applied to medical school were accepted. Spring Hill College has a 100% certification rate and a 92% placement rate with our Education program over the last five years.
Scholarships and Funding
Accessible. Affordable.
Starting in 2021, Spring Hill College tuition and fees are reduced from $41,868 to $21,100. Room and board will be reduced by $3,200.
This price reduction makes Spring Hill one of the most affordable private colleges in the country while retaining our reputation for providing a Jesuit, Catholic educational experience of the highest quality.
Apply for Financial Aid
The most important step for students who wish to apply for financial aid is to submit the FAFSA (Free Application for Federal Student Aid) online and make sure to add Spring Hill College to your list of schools. Only by completing and submitting the FAFSA will you be considered for additional funding from Spring Hill and federal and state sources.
Program Outcome
Students in this program will develop an in-depth understanding of biochemistry and will be prepared for careers in health-related fields or in biochemistry research. Students have the opportunity to choose their track and will be able to develop personal and professional relationships with their faculty at Spring Hill College and working professionals.
Career Opportunities
Graduates of this undergraduate biochemistry program will have a great understanding of several biological and chemical principles. The majority of graduates of this program continue their education in graduate school programs and earn their Ph.D. Many graduates of this program will work in research roles across the country.