BA in
BA in Graphic Design
Spring Hill College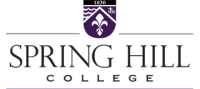 Introduction
The rich background of our liberal arts core encourages curiosity about the work and engages students in critical thinking and problem-solving. Our graphic design program provides a theoretical understanding of design principles and the technical skills required of a professional designer.
Students develop promotional materials for many community organizations which results in a heightened sense of civic responsibility. A graphic design internship is also required to expose students to a broad range of cultural experiences. At the completion of the program, students are fully prepared to compete and succeed in the design industry.
Scholarships and Funding
Accessible. Affordable.
Starting in 2021, Spring Hill College tuition and fees are reduced from $41,868 to $21,100. Room and board will be reduced by $3,200.
This price reduction makes Spring Hill one of the most affordable private colleges in the country while retaining our reputation for providing a Jesuit, Catholic educational experience of the highest quality.
Apply for Financial Aid
The most important step for students who wish to apply for financial aid is to submit the FAFSA (Free Application for Federal Student Aid) online and make sure to add Spring Hill College to your list of schools. Only by completing and submitting the FAFSA will you be considered for additional funding from Spring Hill and federal and state sources.
Program Outcome
Our undergraduate program in graphic design will provide students with a heavy technical education while also covering art and design principles in various styles. This program is great for students who want to combine their creative passions with their strategic communication and want to pursue a career in marketing, advertising, public relations, communications, journalism, or branding.
Career Opportunities
Where We Work
SKAGEN Fondene, Norway
Marse Designs, New Orleans
Spar Advertising, New Orleans
Razorfish, Atlanta, Ga.
Career Outlook
Graduates from our graphic design program will be able to work in design, branding, and strategic work in a variety of professional fields. This program provides students with a plethora of design and technical skills on top of instilling artistic principles and expanding their portfolio so they'll be real-world ready upon graduation.