BA in
BA in Social Studies
Siena Heights University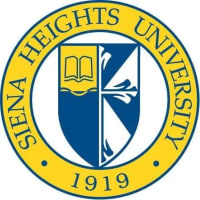 Introduction
The Social Studies Education program is designed to parallel Social Science and History with special emphasis on teaching techniques needed by candidates for Education Certification at the elementary and secondary levels.
History and Social Science students at Siena Heights experience a variety of classroom and extracurricular learning opportunities. Class size is typically 15-20 students, enabling students to develop effective discussion skills. Students learn from video and web-based presentations as well as instructor lectures, classroom activities, and other learning adventures.
Fast Fact
History and Social Science are research-based studies using transferable skills for living and working and building the future. To complete either a History or Social Science major, students present a senior research project demonstrating both research and content proficiency.
Program Distinctions
An interdisciplinary approach to the study of history, social studies, and social science;
Diachronic and thematic teaching approaches by professors with a wide breadth of knowledge;
Faculty mentors who work closely with students to reach their career goals.
Scholarships and Funding
Did you know that approximately 90 percent of undergraduate students on the Adrian campus receive some form of financial assistance? Our admissions counselors and financial aid experts are committed to helping you find the best financial solutions for your education. Siena offers a wide range of opportunities that may be right for you, including:
Academic scholarships
Arts scholarships
Athletic scholarships
Campus Ministry scholarships
Grants
Work-study programs
Federal loans
Your university financial aid package may include some or all of the above, resulting in a customized plan that makes Siena Heights University affordable for your family.
Curriculum
Course Requirements for Major
Program Requirements: 3 credit hours
HIS 340 Historiography And Methodology 3 credit hours
Cognate Requirements: 42 credit hours
ECO 221 Microeconomics 3 credit hours
ECO 222 Macroeconomics 3 credit hours
FIN 209 Personal Finance 3 credit hours
or
FIN 309 Personal Financial Planning 3 credit hours
GEO 301 Cultural Geography I 3 credit hours
GEO 302 Cultural Geography II 3 credit hours
GEO 303 Political Geography 3 credit hours
HIS 111 World Civilizations Since 1500 3 credit hours
HIS 140 World Civilizations Before 1500 3 credit hours
HIS 210 U.S. History to 1877 3 credit hours
HIS 211 U.S. History from 1865 to the Present 3 credit hours
HIS 300 Michigan History 3 credit hours
PSC 130 American Democracy 3 credit hours
PSC 260 Comparative Politics 3 credit hours
PSC 380 Public Policy 3 credit hours
Total for Major: 45 credit hours
Liberal Arts: 32 credit hours
Education Core: 35-39 credit hours
Certifiable Minor: 21-30 credit hours
Total for Degree: 133-146 credit hours
Other Requirements
Social Studies majors must have a cumulative GPA of 3.0 in their academic content area to be in compliance with the certification pathway.
The Social Studies major is recommended only for students seeking secondary teacher certification.
Students seeking teacher certification must take appropriate methods courses.
Career Opportunities
History and the Social Sciences are general degrees emphasizing transferable skills as well as specific curriculum content. The student with a major or minor in History or the Social Sciences is prepared for a broad array of career options as well as has the transitioning skills necessary for success in our rapidly changing 21st-century world.
Typical careers chosen by History and Social Science graduates include:
Archaeologist
Civil Service (including National Park Service)
Foreign Service
Journalist
Librarian
Political Leader
Public Historian (museums, historical theme parks, local history projects)
Teacher