BA in
BA in Global Studies
Siena Heights University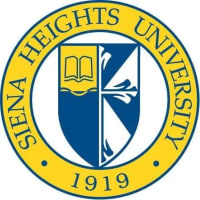 Introduction
Global Studies is a rigorous interdisciplinary program that provides students with the theoretical and practical tools to critically analyze the ongoing processes of cultural, economic, and political change in the world. The major will prepare students for a variety of careers in the international arena as well as for further graduate study programs such as international affairs, international business, and peace studies.
Program Distinctions
Tailored so students can engage in focused study of a particular world region;
Partners with several non-governmental organizations to provide student internships;
Encourages a study abroad experience for scholars so they can further develop their skills with international experience.
Scholarships and Funding
Did you know that approximately 90 percent of undergraduate students on the Adrian campus receive some form of financial assistance? Our admissions counselors and financial aid experts are committed to helping you find the best financial solutions for your education. Siena offers a wide range of opportunities that may be right for you, including:
Academic scholarships
Arts scholarships
Athletic scholarships
Campus Ministry scholarships
Grants
Work-study programs
Federal loans
Your university financial aid package may include some or all of the above, resulting in a customized plan that makes Siena Heights University affordable for your family.
Curriculum
Course Requirements for Major
Program Requirements: 31-33 credit hours
HUM 110 Intro To Ethnic And Gender Studies 3 credit hours
SOC 113 Cultural Anthropology 3 credit hours
COM 340 Intercultural Communication 3 credit hours
ENV 110 Introduction To Environmental Science 4 credit hours
GEO 301 Cultural Geography I 3 credit hours
GEO 302 Cultural Geography II 3 credit hours
HIS 302 World Regional History 3 credit hours
HIS 480 Internship 3 credit hours
World Language: Two semesters of the same language: 6-8 credit hours
Choose One Concentration: 9 credit hours
Global Cultures
ARH 230 Non-Western Topics 3 credit hours
ENG 357 Postcolonial Literature 3 credit hours
RST 314 World Religions 3 credit hours
Global Politics
PHI 220 Introduction To Ethics 3 credit hours
PSC 260 Comparative Politics 3 credit hours
GEO 303 Political Geography 3 credit hours
Total for Major: 40-42 credit hours
Liberal Arts: 32 credit hours
General Electives: 46-48 Credit Hours
Total for Degree: 120 credit hours