BBA in
Bachelor of Business Administration
SAIT - Southern Alberta Institute of Technology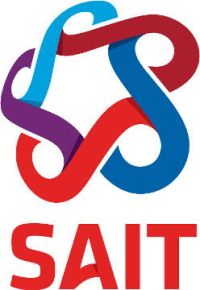 Introduction
Make your mark with the industry-recognized Bachelor of Business Administration (BBA) degree. You can stand out in the job market with a wealth of business knowledge and skills - and a more in-depth level of relevant business coursework than graduates from other business degrees.
With your Bring Your Own Device(BYOD) laptop, you engage in small classes with active, collaborative coursework — learning from faculty with real business experience. You work in teams to deliver projects, present strategies, and meet business goals. The BBA ensures you develop the business acumen, technical knowledge, and soft skills employers are looking for — leadership, teamwork, critical thinking, decision-making, problem-solving, and communication.
You start with a common first year to build core business skills. In year two, you choose from six majors: Accounting, Financial Services, Human Resource (HR) Management, Management, Marketing or Supply Chain Management. You can enhance your industry literacy with an optional minor in Construction Project Management or Energy, Oil and Gas. Our close industry partnerships ensure that your learning is directly linked to the business community and real-world experiences.
Your final course is a capstone course where you either consult for a real business client or complete a paid workplace practicum (by application) - both options help you integrate everything you've learned. You graduate highly employable and in-demand with your significant expertise in business and your major.
Fast facts
Four-year bachelor's degree
Fall start
Small class sizes: 40 students maximum
Choice of six majors: Accounting, Financial Services, Human Resource Management, Management Marketing, and Supply Chain Management
Two optional minors: Construction Project Management and Energy, Oil and Gas
Bring Your Own Device laptop-based program
First-year and advanced standing intake options
Credentials and accreditation
Upon successful completion of this program, graduates will receive a SAIT Bachelor of Business Administration degree.
Professional designations and certifications
When you graduate, you can pursue different professional designations, depending on your major. In some cases, we have formal agreements with professional associations to recognize BBA coursework for their educational requirements. You may need an additional exam, education, or work requirements to earn a designation.
Accounting: you graduate with all pre-requisite educational requirements needed to enter the Chartered Professional Accountant (CPA) Professional Education Program.
Financial Services: you have the opportunity to complete the Investment Funds in Canada (IFIC) and Canadian Securities Course (CSC) exams in the program. You can graduate with your Personal Financial Planner (PFP) designation in hand by passing the necessary exams. The Financial Planning Standards Council recognizes the program as meeting the Core Curriculum requirements for the Certified Financial Planner (CFP) certification.
Human Resource Management: This program is accredited by the Human Resources Insitute of Alberta, exempting you from writing the national knowledge exam for your Certified Professional in Human Resources (CPHR) designation. You can also pursue designations including Registered Professional Recruiter (RPR) and Certified Training and Development Professional (CTDP).
Management: you can pursue the Certified in Management (CIM) designation.
Marketing: you can pursue the Certified Sales Professional (CSP) designation.
Supply Chain Management: you can pursue several designations including Supply Chain Management Professional (SCMP), Professional Logistician (P.Log), Certified Supply Chain Professional (CSCP).
Transfer options
The opportunity to advance your education through transfer to, within, or from SAIT is available with the following universities and colleges.
Ideal Students
Student success
To be successful in this academically-rigorous program, you should:
Attend and actively participate in all classes
Spend six to nine hours per week on each course outside of regular class time
Be proficient in Windows and Microsoft Office
Be prepared to work in teams
Be prepared for an academically rigorous program and increasing level of difficulty each year
Become familiar and adhere to SAIT's policies and procedures
Have strong written and oral communication skills
If you are engaged in campus life and take advantage of SAIT services and resources, you may be more likely to experience success in SAIT's programs.
Career Opportunities
When you graduate, you can pursue careers in:
Accounting: Accountant, Actuary, Auditor, Consultant, Forensic Accountant, Financial Analyst, Joint Venture Analyst, Procurement Officer, Tax Advisor
Financial Services: Asset Manager, Financial Advisor, Investment Consultant, Premium Banker, System Branch Manager
Human Resource Management: Change Management Specialist, Health and Wellness Advisor, Labour Relations Advisor, Learning and Development Specialist, Talent Acquisition Specialist
Management: Business Development Advisor, Business Owner, Management Consultant, Operations Manager, Project Manager
Marketing: Account Manager, Business Development Advisor, Digital Marketing Specialist, Entrepreneur, Event Coordinator, Merchandising Analyst
Supply Chain Management: Buyer, Category Manager, Commercial Analyst, Contracts Specialist, Inventory Manager, Logistics and Materials Planner, Procurement Specialist, Supply Chain Coordinator, Transportation Manager
English Language Requirements
Certify your English proficiency with the Duolingo English Test! The DET is a convenient, fast, and affordable online English test accepted by over 4,000 universities (like this one) around the world.