BBA in
Bachelor of Business Administration - Innovation and Sustainability
Royal Roads University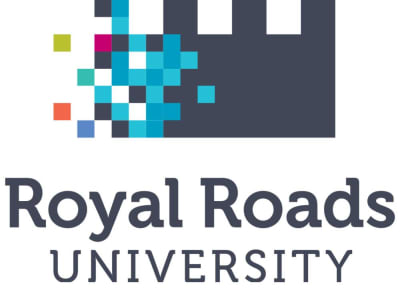 Key Information
---
Campus location
Victoria, Canada
Tuition fees
CAD 24,450 / per year **
Application deadline
06 Jun 2023*
Earliest start date
06 Sep 2023
* 4-year degree and 2 years completion | On-campus Delivery
** for international students year 1 $24,450 / year 2 $22,063 / year 3-4 $44,125
Introduction
Do you believe in capitalism with a conscience—that doing business should also mean doing well—for the community, environment, and society as a whole? Do you want to develop sought-after skills that advance your career while making a meaningful difference in the world?
Addressing today's business, social, and environmental challenges and opportunities require vision, innovation, and collaboration. Organizations are looking for graduates who are ready to help turn these challenges and opportunities into innovative solutions.
With a focus on creative problem-solving, responsible management, and social innovation, the BBA in Innovation and Sustainability is designed to help sharpen your unique vision for social and environmental change, while you develop career-relevant skills and build a portfolio of work that showcases your learning.
This program is offered as a 4-year undergraduate degree or a 4-year undergraduate degree with language support for students typically entering from high school (or equivalent), as well as a 16 months on-campus, full-time, degree-completion option (years 3 & 4).
In the BBA program, you'll develop career-ready skills through hands-on project work with real clients on real challenges to benefit both business and society.
Curriculum
Program Description
Throughout the Bachelor of Business Administration (BBA) in Innovation and Sustainability program, you'll work with a variety of stakeholders on specially selected client projects. This hands-on experience will help you to develop practical skills in real time, while tackling important issues facing organizations and society. It will also inspire you as a change maker, giving you a deeper understanding of the complexity and far-reaching impact of social and environmental issues.
This program is offered as a 4-year undergraduate degree or a 4-year undergraduate degree with language support for students typically entering from high school (or equivalent), as well as a 16 months on-campus, full-time, degree-completion option (years 3 & 4).
Royal Roads BBA offers you project-based learning that lets you earn a degree and make a difference in the community at the same time. In this program, you will:
gain contemporary business knowledge and job-relevant competency within core business subjects
develop leadership, adaptability, and collaboration skills to help you work and communicate effectively with a variety of stakeholders
apply creative approaches and hone your critical thinking skills through complex problem solving
contribute to context- and community-responsive projects focused on social and environmental sustainability
foster a unique sense of purpose and vision that will make you career-ready, position you to make meaningful changes in society, and enhance your personal fulfillment
build a deep portfolio of project work to showcase your learning, skill development, and contribution to the community while you were in the program
pursue a capstone or internship option that helps you integrate and polish your skills
Common Foundations
Through challenge-based learning, you'll receive an interdisciplinary foundation for the first two years of your undergraduate program. You'll be immersed in world issues while acquiring the key knowledge and skills essential for today's careers. Working in teams, you'll design sustainable solutions for local challenges while learning transferrable skills, such as leadership, communication, critical thinking and collaboration. Visit the common foundations page to learn more about challenge-based learning in the first two years of this program.
Who is it for?
Do you want to position yourself for a successful career and change the world? The Royal Roads BBA in Innovation and Sustainability allows you to build on your previous experience and education with practical, relevant, and community-conscious project work. The program is designed to give you the innovation- and sustainability-focused experience employers want and that global leaders are calling for. It equips you to tackle the social and environmental issues you care about while you invest in your own career.
This program is right for you if you:
are committed to financially, socially, environmentally sustainable enterprise, value creation for all stakeholders, and responsible management practices
want to impact the local and global community through social innovation
are looking for ways to discover, challenge, and maximize your personal potential
are curious about the relationships among individuals, organizations, society, and the environment
want to develop career-ready knowledge, skills, and a portfolio of hands-on experience
How is the program designed and delivered?
The Royal Roads BBA in Innovation and Sustainability is designed to give you the solid business knowledge base you expect from a BBA degree. But beyond this, we know you need opportunities to directly apply that knowledge to develop practical career-ready skills and context-specific awareness.
Working on a variety of projects throughout the program will help you to recognize real opportunities for business and social innovation. You'll also be equipped to meet the 21st-century career demands for adaptability, complex problem-solving, decision-making under uncertainty, collaboration, and digital and technological literacy.
For each project, you will work with real clients and use modern tools and technologies. Project facilitators, who will take the place of more traditional lecture-oriented instructors, will provide you with coaching and support through every project.
What can you do with a Royal Roads University BBA degree?
Businesses with strong social and environmental values are looking for employees with the vision, skills, and attitudes that will help them achieve their financial and social sustainability goals. Whether you aspire to be an entrepreneur or a transformational leader in an existing firm, in the corporate or non-profit world, our BBA in Innovation and Sustainability is designed to give you those strong business basics and practical skills that will help you find success—and help you create real change in the world.
This degree will open up many career options in business, sustainability, and related fields including:
Social and environmental start-ups
Business specialist roles within small- to medium-sized enterprises in areas of green technology, sustainable energy, fair trade, etc.
Government and non-government organizations (local and international) involved in economic development, business development, social innovation, and community planning
Sustainability specialist roles (officers, consultants, auditors, etc.) or sustainability training roles within larger organizations
You will graduate with adaptable skills that can be applied to a wide range of business, management, and sustainability-oriented careers.
Courses
Year 1
ECOL110 Ecology (3)
ENGL110-A Academic Writing: Part A (1.5)
ENGL110-B Academic Writing: Part B (1.5)
GEOG110 Human Geography (3)
HIST160 History of Human Rights (3)
ICBL (P/F) Introduction to Challenge-based Learning
INDS110-A Theories of Interdisciplinary: Part A (1.5)
INDS110-B Theories of Interdisciplinary: Part B (1.5)
ITAI: Introduction to Academic Integrity (P/F)
LEAD110-A Leading self and others: Part A (1.5)
LEAD110-B Leading self and others: Part B (1.5)
MATH160 Statistics for Social Science (3)
SOSC160A Applied Research I (A) – Literature review (1.5)
SOSC160B Applied Research I (B) Empathic and Ethnographic Research (1.5)
Year 2
ECON260 Ecological Economics (3)
ECON265 Welfare Economics and Development (3)
ENGL210-A Communication and Persuasion: Part A (1.5)
ENGL210-B Communication and Persuasion: Part B (1.5)
ENGL260Literature of the Anthropogenic (3)
ENGL265 Women and Literature (3)
HLSC260 Determinants of Health (3)
INDS210-A Systems Thinking: Part A (1.5)
INDS210-B Systems Thinking: Part B (1.5)
LEAD210-A Leading for change: Part A (1.5)
LEAD210-B Leading for change: Part B (1.5)
POLI260 Development and Political Change (3)
PSYC260 Psychology of Well-being (3)
SOCI260 Human Interaction (3)
SOSC260A Applied Research II (A) Advanced Qualitative Methods (1.5)
SOSC260B Applied Research II (B) Advanced Quantitative Methods (1.5)
Scholarships and Funding
Financial Aid & Awards
The Financial Aid & Awards team is here to provide information and support on a variety of funding sources and award opportunities, starting with a video that introduces the comprehensive details you'll find on this website and in our blog.
View a summary of government assistance programs for those affected by the COVID-19 crisis.
Financial planning is a crucial component of early educational planning. Please review funding opportunities well before your program begins to help build a reasonable budget.
Loans
Explore the various types of loans available to help fund your studies.
Awards
Explore a variety of competitively awarded scholarships, awards, and bursaries available from RRU and other funding agencies.
Research Scholarships
RRU manages the scholarship administration for select funding agencies. These are some of the more substantial awards.
Other Funding
Discover alternate funding opportunities like Highbred Points.
English Language Requirements
Certify your English proficiency with the Duolingo English Test! The DET is a convenient, fast, and affordable online English test accepted by over 4,000 universities (like this one) around the world.