Point Blank Electronic Music School
Overview Established in London in '94 and voted the world's 'Best Music Production & DJ School' by the readers of DJ Mag, Point Blank teaches the creative process of making music at the highest level. Using expert instructors, state-of-the-art facilities and internationally recognised accreditation, many successful graduates have passed through their doors including Claude VonStroke, Goldie, Nicole Moudaber, Leona Lewis, AlunaGeorge, Patrick Topping, Gemma Cairney, Monki, Felix Jaehn - the list goes on...
The school is based in London and LA, and also offers innovative online courses. The London campus in Shoreditch offers music production courses, sound engineering, music business, singing, radio production and DJ courses - all taught by highly experienced professionals from every area of the music industry, including active music producers and Grammy-award winning songwriters.
Instructors are all music industry experts and have worked with artists like Pharrell Williams, Massive Attack, Bob Marley and Depeche Mode. Students learn in state-of-the-art studios which they have unlimited access to. This includes 48 channel SSL Duality Delta and Audient desks, the latest equipment from Native Instruments and Pioneer and much more.
Point Blank offers HE and Degree courses. The BA (Hons) in Music Production and Sound Engineering is available to study in London, whilst CertHE and DipHE courses are conducted online via distance learning, all accredited by Middlesex University.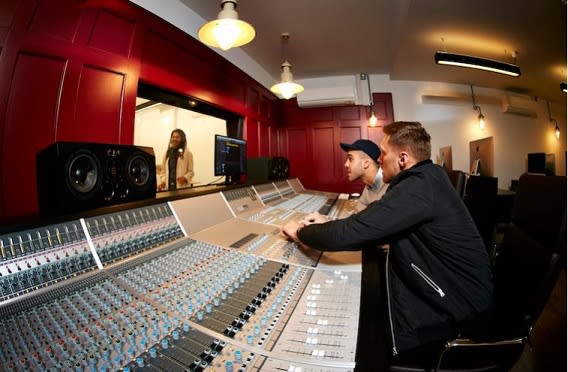 The school has students from all over the world studying with them, including USA, India, France, Spain, Brazil, Africa and Australia. The online courses also mean that students can attain a recognised qualification whilst studying from anywhere in the world.
Job Prospects Point Blank makes full use of its excellent links with the music industry. Through the school's connections students gain access to internships and jobs at internationally renowned organisations including Defected, Universal, BBC, Rinse, NTS, Mute and many more. Within Point Blank's Radio courses it's common for 100% of a class to find employment in the industry. Students have gone on to find employment at the BBC, Kiss, Rinse and even start their own stations, such as Radar Radio. The in-house record label is distributed by iTunes, Spotify, YouTube, Beatport and more, with students able to submit their tracks for release if they wish. Students can also find their work promoted on the school's YouTube channel and social networks to over 1.5 million fans. The President of Universal Records says, "Universal supports what Point Blank is doing and is happy to provide progression routes for students who show real talent and determination".
Course and Lecturers Point Blank partners with Middlesex University to validate their Degree course in London as well as their Higher Education qualifications which are delivered online. Point Blank's programmes are awarded and quality assured by Middlesex University. All students studying the Degree course in London have access to state of the art studios which they have unlimited access to. This includes SSL Duality Delta, Audient 48 Channel, TLAudio and Oram mixing desks and much more. The online Cert/DipHe is equivalent to either one or two years of an honours degree. Students have a chance to gain hands-on experience in the music industry while gaining a recognised qualification. The credits gained from successful completion of the courses are recognised by HE institutions around the world - allowing students to progress onto the final year of an honours degree. Students can also take advantage of Point Blank's expert instructors, outstanding facilities and practical hands-on style of teaching without taking the academic route. You will still achieve the in-house Point Blank Diploma on successful completion of the course.
Uni Facilities Point Blank is the only school in the UK with a 48-channel SSL Duality Delta SuperAnalogue™ console. The facilities feature 12 professional studios where you study, as well as 5 additional practise studios with a variety of recording equipment that students are able to book outside of study hours to work on their music. A central hub area also ensures that students can network with those outside of their own immediate classes, enabling music production, radio and singing students can collaborate on site to mutual benefit. The DJ Studio is sponsored by Pioneer DJ with the latest equipment including CDJ2000nxs, DJM2000nxs, DDJ-SX controllers, PLX-1000 turntables and much more. Live Sound Engineering students get hands-on experience working on five live shows at a variety of London venues as well as gaining practical experience at Islington's O2 Academy. You can take a photo tour here (add link to photo tour)
City Life Based in Hoxton, Point Blank is in the centre of hip East London. There are many independent record and fashion shops plus clubs, bars, cafes and a thriving live music scene. The nearest overground station is Hoxton while Old Street is a 10-minute walk away with excellent transport connections.
Student Support Point Blank has a designated member of staff to help support students in finding accommodation, providing paperwork and connecting students before a course.
Entry Requirements The Degree course usually requires 160 UCAS points or equivalent experience.
The Music Production & Live Sound Engineering Diploma requires 4 GCSE passes at a minimum of Grade C (music and English preferred).
For the Radio Broadcasting Diploma, normal minimum entry requirements are 1 'A' Level and Maths and English Language GCSEs at grade 'C' or above.