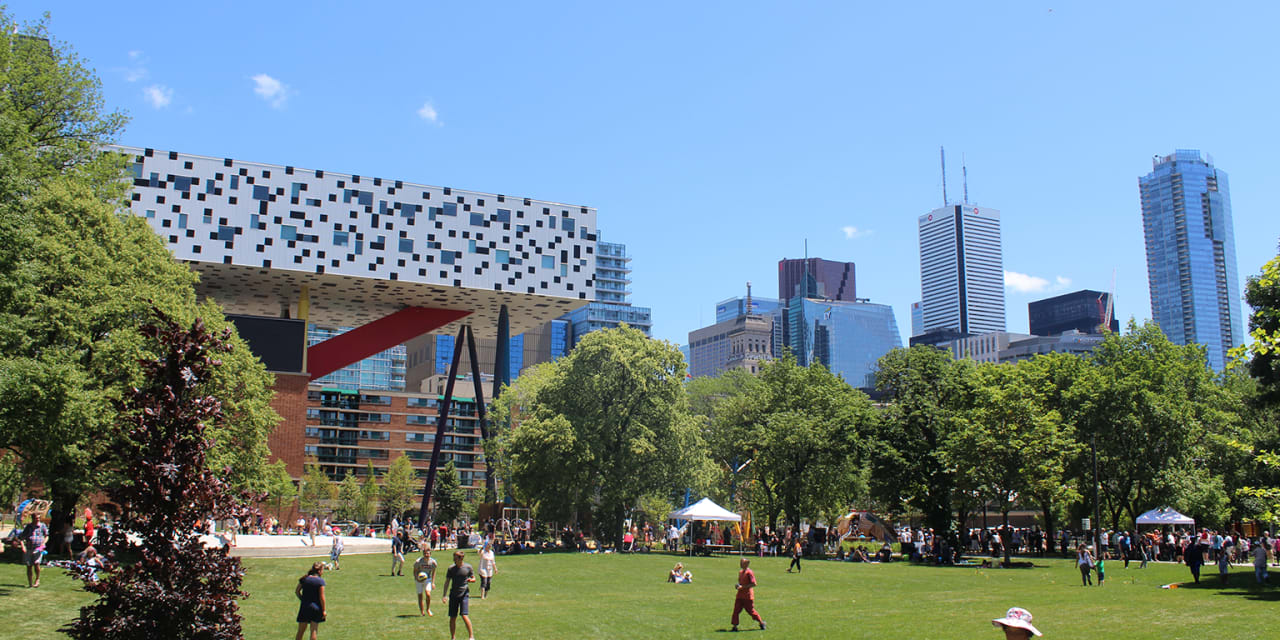 Bachelor in
Bachelor of Fine Arts in Experimental Animation
OCAD University
Key Information
---
Campus location
Toronto, Canada
Application deadline
Request info *
Earliest start date
Request info
* applications received after February 4, may be considered if there is space
Introduction
Digital Painting and Expanded Animation Drawing Painting
Learn the skills to bring your imagination to life in OCAD University's new Experimental Animation program. OCAD U has a long history of graduating successful animators in art and film including George Dunning who directed The Beatles' Yellow Submarine and Richard Williams who was animation director for Who Framed Roger Rabbit. More recently, alumni include computer animator Trudy Elmore and emerging VR artist Jawa El Khash. Shary Boyle, who represented Canada at the Venice Biennale, has achieved great success with her mesmerizing performances using hand-animated imagery.
Curriculum
What You'll Do in the Program
First Year
In the first year, in addition to an art class of your choosing, you'll take:
Sculpture Concepts
Form and structure
Wearable art
Photography
Painting
The Moving Image: Production I
3D Animation and Modelling
Painting & Digital Imaging
Sonic Art
XR Playground
Body and technology
Printmaking
Art and code
Second Year
In second year, you'll start developing core storytelling and technical skills. You will be exposed to many different animation practices, approaches and theories. You'll take Animation Reframed, a course covering the state of animation art today and a Visual Storytelling course to learn about storyboarding and building meaningful concepts. You'll also take a Hybrid Animation Workshop to focus on expanded animation like installations, game engines and virtual/augmented reality. You can also take three animation electives of your choice, such as:
Compositing & Digital Animation
3D Modelling and Animation
Intermediate Animation
Stop-Motion Material Mashup
Character Design & Animation
You'll also take a Contemporary Issues seminar and two Liberal Arts electives of your choice.
Third Year
In third year, you'll work on a year-long project. You'll take Advanced Animation Studio 1 and 2 to develop your personal vision, research and core media and animation skills. You'll also have a choice of electives that could include:
3D Modelling & Animation 2
Advanced 2D Character Animation
Stop-Motion Puppet Show
Advanced Compositing
Sound Design
You'll also choose an experimental learning course that will help you prepare for your career:
Professional Practice
Learning in the Field
Independent Study
Fourth Year
In fourth year, you'll take an Experimental Learning course. You could work with one of OCAD U's many partners. Past projects have included making animations for billboards at Yonge-Dundas Square or the Metro Toronto Convention Centre, developing projections for the Toronto Youth Wind Orchestra, projection mapping animations on buildings for the City of Toronto with AVA Animation, teaching workshops or assisting professional animators at the Toronto Animated Image Society.
Everything else is up to you. You'll be able to choose your focus and do a deep-dive on a personal, year-long project in the EXAN Thesis Course. This is a six-hour a semester course where you will work closely with your classmates and faculty to develop your vision into a final project that you will be able to show in festivals and venues around the world.
At the end of the year, you'll showcase your work at GradEx, OCAD U's Graduate Exhibition, the biggest free art and design exhibition in Toronto with more than 40,000 visitors.
Program Outcome
In this program, you'll develop a personal artistic vision and push the boundaries of animation as a contemporary art form. You'll mix traditional and digital media using 2D, 3D, stop-motion, digital compositing and augmented/virtual reality.
At the end of this four-year program, you will earn a Bachelor of Fine Arts degree.
Career Opportunities
Jobs You Can Get
Graduates of the program work in:
Artistic practice
Animation
Mural work
Film, video and TV production
Co-ops/Internships
OCAD U offers so much more than co-ops because creative careers take many forms. Our approach is specialized and individual to every student's needs and goals. You will be able to take advantage of:
Short experiential learning placements from among hundreds of organizations
Creative in-class projects with real-world industry partners
Exclusive summer internships
Gallery exhibitions of your work
Freelance creative opportunities
Jobs after graduation
OCAD University's dedicated support services will help you build a professional community, valuable experience, and skills necessary for a meaningful career.
English Language Requirements
Certify your English proficiency with the Duolingo English Test! The DET is a convenient, fast, and affordable online English test accepted by over 4,000 universities (like this one) around the world.