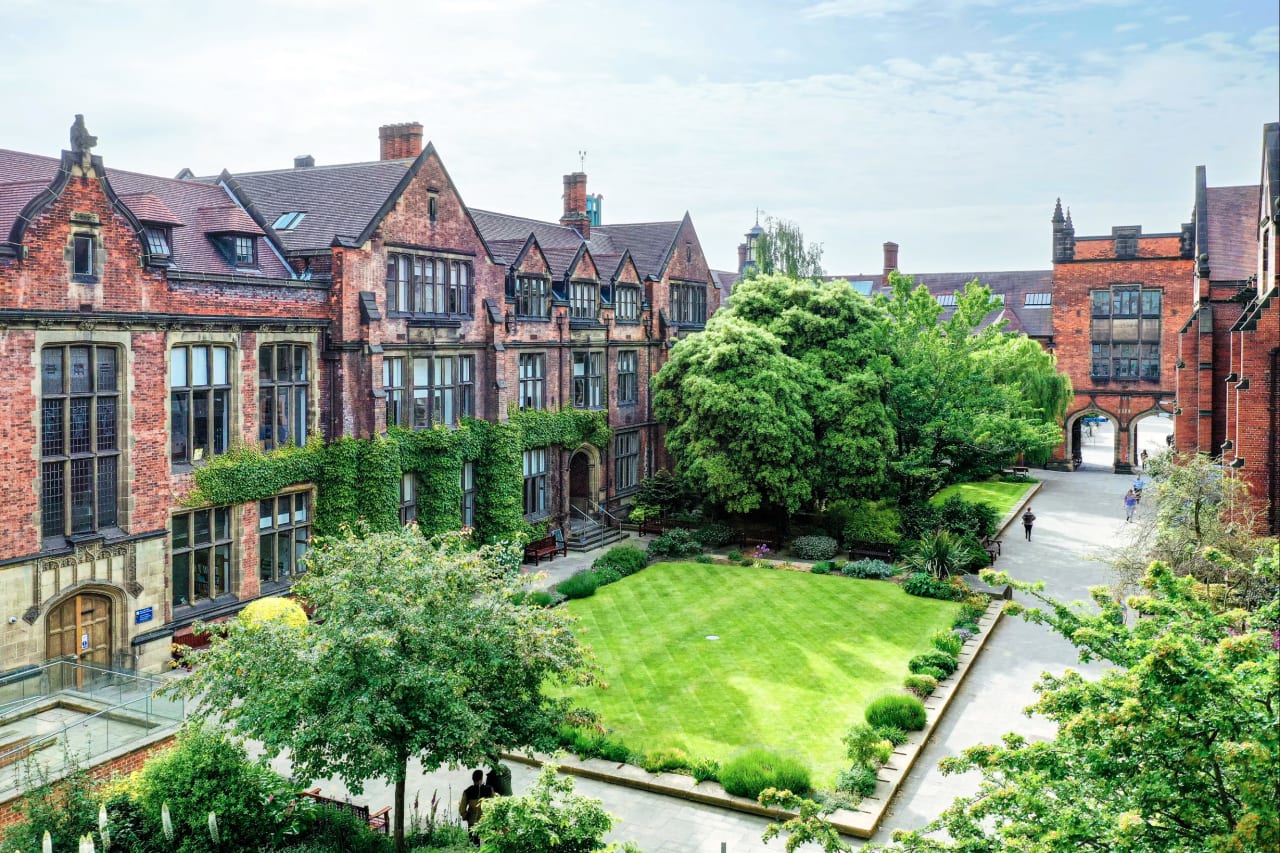 BA in
History BA Honours
Newcastle University

Key Information
---
Campus location
Newcastle upon Tyne, United Kingdom
Tuition fees
GBP 21,000 / per year *
Application deadline
Request info
Earliest start date
Sep 2023
* international students; GBP 9,250 - home students
Introduction
This three-year History BA Honours degree focuses on developing your skills and abilities to critically analyse historical topics. You'll graduate as a confident and independent learner, ready for your future.
You'll learn to evaluate competing interpretations of history, and how to formulate, support and defend your own arguments and opinions.
You will explore themes including revolution, slavery, radicalism, medical history, and religion through a wide range of modules. These focus on a variety of time periods, geographies and cultures.
You'll study in a vibrant learning community, with scholars at the forefront of their fields. You'll also improve your research skills, by completing a range of research projects during your degree.
You can follow your interests with opportunities to take modules from other subject areas such as archaeology, classics, politics, philosophy or a modern language at every stage of your degree.
Study abroad
Experience life in another country by choosing to study abroad as part of your degree. You'll be encouraged to embrace fun and challenging experiences, make connections with new communities and graduate as a globally aware professional, ready for your future.
You can choose to spend up to a year studying at a partner institution overseas. If you choose to study abroad, it will extend your degree by a year.
Work placement
Get career ready with work placement and leave as a confident professional in your field. You can apply to spend 9 to 12 months working in any organisation in the world, and receive University support from our dedicated team to secure your dream placement. Work placements take place between stages 2 and 3.
You'll gain first-hand experience of working in the sector, putting your learning into practice and developing your professional expertise.
If you choose to take a work placement, it will extend your degree by a year, and your degree title will show you have achieved the placement year. A work placement is not available if you're spending a year studying abroad. Placements are subject to availability.
Rankings
Global Top 125 University - QS World University Rankings 2023
Top 135 for Arts and Humanities - QS World University Rankings by Subject 2022
Top 200 for History - QS World University Rankings by Subject 2022
65% increase in research power since 2014 – Research Excellence Framework 2021
42% of our research is classified as 4* world-leading research – Research Excellence Framework 2021
1st in the UK and 8th in the world for sustainable development – Times Higher Education Impact Rankings 2022
Top 150 for Arts and Humanities – Times Higher Education World University Rankings by Subject 2022
Global Top 140 University - Times Higher Education World University Rankings 2023
Curriculum
Stage 1
Compulsory modules help you transition from school to university. Skills training is embedded throughout, enabling you to 'learn by doing' as you study. You'll examine primary sources and delve into the specialisms of your lecturers. You'll probe into the evolution of historical thinking over time.
In addition, you'll have the choice of optional modules ranging widely across time and geographies. You'll be able to select the topics that fascinate you most. You also have the option to choose innovative cross-disciplinary modules or modules from other disciplines such as languages.
Compulsory Modules
Evidence and Argument 20
Historical Sources and Methods 20
What is History For? 20
Optional Modules
Introduction to Archaeology 20
Prehistoric Britain 20
The Archaeology of Britain from the Romans to the 20th Century 20
The Roman World from Romulus to Trajan 20
Slavery 20
Big History: From the Big Bang to Climate change 20
Global Middle Ages 20
Stuff: living in a material world 20
Global Ancient Histories 20
History Lab I 20
History Lab II 20
Public History 20
Stage 2
Compulsory modules prepare you for independent research. You'll build on the skills and knowledge you developed in Stage 1 and you'll begin preparation for your dissertation in Stage 3.
Seminar discussions will help test and refine your ideas and increase your confidence.
You'll have the choice of a very wide range of optional modules. These modules focus on a time period or geographic range or take a comparative look at a common theme or specific event from a different angle. You'll also have the option to choose modules from outside of History.
Compulsory Modules
Crafting History: The Dissertation Proposal 20
Researching History 20
Optional Modules
Prehistoric Europe 20
Archaeologies of the Roman Empire: The Roman World from Augustus to Justinian 20
The Medieval World: AD 400-1500 20
Historical Archaeology of the Modern World (post 1492) 20
Hellenistic Empires from Alexander to Cleopatra 20
The Roman World from Hadrian to Heraclius 20
Greek and Roman Religions 20
Slavery in Greco-Roman antiquity 20
Africa: History of a Continent 20
Oral History and Memory 20
Greece from ancient times to the 21st century: Interdisciplinary approaches to the study of the past 20
1968: A Global Moment? 20
Communication in the Medieval World, from Europe to Asia: Prayer, Poetry, Pictures, and Travel 20
Contesting Reproductive Rights in the UK and Ireland 20
War, Wounds, and Disabilities in the Soviet, American and British Worlds 20
Famines in History 20
Germany and Central Europe in the nineteenth and twentieth centuries 20
History and Film: Representing the Past 20
Land and Society in the USA, Ireland and Scotland, c. 1840-1922 20
Violence in the American South: From Enslavement to Civil Rights 20
The Aftermath of War in Europe and Asia, 1945-56 20
Revolutions of the Mind: European Thought, 1550–1750 20
Reformation and Revolution: Tudors to the Georgians 20
The Supernatural: The Cultural History of Occult Forces 20
Global Environmental History: From the Little Ice Age to Greta Thunberg 20
Diversities of Sexuality and Gender in History 20
Britain since the 60s 20
HaSS Study Abroad Semester 1 60 Credits 60
HaSS Study Abroad Semester 2 60 credits 60
Comparative History of Hispano-America and Brazil: from Independence to the Mexican Revolution (1789/1810-1917) 20
Career Development for second-year students 20
Stage 3
You'll put your independent learning skills into practice as you undertake your dissertation. You'll build on your knowledge and skills so far, with the guidance and support of your supervisor.
You'll also take one or both of 'Reading History' and 'Public History II: History and Society'. In 'Reading History' you'll critically reflect on the discipline and your own ideas through a close study of influential work. In 'Public History II: History and Society' you'll broaden your horizons by considering the uses and abuses of history in public life.
Optional modules will deepen your knowledge through intensive small-group seminar discussions of primary sources.
Compulsory modules
Writing History (40 credits)
Reading History (20 credits)
History and Society (20 credits)
Optional Modules
Early Medieval Britain 20
The Archaeology of Byzantium and its Neighbours 20
Historical Archaeology of Britain 1500-Present 20
Semester One Substitute for Stage 3 HIS Capped Special Subject 20
Semester Two Substitute for Stage 3 HIS Capped Special Subject 20
Reading History 20
History and Society 20
Violence and social transformation in China and Taiwan, 1940s-1980s 20
The Nazi New Order in Europe 20
The Irish Revolution, 1879-1923 20
Living Together: Christians, Muslims and Jews in Medieval Iberia 20
British Foreign Policy since Suez 20
Birth Control in the 19th & 20th Centuries 20
Civil Rights and Armalites Northern Ireland since 1969 20
Genocide and Justice in the Twentieth Century: From the Armenian Genocide to the International Criminal Court 20
Civil Rights in America, 1948-1975 20
Royal Portraits: Christian Kings and Kingship, c. 870-c. 930 20
Viking-Age Scandinavia 20
Women in Colonial South Asia: Tradition, Reform and Modernity 20
Europe and the Ottoman Empire, 1453-1798 20
Punishing the Criminal Dead: Crime, Culture, and Corpses in Modern Britain 20
Russian Cities and Culture from Peter the Great to the Revolution 20
Lunatic to Citizen? Madness and Society since 1900 20
The Rise and Fall of the Berlin Wall, 1961 - 1990 20
The Rising Generation: Youth, Age and Protest in Cold War Britain 20
Buddhism and Society in Medieval Japan 20
The Renaissance World of Machiavelli, 1450-1550 20
Unfree Nation: Enslavement in the United States from the Colonial Era to Reconstruction 20
The Gulag: A History of the Soviet Camps - Origins, Experiences and Aftermaths 20
Radical Black Archives in the U.S. - Sound and Image 20
Shariat meets Common Law: History of Gender Reform and Colonialism in Tunisia, Egypt, and India 20
Nineteenth Century Aotearoa New Zealand: Maori, Pakeha & Tauiwi 20
Career Development for final year students 20