BBA in
Bachelor in International Business Administration (BBA) Financial Services Management
New European College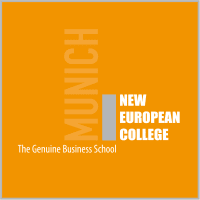 Introduction
Financial Services Management looks at the different branches of banking: Insurance, Financial Advice and Investment. Students learn about mortgages, loans, insurance, pensions, investments and the stock market. Financial systems and regulations imposed by different countries are illustrated, analysed and compared.
Core aims: Through combining theoretical perspectives with case studies from practice, the programme aims to allow students to develop a critical and contextualised understanding of the issues, problems and solutions faced by and offered to financial service institutions worldwide. Students will learn to understand the function of financial services within a wider economic context, also from the perspective of developing countries.
The Bachelor in International Business Administration (BBA) Financial Services Management degree program is designed to equip you with the knowledge & understanding of the essential aspects of business theory and practice. Through our courses, students are immersed in a wide-range of topics, such as Marketing, Finance, Economics, Entrepreneurship and Communication. Case-studies, project work, corporate visits, guest speakers and networking events are integrated in the courses, along with project weeks, allowing you to test and continually apply what you've learned in the real world with companies and industry professionals.
To further refine the skill-set needed to be a successful manager, foreign language courses and a mandatory internship, together with additional communication workshops and management seminars accompany your studies.
Whether global corporations, small & medium size, or family businesses – all companies are your potential employers after the successful completion of our bachelor degree program.
The Financial Services Industry plays a vital role in the world economy, often acting as an intermediator between organisations that require funds and those able to provide financial investment and support.
The industry includes a broad range of organisations and companies that provide economic services and manage money. These include
Banks
Insurance companies
Pension funds
Investment companies
Accountants
Credit-card providers
Stock-brokers
Financial loan companies
Securities trading companies
Government sponsored / regulated companies such as

Provincial mortgage societies and banks
Regulatory Agencies and Securities Exchanges
Public Accounting Firms
Financial Information Services
Financial Consulting
Customers of the financial services industry include individuals, non-profit organisations and agencies of government, and of course companies and businesses of all sizes.
Curriculum
The school year at New European College is divided into two terms – Winter Term and Summer Term, and six main blocks which last six weeks each. Each six-week block consists of two lesson weeks, followed by a project week, then two more lesson weeks, followed with an exam week, to complete the module.
Languages and Project Weeks are a key components of the Bachelor program. Language courses are offered at the start of each term for the full three blocks. During Project Week, students have the opportunity to work in teams on a practical case or simulation with the goal to present a final 'pitch' and evaluate their experience at the end of the week.
In addition to the base modules, the programme focuses on various industry specific areas such as pensions and investment, the legal environment of financial services, financial tax regulations, mortgages and real estate. The fundamentals of the banking world and international finance are also studied.
The modules introduce students to key factors driving change in the banking sector, the financial services marketing environment, the key principles of regulation and the global frameworks that exist. Work placement is carried out within a bank or financial services company.
Key Financial Services modules include:
European Financial Regulations
Money & Banking
International Mortgages & Loans
Pensions & Investment
Personal Insurance
Career Opportunities
Financial Services specialists work in various branches of varying sizes, from corporate banks and insurance companies to SME companies advising home owners and private investors on matters relating to their personal finance.
Financial advisors are affiliated to most real estate brokers and law firms and many graduates have gone on to work in international banks such as HSBC in Shanghai, Commercial Bank of China in Beijing, RaboBank Netherlands in Utrecht and ABN AMRO in Rotterdam. Also, many students have also gone on to work for mortgage, investment and insurance companies such as Nationale Nederland, Achmea, and AON Consulting. A number of students have started their own consultancies.
The Financial Services Sector tends to be cyclical: when there is a downturn in the economy the industry requires less graduates, when it starts to recover there is a great shortage! Presently the economy is in recovery!