McMaster University is located in the city of Hamilton, in the province of Ontario, Canada. We are one of the top 75 universities in the world (Times Higher Education World Rankings 2019), we are ranked 2nd in the world for global impact (Times Higher Education Impact ranking, based on the Sustainable Development Goals (SDGs) adopted by the United Nations), and we are the #1 research intensive university in Canada. McMaster is known for our teaching model: a student-centered, problem-based, interdisciplinary approach to learning, a model that has been adopted world-wide.
McMaster University campus is set on 300 acres of scenic property at the edge of the city of Hamilton in a neighbourhood called Westdale. We are nestled on scenic property at the western end of Lake Ontario, between the cities of Toronto and Niagara Falls. The campus has a central 30-acre core designated as a automobile free-zone for pedestrians and bicyclists. Our campus is a mixture of nostalgic old with intrinsic new, known for our combination of beautiful stone architecture and innovative new glass structures.

Our Mission
At McMaster, our purpose is the discovery, communication and preservation of knowledge. In our teaching, research and scholarship, we are committed to creativity, innovation and excellence.

- We value integrity, quality, inclusiveness and teamwork in everything we do.
- We inspire critical thinking, personal growth and a passion for lifelong learning.
- We serve the social, cultural and economic needs of our community and our society.

Our Students
• We have just under 25,000 undergraduate students and 3,500 graduate students, for a total full-time student population of almost 30,000.
• International students represent 98 countries from across the world.
• In Fall 2015, international graduate students represented 20% of the graduate student body.
• The percentage of undergraduates registering with an admission average of 90% and above has risen from 13.5% in 2000 to 35.4% in 2015.

Our Alumni
• More than 182,000 alumni represent 134 countries.
• 94% of our Humanities graduates find careers within 6 months of graduating.
• 59% of Humanities graduates in Ontario work in a business-related fields.

Amenities

Libraries – The McMaster University Library consists of Mills Memorial Library (Humanities and Social Sciences), Innis Library in Kenneth Taylor Hall (Business), the H.G. Thode Library of Science and Engineering, and the Health Sciences Library in the Health Sciences Centre.

McMaster Museum of Art – Officially opened to the public in June 1994, the Museum contains five exhibition galleries, a paper centre and an educational access gallery. The
Museum offers year-round exhibitions, as well as visiting artist talks, seminars, tours, workshops and concerts.

Athletics and Recreation – McMaster's athletic facilities include the Ronald Joyce Stadium, the Ivor Wynne Centre, the David Braley Athletic Centre, nine gymnasiums, an Olympic-sized pool, 200m indoor track, squash courts, a climbing wall, the David Braley Sport Medicine and Rehabilitation Centre, and one of the largest university fitness centres in Canada.

Student Housing – The university owns and operates 12 on-campus residence buildings. Traditional residences offer co-ed, single-sex, small, medium and large floor/building choices. Apartment-style living is offered in two residences: Bates Residence and Mary E.
Keyes Residence.

Research Reactor – Opened in 1959, the McMaster Nuclear Reactor was the first university-based research reactor in the British Commonwealth. Today, the MNR is one of the world's largest suppliers of the medical isotope iodine-125, used in the treatment of prostate cancer.
About the Humanities
Who are we? The Faculty of Humanities comprises over 125 full-and part-time faculty researching and teaching in nine departments. Over 3,000 undergraduate, masters and Ph.D. students from across Canada and around the world are enrolled in our programs. They join the many thousands who have graduated from humanities programs at McMaster since its establishment in 1887.
An institution's declared vision is a good indicator of its deepest values and strongest aspirations. The vision of our Faculty is centered on excellence in research, innovation, and teaching. Of course, visions are nothing without achievements. McMaster Humanities' achievements are everywhere: from the research projects and innovative teaching of our faculty to the intellectual and social engagement of our students at McMaster and in the wider world.
Our History
The Faculty of Humanities first came into being as a result of The McMaster University Act, 1976. The act officially launched the modern era creating the Faculties of Business, Engineering, Health Sciences, Humanities, Science, and Social Sciences. All references to Humanities prior to 1976 came under the contexts of the Arts, from 1968 to 1976, and as the Faculty of Arts and Science from 1930 (when the university opened its door in Hamilton, Ontario) to 1968.
Humanities Vision
Executive Summary
The liberal arts lie at the heart of any great university. At McMaster University, we believe in a liberal arts mission that builds on the strengths of our various disciplines.
Our Faculty is committed to:
Seeking excellence in research, innovation in teaching, and creativity in the performing arts.
Encouraging critical reflection and logical thinking through written and verbal expression.
Recognizing the cultural diversity of our university, nation, and world.
Instilling in our students the importance of responsible and sensitive global citizenship, through cultural self-reflection, ethical reasoning, and historical understanding.
Knowing the value of languages and new media, as a means of opening our minds to new ways of communicating and new ways of understanding.
Venturing into new domains of research, including the cognitive dimensions of music, language, and communication.
Defining a liberal arts education in the 21st century, one that prepares our students for the major challenges of the next generation.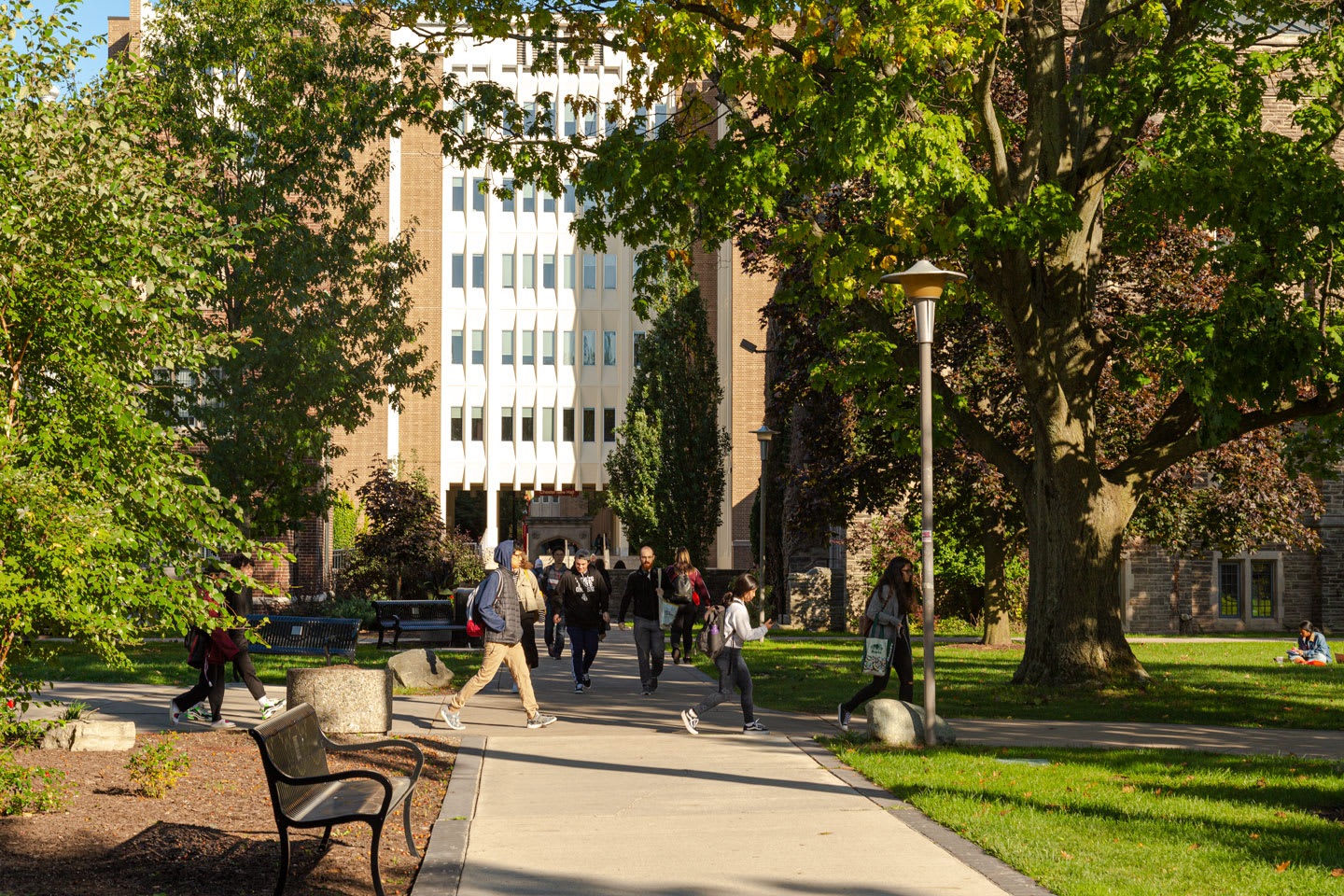 Vision
The Faculty of Humanities is dedicated to cultivating a teaching and research environment which reflects the highest standards of our disciplines, and to undertaking ventures in new areas of interdisciplinary inquiry and pedagogy. In the Arts, we continue to strive for a balance between the best traditions of Humanities education and the new forms of knowledge emerging within and at the intersections of disciplines. By learning from past and pressing issues facing our global world today, we promote advances in knowledge that make innovative, positive differences in the diverse lives of our students.
Mission
The Mission of the Academic Advising Office is to assist students in the Faculty of Humanities in realizing their full potential. The academic advising staff interacts with students in a variety of settings, evaluating their needs and teaching them how to navigate the higher education system. We work with students to develop and implement individual plans for the purpose of achieving both academic and personal goals.
Upon entering the faculty, students are paired with an advisor who will support them from the first year through to graduation with all their academic needs.
Academic Advisors provide support in the following areas:
Identifying individual education goals.
Program and course registration.
Interpretation of academic regulations.
Academic work accommodations.
Exploring other resources on campus as necessary.
Major New Initiatives and Gateways
The Faculty has proposed five new initiatives to advance this exciting agenda in the liberal arts. Building on our strengths, the initiatives represent significant new gateways to learning and discovery. Some of these initiatives will find their home in the new Liberal Arts building: others will be located elsewhere. They all intersect and support each other, each one being congruent with the directions outlined in campaign documents and with our own visioning exercise.
Centre for Global Citizenship and Culture.
Language Learning Commons.
Wilson Institute for Canadian History.
Centre for the Performing Arts & New Media.
Humanities and Social Sciences Research Institute.