Bachelor in
University College Maastricht, A Liberal Arts and Sciences Bachelor Programme
Maastricht University, University College Maastricht (UCM)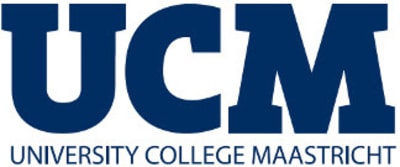 Key Information
---
Campus location
Maastricht, Netherlands
Tuition fees
EUR 3,655 / per year **
Application deadline
Request info *
Earliest start date
Sep 2023
* EU/EEA-students: up to and including 1 March. Non-EU/EEA-students who need a visa or residence permit: up to and including 5 January
** Tuition Fees 2022/23 EU/EEA students pay the statutory fee of €3,655,-. Non-EU students pay €14,217,-.
Introduction
Are you highly motivated and looking for a programme that gives you the freedom to pursue your own interests? Do you want to be part of a diverse yet close-knit academic community that encourages discussion and debate? University College Maastricht is a Liberal Arts and Sciences Honours College that provides small-scale and individualised bachelor's education. At UCM, you will be part of a truly international community, working and socialising with students from more than 50 countries. With the support of our committed staff, you can choose from more than 150 different courses in the Humanities, Social Sciences and Sciences to build an academic profile that helps you meet your goals.

Why this programme?
As an honors college, UCM is challenging and highly rewarding. By allowing you to compose an individual curriculum, the UCM programme ensures that you:
develop a basic understanding of a wide variety of academic disciplines
become an expert in a specific academic field
learn to think academically
become a self-directed learner
work well in international teams
Choosing your courses
Throughout your three years at UCM, you will construct your own curriculum by choosing from more than 150 different courses. Your Academic Advisor is there to help you define clear goals, explore your strengths and preferences, and choose the right courses.

Your Academic Advisor
Your Academic Advisor is an expert who teaches and conducts research in the fields you want to pursue. He or she provides guidance and feedback and helps you formulate concrete answers to questions such as:
What courses do I find interesting?
How do I combine my various interests into one meaningful curriculum?
What kind of master's programme would I like to pursue?
What are my strengths?
Where do I see the needs and opportunities for improvement?

Spend a semester abroad
UCM has partner institutions all over the world, with universities in Asia, Africa, Australia, North and South America, and also within Europe. Numerous students have gone on a semester abroad in their fourth or fifth semester and had the experience of a lifetime. They traveled the world, made lots of friends, developed an understanding of different cultures, and complemented their UCM curriculum by taking interesting courses.
Problem-Based Learning
Courses at UCM are taught using Problem-Based Learning (PBL). PBL gives you an academic problem and challenges you to solve it. Using a combination of small-group work and individual research, you seek possible solutions to the problem and get feedback to help you refine your answers. You are in control of your own education, and the tutor is there to facilitate your learning. The PBL format helps you retain information better, teaches you to think about problems independently and develops your interpersonal skills. All teaching at UCM happens in small groups of approximately 12 students. This small-scale setting encourages you to be an active participant in class, gives you space to develop your own ideas and ensures that you receive personal attention from tutors.

Academic community
University College Maastricht is a close-knit academic community that fosters your desire to learn by creating an environment where it's easy to get to know your tutors and fellow students. UCM only enrolls 250-275 students per year, and the class size is approximately 12 students. The PBL format enables academic staff to really be there for students, both academically and socially. Discussions tend to spill over from the classroom into the common room, which is the social hub of the college. The common room is also the scene of many extracurricular events and activities, organised by Universalis, UCM's dynamic student association. This entirely student-run organisation contributes to life at UCM by organising debates, open mic nights, events for charity and more.
Student involvement
Being an academic community also means that everyone takes responsibility for the quality of the programme. Students are involved with the running of the college at every level. There are students on all the major boards and committees. They participate in evaluating and improving courses and advise on all matters that affect their experience at UCM. It's also easy to approach everyone involved in the administration, to discuss student concerns.
Dedicated staff
The UCM staff consists of dedicated people who are involved in teaching, research and advising. They come from all over the world and are experts in a variety of academic fields including psychology, international relations, life sciences, philosophy, and history. We also work closely together with lecturers from all other UM faculties who are responsible for courses in law, economics, sustainable development, migration studies, etc.