Bachelor in
BSBA with emphasis in Management/Marketing
Lander University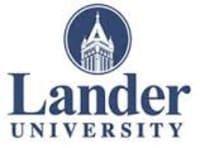 Scholarships
Explore scholarship opportunities to help fund your studies
Introduction
The mission of the School of Management is to prepare undergraduate business students for successful careers through a personalized, hands-on learning experience and positively impact the knowledge base of business and the economic health of the region through professional and scholarly activity.
The School of Management is accredited by AACSB International, the premier accrediting body for business schools in the world. As an AACSB accredited school, we emphasize Innovation, Engagement, and Impact.
Students gain a broad business knowledge in accounting, economics, finance, management, and marketing as well as specialized knowledge in one of four emphasis areas: accounting; financial services; healthcare management; or management/marketing.
The Management/Marketing program helps students develop decision-making skills for use in business operations. Students strengthen critical-thinking skills to develop strategies for meeting organizational objectives. Students are equipped with the business knowledge required to establish processes within organizations that add value for stakeholders. Management courses emphasize decision-making skills and the selection, motivation, and development of human resources. Marketing courses focus on the ways an organization can meet customer needs through product development and distribution and through promotional and pricing strategies. Through a comprehensive and challenging curriculum, students with an emphasis in Management/Marketing are being prepared to have sustainable and productive careers.
PROGRAM OBJECTIVES
Lander University business students will:
Build solid communication skills
Learn to work well in teams
Demonstrate high ethics
Develop strong problem-solving skills
COLLEGE FACILITIES INCLUDE
classrooms with state-of-the-art technology
computer labs for student use
classrooms with excellent workspace
faculty offices immediately adjacent to classrooms
lobby designed for student teamwork projects
THE LANDER UNIVERSITY SCHOOL OF MANAGEMENT BOASTS
exceptionally qualified faculty
the personal touch, where faculty are available to students
excellent curriculum in Management/Marketing
outstanding, recognized internship program
experiential learning opportunities in the business world
CRITERIA FOR ADMISSION TO THE BUSINESS PROGRAM
Continuing Students
Students must have successfully completed 45 semester hours of coursework
Students must have earned a minimum 2.5 GPSA
Students must have earned a grade of C or better in basic accounting, economics, statistics, and business communication classes.
Students must successfully complete proficiency assessments in writing, mathematics, and computer applications.
Transfer Students
Undergraduate transfer students must meet the requirements listed for continuing students. In computing the GPA for purposes of admission to the School of Management, work transferred from previous schools and work at Lander University is included. Courses are transferable if they meet these standards:
A minimum grade of C must be earned in each course
Upper-level business courses must be taken at AACSB accredited schools or approved by the School of Management.
Course descriptions must closely match Lander University School of Management courses.
Retention Requirement for Business Students
To remain in the program, a student must maintain a GPA of 2.5 or higher.
English Language Requirements
Certify your English proficiency with the Duolingo English Test! The DET is a convenient, fast, and affordable online English test accepted by over 4,000 universities (like this one) around the world.