Bachelor in
Multimedia & Creative Technologies
KdG University of Applied Sciences and Arts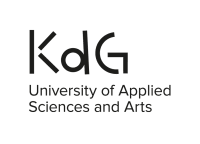 Online information sessions
We are pleased to invite you to an online information session for our bachelor degree programmes. You'll get the chance to find out more about KdG and the study programme that you're interested in.
Introduction
Combine your creativity and interest in technology.
KdG's Multimedia and Creative Technologies programme is a dynamic, hands-on degree to get you ready to fulfil your ambition.
Collaborate in the classroom with students from all over the world, and learn how to find the solutions of the future.
Watch this short video explaining how creativity and technology can really make a difference and how KdG can help you to realise your potential.
As a student in Multimedia and Design Technologies, you will develop the cutting-edge creativity and technical skills to help you shine in the fast-paced world of new media.
From day one, you learn how to apply the theory as you immerse yourself in 3D printers, ViReS, Kinects, Arduino boards, input devices, hand tools, and audiovisual equipment… get ready, our FabLab awaits you.
Our project-based approach gives you an understanding of the realities of work as you work to resolve a series of practical challenges. You will draw on the technical knowledge learned in our specialist workshops to deliver meaningful solutions to real-life problems that clients and customers face.
As you build up your commercial awareness, we will also work on your leadership and intercultural communication skills needed for the international workplace.
During your final year, your focus shifts to on-the-job experience. Got an entrepreneurial streak? Then, you can apply for student entrepreneur status and if successful pursue your own start-up. Or, choose to go abroad for a different kind of adventure, getting on-the-job experience working for a company.
Whatever you decide, this 16-week placement is likely to have a significant impact on your next step…
FabLab
A space where you can share knowledge, experiment and innovate. Here Nxt Media Technology students can swap ideas with students from automotive technology, biomedical laboratory technology, business management, teacher training and art school.
You name it, you will find it – audiovisual equipment, input devices, 3D scanners, 3D printers, laser cutters, electronics instruments, computers with design software and hand tools to materials such as plastics, cork, sensors and actuators…
Your profile
Innovation excites you. You are an ideas person who creates – turning designs into prototypes. You are interested in connecting things and the prospect of bringing technology and people closer together. And, you are curious about technology and programming but you do not need prior knowledge.
Course requirements
The course is taught in English, so a good level of language proficiency is required.
You hold a secondary education certificate that grants access to a comparable higher education degree programme in the country it was granted.
An open mind, strong motivation and a goal-oriented approach.
Curiosity, with a readiness to explore, a desire to use your talents as well as perform as part of an international team.
After Graduation
Our programme is all about getting you ready for work. Possible careers include a digital strategist, innovation manager, growth hacker, digital transformer, creative technologist, interaction designer, digital product designer or project manager. Entrepreneurial? Why not launch a digital start-up?
Or perhaps you want to continue with your studies? Then a master's degree in digital business, media management, digital design, design thinking, creative technologies, visual arts are also potential options.