Bachelor in
Professional Pilot
Kansas State University Polytechnic Campus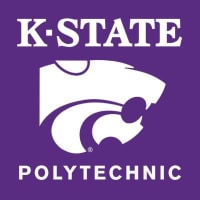 Scholarships
Explore scholarship opportunities to help fund your studies
Introduction
Thrilling flights. Panoramic views. Adventurous opportunities. The life of a professional pilot is full of exhilarating moments, but just like the properties of motion, you can't arrive at one point without starting from another. Kansas State Polytechnic's award-winning professional pilot degree option is the perfect place to begin your aviation journey. Our flight operations curriculum does more than train pilots – students receive training above and beyond the Federal Aviation Administration's (FAA) minimum requirements, creating professionals that are confident to fly in all conditions, troubleshoot and solve problems, make ethical decisions and exceed the expectations of the aviation industry. With the degree option's longstanding history at the university, K-State Polytechnic has turned people passionate about aviation into the best pilots in the skies.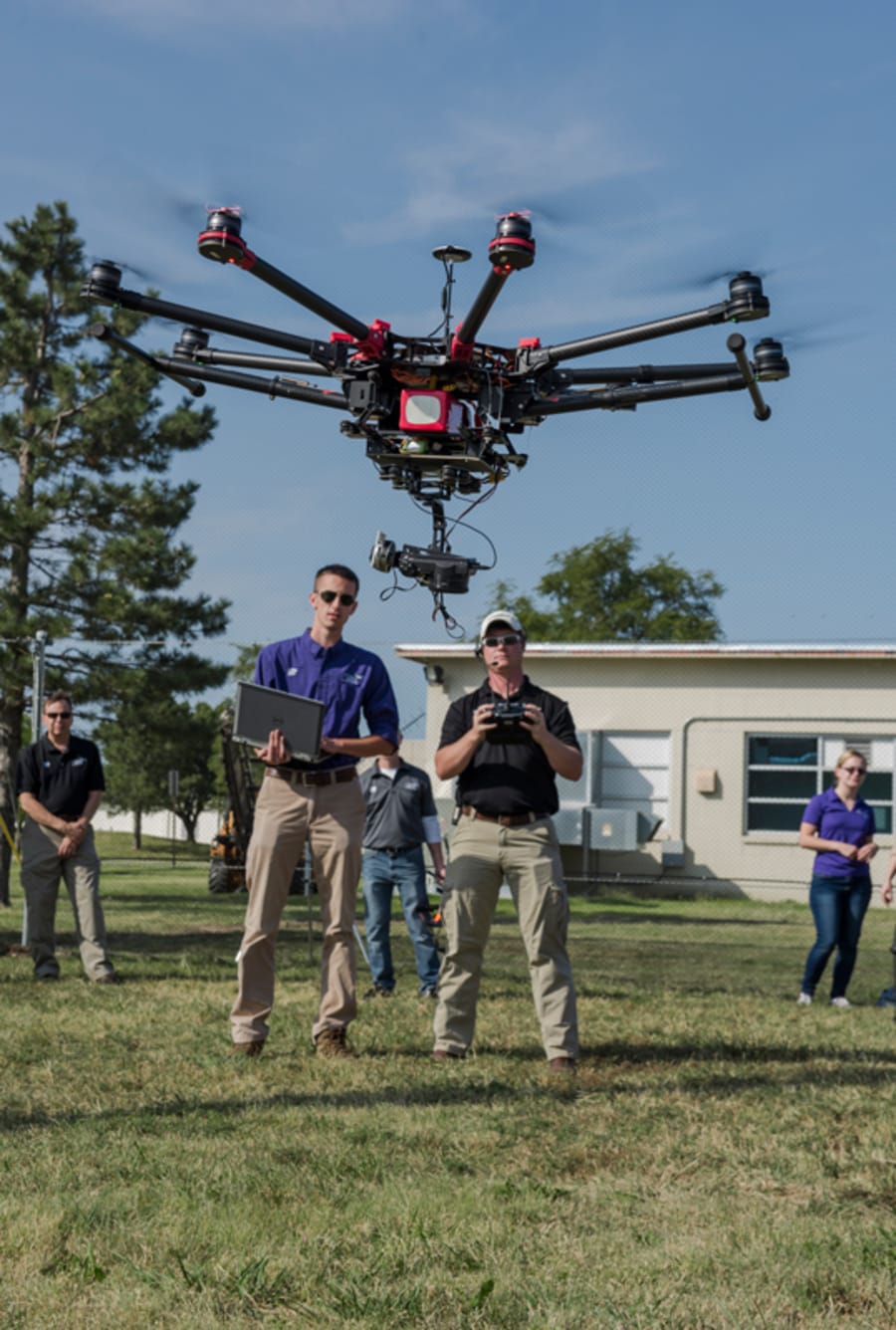 Watch real-time video of our students and flight instructors as they perform flight operations on the university's private ramp.
Kansas State Polytechnic's professional pilot degree option has elite staff and equipment to ensure students receive top-of-the-line education and training.
Our staff includes more Master Certified Aviation Instructors than any other college or university in the nation. A large and active regional airport just steps away from the classroom, a training building, a private ramp, three hangers and more than 30 aircraft – mostly built in the state of Kansas – are all amenities available to students. Facilities also include a bank of flight simulators with visual displays and a full-time maintenance staff in the hanger.
K-State Polytechnic continues to be the provider of choice for professional pilots. Most graduates become airline pilots, corporate pilots, military pilots, or have careers flying other aircraft. With our longstanding history at the university, Kansas State Polytechnic has developed and maintained numerous industry relationships, creating a pathway to internships and careers for our students.
Mission
The mission of the K-State Polytechnic Profession Pilot Program is to provide future aviation leaders a quality aviation education to prepare them for careers as aviation professionals.
Educational Philosophy
The program follows a holistic approach to preparing our students for careers as aviation professionals. In order to be good leaders in our profession, graduates must be well-rounded individuals who are team players.
Program Goals
The goal of the program is to produce highly educated and skilled graduates who are prepared to immediately succeed in higher education, air carrier, corporate, military or instructional environments.
Program Purpose
The purpose of the program is to provide students learning-centered experiences in an environment which will stimulate excellence and foster in them a commitment to discovery and life-long learning.
Program Intent
The intent of the program is to produce graduates who:
Possess the technical, interpersonal skills and appropriate flight ratings as described to us by our external constituencies.
Demonstrate high ethical standards.
Instill in graduates an exceptional safety culture.
Will work effectively as members of a team.
Possess the problem solving and critical thinking skills that will allow them to employ new technologies.
Will be leaders of the aviation community
Educational Objectives
Professional Pilot Graduates two to five years after graduation should successfully:
Apply their technical and interpersonal skills in air carrier, corporate, military or educational positions.
Demonstrate their ability to communicate orally and in writing.
Work effectively with team members.
Continue to develop professionally and seek positions of increased responsibility.
Demonstrate a professional work ethic and exceed industry standards in flight proficiency.
Student Learning Outcomes
At Graduation students will be able to:
Demonstrate the ability to work with diverse multi-disciplinary teams. (Diversity)
Demonstrate a global perspective on sustainable aviation business practices. (Knowledge)
Choose ethical courses of action within the operational environment. (Professional integrity)
Demonstrate a lifelong commitment to personal excellence through service and continuing education. (Knowledge)
Appraise unsafe operational conditions within the aviation environment. (Professional Integrity)
Evaluate the effectiveness of oral and written communication skills. (Communications)
Creatively solve technical problems related to the aviation workplace using math and science. (This SLO is degree option and/or certificate specific; assessment of this SLO is outlined in the abbreviated assessment plan for each option/certificate available at the department level; the abbreviated plan is only for this SLO). (Critical thinking)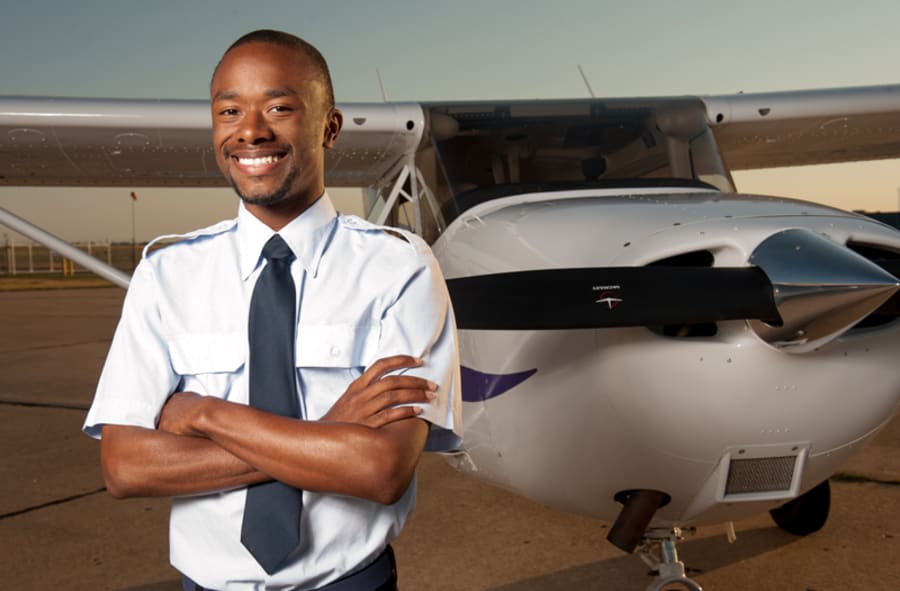 Academics
Kansas State University Polytechnic's professional pilot degree option is FAA regulation part 141 approved, allowing students to complete commercial pilot training in as little as 190 hours instead of 250 hours. The training also allows students to qualify for a Restricted Airline Transport Certificate (ATP) at 1,000 hours instead of 1,500 – giving students the ability to fly for the airlines earlier.
After completing their initial commercial certificate, students will have the option to obtain a Certified Flight Instructor (CFI) rating and can join the Kansas State University Instructor team. Many join the team in the middle of their junior year.
Our faculty is experienced airline pilots, military pilots, corporate pilots, chief flight instructors, experts in flight safety and other areas, providing students with experience essential to a successful career in aviation.
Academic courses are complemented by the flight curriculum to allow students to have a comprehensive understanding of all aspects of aviation and graduate ready to begin their aviation career.
The lab time reflected in the pilot courses are minimum times, the significant time commitment is necessary for the labs and flight training. This program requires additional costs above the standard tuition, books, and supplies.
See the Professional Pilot Option (pdf) curriculum guide for additional information.
Careers
The next 10 years are expected to be the largest hiring boom in the history of the aviation industry.
The airline industry is on the brink of what's predicted to be the biggest surge in pilot hiring in history. Aircraft maker Boeing has forecast a need for 466,650 more commercial pilots by 2029 — an average of 23,300 new pilots a year.*
The hiring surge is being fueled by several factors:
• The rapid growth of travel in Asia, which is on track as the largest air travel market in the world.
• A looming wave of pilot retirements in the USA.
• Proposed changes to rules that could increase the time pilots must train, rest and work.
• And increasing demand for air travel within the USA as the economy improves.*
Kansas State Polytechnic students have been very successful in obtaining careers in aviation. Most students begin their aviation career following graduation, with employment as flight instructors. Students have been able to obtain positions after graduation with airlines such as American, American Eagle, America West, Continental Express, Southwest, United, and Vanguard.
However, due to the 300-500 hour flight experience requirement for most airlines, most students will need 2-3 years to accumulate the required flight time to fly for major US airlines. An active flight instructor can acquire approximately 1000 flight hours per year.
Kansas State University has many industry relationships that provide employment and internship opportunities all over the country. Some of those industry partnerships include American Airlines, ASA, Mesaba Airlines, SeaPort Airlines, Hawker Beechraft, Cessna and Bombardier Learjet.
* USA Today. Demand for airline pilots set to soar. June 2011