Bachelor in
Airport Management
Kansas State University Polytechnic Campus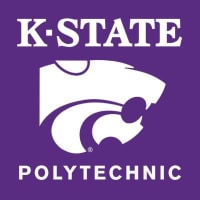 Scholarships
Explore scholarship opportunities to help fund your studies
Introduction
About Airport Management
This degree track is the leader in airport studies within the United States. It offers nearly a dozen airport courses, built upon a strong business management foundation acquired in the first two years and the only program offering all academic courses on an active airfield with first-in-the-nation unique Embedded Industry Field Labs. Coursework includes the study of airport environmental issues, airport law, airport funding, airport planning, airport management, airport operations, airport international issues, airport safety and security, airport design, and an internship experience. Students also have an opportunity to graduate with the Certified Manager designation from the American Association of Airport Executives.
Professional options
Airport managers plan, direct and coordinate activities concerned with the day-to-day operation of airports in a career field that demands a well-rounded skill set and knowledge base of public relations, economics, business management, civil engineering, personnel management, labor relations, and politics, as well as policies and regulations. Airport Managers supervise employees across wide-ranging descriptions of jobs such as human resources, facilities, public relations, planning and engineering, operations, security and aircraft/fire rescue.
One of only a handful of Airport Management degree tracks in the United States
The only Airport Management degree track offered on an active airfield – encompassing a 12,300-foot runway
Courses taught by industry subject experts
Hands-on field lab experience working alongside industry professionals in the day-to-day management of an active airfield
Students will be prepared for entry-level management jobs with a rigorous curriculum addressing public relations, economics, business and personnel management, finance, labor relations, and policies and regulations in the classroom.
Only collegiate Airport management program utilizing KDOT Aeronautics Airport Portal for lab experience
Students résumés will be strengthened by the opportunity to prepare for the American Association of Airport Executives exam to become a Certified Manager
Groundbreaking Program
Experience a new Airport Management education. Kansas State Polytechnic's program is the first of it's kind in the United States, opening new opportunities for students and graduates.
Hands-on Learning
Be part of the only airport management program that is on an active airfield. Look out the window and see your educational lab.
Industry Connections
Learn directly from experienced industry professionals. Local Airport managers double as professors and share their expertise in the classroom.