Bachelor in
Bachelor of International Liberal Arts: Japan Studies
International College of Liberal Arts - Yamanashi Gakuin University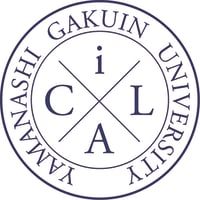 Introduction
For many observers and visitors, Japan is one of the most intriguing countries on earth. For them, Japan offers a vast variety of exhilarating and sometimes puzzling experiences that often give rise to many questions. Japan Studies endeavors to answer most, if not all, of them. Japanologists understand their field as an interdisciplinary project that engages with all aspects of Japanese culture, history, and society. Many students and scholars investigate these topics in relation to historical and present-day events in East-Asia and the West. Such an approach relates their study and research not only to other disciplines but also to other nations, civilizations, and geographic areas.
Why study Japan Studies?
The Japan Studies major at iCLA provides you with competence in the Japanese language and with a comprehensive understanding of Japan's culture, history, politics, and economics. Guided by experts in their fields you will aim at linguistic fluency while at the same time experience an in-depth exposure to key fields in Japan studies. Furthermore, living in Japan over an extended period will offer you a unique opportunity to further familiarize yourself with a wide variety of Japanese lifestyles, customs, and arts. You will become a knowledgeable specialist on the subject of Japan who also has a comprehensive knowledge of the wider East Asian and Western context. During your study will also develop your communication skills and analytical expertise. Students graduating from the Japan Studies Program will be well prepared for a wide range of professional career opportunities both within Japan and the rest of the world.
Curriculum
What will I study?
The central ideas of iCLA's curriculum Japanese Studies
Simplicity
Flexibility
Expandable
Give latitude to students and their advisers
From "roots" (foundation courses in years 1 & 2) to "wings" (electives years 3 & 4)
ICLA offers you a wide variety of more than forty different courses that cover the core disciplines of Japan studies, including:
Japanese culture and society
Japanese business and economics
Japanese politics and diplomacy
Visual arts in Japan (Anime, Manga, film, Noh and Kabuki theatre)
Japanese and East Asian history
Japanese calligraphy and Samurai culture
Japanese martial arts (Nanba, Aikido, Judo, Karate, Shugendo)
Japanese music (Koto, Shakuhachi)
Japanese language (elementary, intermediate, and advanced)
Career Opportunities
What can I do next?
Your studies in Japanese culture, history, and society together with your enhanced academic skills will prepare you well for a large variety of rewarding careers:
You might pursue a career at the increasing number of Japanese companies that hire international students to meet the challenges of globalization.
Tourism to Japan is expanding rapidly. There will be an increasing demand for sharing your expertise in Japan with foreign visitors.
The global impact of Japanese culture is widening dramatically. Your multilingual language skills and wide-ranging knowledge about Japan will be crucial factors to open the door for a promising career in the media industry.
As a future researcher or educator, you can engage in postgraduate studies or devote yourself to becoming a teacher.