BA in
Bachelor of Arts in Mathematics
George Mason University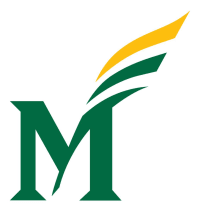 Introduction
Solve problems with intellect and bold thinking.
Our department offers a strong and flexible program in both applied and theoretical mathematics. You may choose to concentrate on traditional pure mathematics, applied mathematics, or in training for a career in actuarial mathematics. You will gain a solid grounding in mathematics and use computational tools where appropriate.
The BA's traditional concentration offers classical training in analytic reasoning and mathematics with exposure to the humanities and social sciences.
Research Opportunities
There have been several research opportunities for undergraduate mathematics majors in recent years, through the GMU Undergraduate Apprenticeship Program, NSF-supported Research Experiences for Undergraduates programs, and NSF-supported CSUMS and EXTREEMS programs for research in computational and data-enabled mathematics. Additionally, students can intern at the Mason Experimental Geometry Lab working on experimental pure mathematics and visualization projects. Qualified students also have the option of writing an honors thesis on a variety of topics in pure and applied mathematics under the supervision of a mathematics faculty.
Career Opportunities
A mathematics degree can take you in many directions. Recent Mason mathematics graduates have found jobs as Actuary, Operations Research Analyst, Data Analytics Expert, Software Developer, Math Teacher, Accountant, Financial Analyst, Web Developer, Statistician, and Market Researcher, to name a few examples.
Organizations that typically hire mathematics graduates include the U.S. Census Bureau, SAIC, MITRE, Google, NSA, U.S. Army Corps of Engineers, NIST, TRW, EDS, CIGNA, ANSER, and many others. Many of our students move on to graduate school in mathematics, statistics, engineering, and related fields.
Curriculum
Degree Requirements
Total credits: minimum 120
A maximum of 6 credits of grades below 2.00 in coursework designated MATH or STAT may be applied toward the major.
Required Courses
Core Courses
MATH 113 Analytic Geometry and Calculus I (Mason Core) 4
MATH 114 Analytic Geometry and Calculus II 4
MATH 125 Discrete Mathematics I (Mason Core) 3
MATH 203 Linear Algebra 3
MATH 213 Analytic Geometry and Calculus III 3 or MATH 215 Analytic Geometry and Calculus III (Honors)
MATH 214 Elementary Differential Equations 3 or MATH 216 Theory of Differential Equations
MATH 300 Introduction to Advanced Mathematics 1 3
MATH 322 Advanced Linear Algebra 3
Total Credits 26
In addition to completing the core courses above, students must complete 12 additional traditional mathematics credits in MATH courses numbered above 300.
Select 12 credits in MATH 300-level or higher 12
Total Credits 12
Mason Core and Elective Credits
In order to meet a minimum of 120 credits, this degree requires an additional 82 credits which may be applied toward any remaining Mason Core requirements (outlined below), Requirements for Bachelor's Degrees, College Requirements for the BA Degree (outlined below), and elective courses1. Students are strongly encouraged to consult with their advisors to ensure that they fulfill all requirements.
Some Mason Core requirements may already be fulfilled by the major requirements listed above. Students are strongly encouraged to consult their advisors to ensure they fulfill all remaining Mason Core requirements.
Foundation Requirements
Written Communication (ENGH 101) 3
Oral Communication 3
Quantitative Reasoning 3
Information Technology and Computing 3
Exploration Requirements
Arts 3
Global Understanding 3
Literature 3
Natural Science 7
Social and Behavioral Sciences 3
Western Civilization/World History 3
Integration Requirements
Written Communications (ENGH 302) 3
Writing-Intensive 3
Synthesis/Capstone 3
Total Credits 40
College Requirements for the BA Degree
In addition to the program requirements and the Mason Core requirements, students pursuing a BA degree must complete the coursework below. Except where expressly prohibited, a course used to fulfill this college-level requirement may also be used simultaneously to satisfy other requirements such as Mason Core requirements, other college-level requirements, or requirements for the major. In some cases, the requirements listed below may be superseded by requirements of the degree program and the Mason Core.
Foundational Breadth
Natural Science
Foreign Language