BA in
Bachelor of Arts in Geology
George Mason University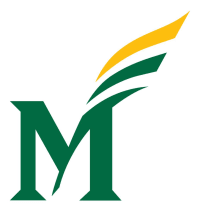 Introduction
The Geology, BA program aims to provide students with both high-quality conceptual knowledge and hands-on training in geology in preparation for careers within the earth-science field or for graduate studies in geology.
Program Highlights
This is a Green Leaf program.
Mason Geology Program undergraduates have internships at local government agencies such as the US Geological Survey and the Smithsonian Institution.
Students have the opportunity as upper-level students to mentor lower-level students by joining the Learning Assistant program. Students may also join the Honors Program
Geology Program faculty have research projects around the world including around Europe, Peru, India, West Africa, and many more exciting locations.
Career Opportunities
A Geology degree from George Mason University will open doors to many exciting, essential careers such as environmental scientist, resource extraction, and geological hazard management just to name a few.
Our graduates have gone on to graduate school at leading institutions across the country and internationally.
Research Opportunities
Mason faculty are actively conducting research in the rock record, coastal processes, structural geology, paleontology, and more.
Undergraduates play a vital role in this research, working directly with faculty members and graduate students on their research projects. Many Mason Geology Program undergraduates present research at local, regional, national, and international scientific conferences. Several have also published their work with the Mason Geology Program faculty.
Curriculum
Degree Requirements
Total credits: minimum 120
This is a Green Leaf program.
Candidates for a degree in geology must complete all courses with a minimum GPA of 2.50.
Geology Core
GEOL 101 & GEOL 103 Physical Geology (Mason Core) and Physical Geology Lab 4
GEOL 102 & GEOL 104 Historical Geology (Mason Core) and Historical Geology Laboratory (Mason Core) 4
GEOL 302 Mineralogy 4
GEOL 304 Sedimentary Geology 4
GEOL 308 Igneous and Metamorphic Petrology 4
GEOL 312 Invertebrate Paleontology 4
GEOL 317 Geomorphology 4
GEOL 401 Structural Geology 4
Six credits of 6
GEOL 404 Geological Field Techniques 3
Total Credits 38
Chemistry
CHEM 211 General Chemistry I (Mason Core) 3
CHEM 213 General Chemistry Laboratory I (Mason Core) 1
Total Credits 4
Physics
Select one from the following: 4
PHYS 243 & PHYS 244 College Physics I (Mason Core) and College Physics I Lab (Mason Core)
PHYS 160 & PHYS 161 University Physics I (Mason Core) and University Physics I Laboratory (Mason Core)
Total Credits 4
Mathematics
Select one from the following: 3-4
MATH 110 Introductory Probability (Mason Core)
MATH 111 Linear Mathematical Modeling (Mason Core)
MATH 113 Analytic Geometry and Calculus I (Mason Core)
Total Credits 3-4
Computer Science
GGS 311 Geographic Information Systems 3
Total Credits 3
Program Courses
Students must take an additional 9 credits of GEOL or geology-related coursework. While any GEOL course numbered 300-499 is permissible if not used to fulfill other BA requirements, suggested courses include: 9
GEOL 303 Field Mapping Techniques
GEOL 305 Environmental Geology
GEOL 306 Soil Science
GEOL 309 Oceanography
GEOL 313 Hydrogeology
GEOL 320 Geology of Earth Resources
GEOL 321 Geology of Energy Resources
GEOL 325 Planetary Geology
GEOL 332 Paleoclimatology
GEOL 334 Vertebrate Paleontology
GEOL 363 Coastal Morphology and Processes
GEOL 364 Marine Geology
GEOL 403 Geochemistry
GEOL 412 Physical Oceanography
GEOL 417 Geophysics
GEOL 420 Earth Science and Policy (Mason Core)
GEOL 441 Great Events in Earth History
GEOL 458 Chemical Oceanography
Total Credits 9
Mason Core and Elective Credits
In order to meet a minimum of 120 credits, this degree requires an additional 58-59 credits, which may be applied toward any remaining Mason Core requirements (outlined below), Requirements for Bachelor's Degrees, College Requirements for the BA Degree (outlined below), and elective courses. Students are strongly encouraged to consult with their advisors to ensure that they fulfill all requirements.
Some Mason Core requirements may already be fulfilled by the major requirements listed above. Students are strongly encouraged to consult their advisors to ensure they fulfill all remaining Mason Core requirements.
Foundation Requirements
Written Communication (ENGH 101) 3
Oral Communication 3
Quantitative Reasoning 3
Information Technology and Computing 3
Exploration Requirements
Arts 3
Global Understanding 3
Literature 3
Natural Science 7
Social and Behavioral Sciences 3
Western Civilization/World History 3
Integration Requirements
Written Communications (ENGH 302) 3
Writing-Intensive 3
Synthesis/Capstone 3
Total Credits 40
College Requirements for the BA Degree
In addition to the program requirements and the Mason Core requirements, students pursuing a BA degree must complete the coursework below. Except where expressly prohibited, a course used to fulfill this college-level requirement may also be used simultaneously to satisfy other requirements such as Mason Core requirements, other college-level requirements, or requirements for the major. In some cases, the requirements listed below may be superseded by requirements of the degree program and the Mason Core.
Foundational Breadth
Natural Science
Foreign Language