BA in
Bachelor of Arts in Finance
Franklin University Switzerland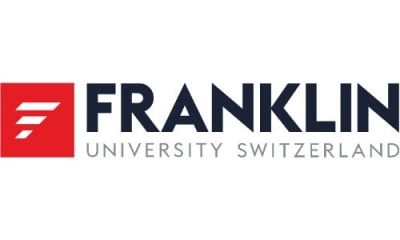 Key Information
---
Campus location
Sorengo, Switzerland
Tuition fees
CHF 25,800 / per year **
Application deadline
15 Jun 2023*
Earliest start date
22 Aug 2023
* study abroad and regular freshman admissions
** annual tuition fee for Swiss/EU/EEA Citizens; $45.700 annual tuition fee for US Nationals / Permanent Residents and Canadian Nationals; CHF 49,900 annual tuition fee for other nationalities
Introduction
Calculate financial strategies
The degree in International Banking and Finance is designed to promote an appreciation of the financial system and the financial decision-making process as determinants of the economic wealth of individuals, business enterprises, and nations. The program stresses both the area of financial economics (studying the behavior of traders in financial markets and the determinants of price formation) and of financial management (studying business practices useful in devising strategies to attain financial goals). In an environment of high capital mobility and integrated financial markets, an international perspective is essential to the understanding of the opportunities and risks in the global arena.
Throughout the program, special attention is given to the process of globalization of banking services and financial markets, the changes following the introduction of the Euro, and the causes of financial instability. The B.A. in International Banking and Finance degree provides the knowledge and skills for employment in the financial division of commercial and industrial businesses, or in the banking and financial services sector. It also prepares students for graduate study in business administration, economics, and finance.
Our Campus
Visit Franklin University Switzerland and see why so many students feel at home on our campus and in the Lugano community.
We welcome you and your friends and family to experience what it means to live and learn in our safe, international environment.
Dual Accreditation
Franklin University Switzerland is accredited in both the United States and Switzerland.
That means that your degree is truly international, with automatic validity in two countries, and that you have an advantage to pursuing an international career or furthering your study in the US or Switzerland. The doors opened by a Franklin education go far beyond these two countries, though, and most countries in the world will grant equivalence to a Franklin degree if you have your sights set elsewhere.
Franklin maintains this recognition through periodic quality assurance reviews by authorities from the US and Switzerland.
Career Opportunities
Where Our Graduates Go
Employers look for candidates with a reliable skill set, and Franklin students have it! Within a year of graduation, 95% of our students obtain full-time employment in a wide variety of sectors, as shown in the graphic. At Franklin, you'll get the education you need and acquire the skills employers want.
Since we began in 1970, there are now over 7,000 alumni already making a difference in their hometowns, and in new, exciting locations around the globe. Let FUS help you get where you want to go.
Scholarships and Funding
Merit scholarships are given to students who have demonstrated high academic achievement and are renewed each year, for four years. These scholarships are automatically awarded at the time of admission and are not based on need or family income. Priority is given to students applying for admission by the December 1, 2012, deadline. After December 1, we may continue to award merit scholarships, if funds are still available. For more information, students are advised to contact our office in Lugano.