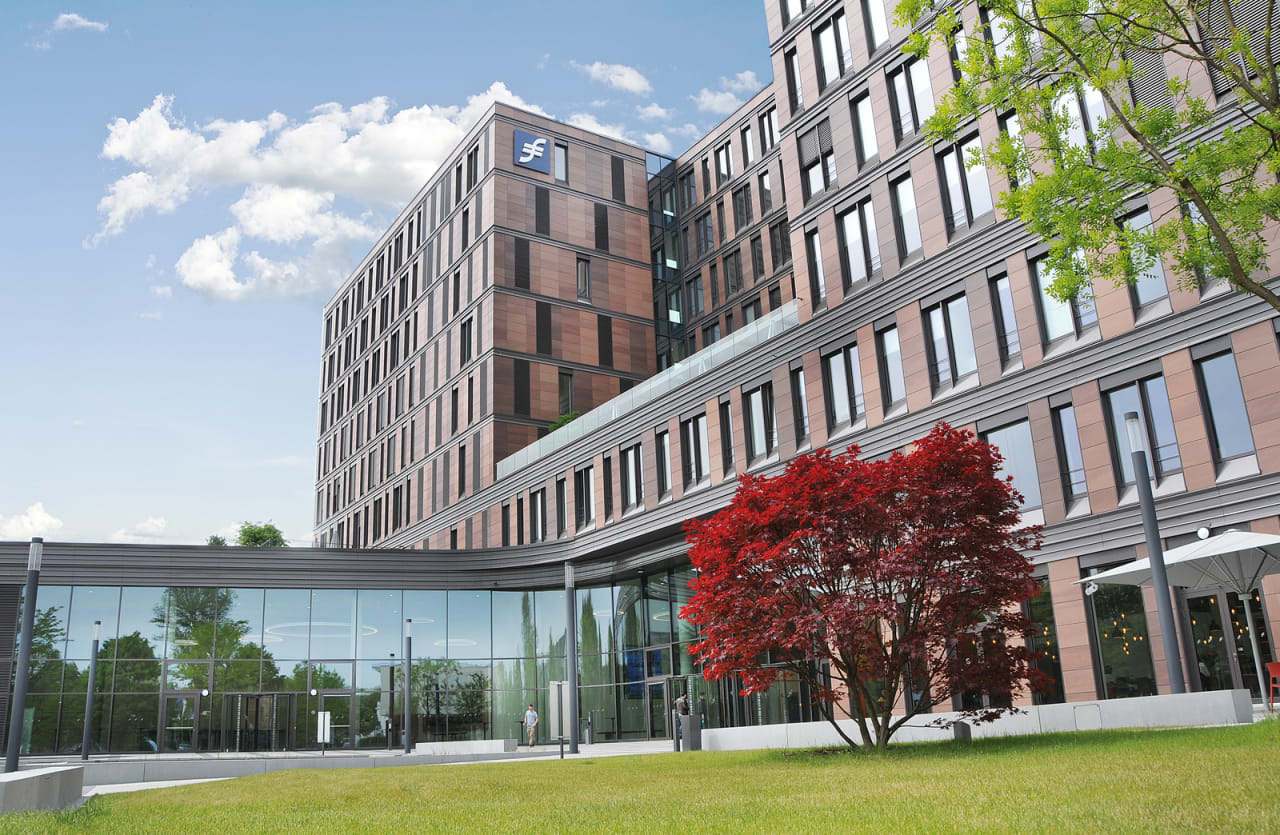 BSc in
Bachelor in Computational Business Analytics (BSc)
Frankfurt School of Finance & Management
Key Information
---
Campus location
Frankfurt, Germany
Tuition fees
EUR 7,700 / per semester **
Application deadline
30 Jun 2023*
Earliest start date
Sep 2023
* applications after June 30th will be considered if places are still available
** per semester
Introduction
Our Bachelor of Science in Computational Business Analytics is designed for students seeking a dynamic technology-focused business career. Being able to understand the manifold contexts of managerial decision-making and combining that with deep knowledge of data analysis techniques is an increasingly valuable skill set for a successful career in many industries. With the emergence of big data, companies see themselves confronted with highly complex decision-making problems that require experts that are able to speak fluently to both decision-makers as well as data scientists.
Business Analytics is concerned with the development and application of quantitative approaches to support managerial decision-making. Experts in this domain are familiar with different methods for data collection and acquisition, they are able to analyze data and build statistical models, and they can translate the outcomes of data analyses to actionable recommendations for managers. On top of this, they need to have a thorough understanding of the different areas of management, including accounting, finance, marketing, and operations.
How is Business Analytics and Data Science used?
Image and speech recognition (e.g., Facebook's photo tagging, Amazon Alexa)
Search engines (e.g., Google)
Recommendation management (e.g., Amazon, Netflix, Booking.com)
Design of production and logistics services (e.g., Rewe home delivery, Intel's chip factories)
Automated processes (e.g., credit card approval, sports betting)
Sales and demand forecasts (e.g., Zara, Roche)
Summer School
Participating in our FS Summer School is a great way to improve your language & presentation skills and get an insight into the business world. Together with participants from all over the world, you will be working on exciting case studies & presentations and find out how life as an FS student looks like!
Curriculum
Curriculum
Our Bachelor in Computational Business Analytics curriculum provides students with the skills required to succeed in a career where data science meets the needs of contemporary business. Students will take core business and data science modules and learn how to combine their knowledge in the professional world.
Semesters
| | | | | | |
| --- | --- | --- | --- | --- | --- |
| 1 | Principles of Management | Financial Accounting | Analytical Thinking & Critical Reasoning | Mathematics | Introduction to Data Science |
| 2 | Principles of Finance | Microeconomics and Decision Making | Statistics & Probability | Algorithms & Software Concepts | Databases & Data Management |
| 3 | Operations Management | Managerial Accounting | Big Data: Ethical & Legal Implications | Data Collection & Games and Incentives | Computational Statistics |
| 4 | Corporate Finance | Macroeconomics | Marketing | Machine Learning | Data Visualisation |
| 5 | Semester & Internship Abroad | | | | |
| 6 | Data Learning Elective | Academic Skills Module | Concentration | Concentration | Concentration |
| 7 | Data Science Elective | Data Science Elective | Elective | Thesis | Thesis |
Study Model
Our Bachelor in Computational Business Analytics (BSc) is taught completely in English and studied full-time. This means you will have a normal 4 to 5-day a week schedule. Of course, this can vary each semester, however, usually, you would have at least 1 day off during the week (lectures can take place between Monday and Saturday). It is also possible to take on a student working job on the side of our full-time model.
Learning experience
Our Bachelor in Computational Business Analytics (BSc) applies a practical approach to your studies by preparing you for the realities of data science in the working world. We do this by strengthening your statistical, mathematical and computational skills, and by exposing you to every day working life as part of our cooperative company projects.
Artificial Intelligence (AI) Lab
The AI Lab provides a space where new learning concepts can be developed, tested, and immediately implemented into the teaching programme. The AI Lab is equipped with four high-end computers using the latest GPUs for AI acceleration. Students are also invited to attend our Hackathons and additional workshops.
Hackathons
Our Hack@LAB hackathons allow students to solve problems chosen directly by a leading company. Students from a range of skill-sets come together and work on the problems using machine-learning techniques and algorithms.
Practical study approach
Next to your internship abroad, our studies combine theory and practice to broaden your knowledge through practical examples. Our professors work hand-in-hand with policy-makers and executives to offer tailor-made solutions to real-world questions. Research findings are employed in leading corporations, the finance sector, in politics, and on development issues. Members of our faculty frequently follow and report on current issues in the media. Furthermore, managers from leading business companies frequently are invited by our teaching staff for guest lectures for our students.
During your studies, you will learn to analyze and calculate a company's' current situation by working on various case studies. If you wish, you may also write your Bachelor thesis in cooperation with a company.
Semester and internship abroad
The 5th semester abroad is an integral part of the Bachelor of Science. Firstly, you will go to study at one of our over 100 partner universities. This will be an exciting and challenging experience. Every partner university offers different opportunities. The Frankfurt School International Office will support you with organizing your semester abroad.
You will then also do an internship abroad which will allow you to gain practical experience around the world. The internship can be done in a different country from where your exchange university is located. Our Career Services will assist and support you during your search for an internship.
Career prospects
On completion of the Bachelor in Computational Business Analytics (BSc), you will be qualified to connect the dots for companies. Business Analytics gains increasing importance in practice, and many global companies, including banks, consulting companies, and large manufacturing and service firms, are seeking experts who understand the specific needs of managerial decision-making and can provide relevant (data-driven) solutions for genuine business transformations.
Both the private sector as well as the public sector are constantly looking for ways to increase efficiency and effectiveness. Your skills as a Business Analyst are in such high demand that you may even receive job offers before you graduate. Job opportunities will include but are not limited to working as a Data Analyst, Data Visualisation Engineer, Data Scientist, Consultant, or Manager. Opportunities for you abound in all sectors that are experiencing a digital transformation.
FS Career Services

Frankfurt School has an exceptional reputation and our Bachelor programmes open many doors and offer excellent career prospects for students. Students are continuously individually supported when it comes to their career, from day one, by our Career Services department. Exclusive events allow students to build their professional network. Furthermore, our Career Services provides students with access to our FS Mentoring Programme, various career-related workshops, and our FS Job portal throughout their whole studies. Frankfurt School ensures all students have the opportunity to already gain work experience at top companies during their studies and are prepared for a successful career upon graduation.
Scholarships and Funding
Financing & Scholarships
Your degree is an investment towards your professional future. As a business school of international standing, we not only offer you academic excellence – we also offer you excellent career prospects.
As we can guarantee the quality of our teaching and research, we also expect the highest levels of commitment and motivation from our students.
We know that financing your studies can be an issue and must be thought about in detail. This is why we give our students the opportunity to receive financial aid or scholarships. Since 2020 we offer a Data Science Diversity Scholarship, which applicants for the BSc in Computational Business Analytics might find particularly interesting.
Ideal Students
This programme is the right thing for you if:
you are interested in new and innovative technologies and their application in the business world.
you have strong analytical skills and want to work on interesting and important problems.
you are hands-on and like to work with computers.
you are eager to discover the benefits and challenges of big data.
The following entry requirements must be fulfilled before the start of your studies:
Successful completion of a Secondary School Diploma* (e.g. German Abitur, Fachhochschulreife, IB, EB or equivalent) - If you have yet to graduate, then you can apply by uploading your last two school reports.

Successfully complete our Online Assessment Centre, which consists of:
Maths test
Cognitive test
English test
Interview
Alternatively, you can provide us with one of the following test results in your online application: SAT, ACT or TestAS plus a standardised English test (TOEFL, IELTS, Cambridge or Pearson). In this case, you will also be required to take part in an online or telephone interview.
*If your secondary school leaving certificate does not meet the requirements for direct entry into German university set forth by the Ministry of Education, you have the opportunity to apply to our Pre-University Foundation Programme. Upon successful completion of the foundation course, you will be eligible to pursue your bachelor's degree at Frankfurt School. If you would like to know more about the Foundation Progamme, you are welcome to take part in one of our information sessions.