BSc in
BSc in Chemical Engineering and Chemistry
Eindhoven University of Technology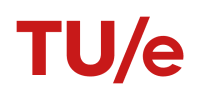 Introduction
Chemical Engineering and Chemistry plays an important role in solving societal problems. For instance, the development of cleaner forms of energy, new materials with highly specific properties like superstrong fibers, the design of new molecules capable of administering a certain dose of a drug in your body, or converting light into electricity. There is always a great demand for well-educated and trained chemical engineers.
N.V.A.O. accreditation
This program is legally recognized and accredited by the Accreditation Organisation of the Netherlands and Flanders (N.V.A.O.).
Rankings
IChemE accreditation
The Bachelor's program Chemical Engineering and Chemistry at Eindhoven University of Technology is awarded the 'Internationally Accredited Degree' by The Institution of Chemical Engineers (IChemE). This demonstrates that our program is academically sound and industrially relevant.