BBA in
BBA - BA (Hons) Business & Management
DEI COLLEGE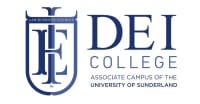 Introduction
The Department of Business Administration of DEI College, has as its aim the education of students in a wide range of relevant specialties, and specifically, Business Administration and Strategy, Management, Development and International Relations.
The BA (Hons) Business & Management Undergraduate Business Administration Program is offered in collaboration with the University of Sunderland. It is aimed at candidates who want a highly competitive degree in Business Administration and dream of a successful career in the business world.
It is designed in such a way as to help students, through the study of basic knowledge, to acquire a strong theoretical background, critical ability and research skills. In addition, through various applications, the students aim to get acquainted and network with the labor market.
DEI College students have access to the College library and the University of Sunderland e-libraries, enjoy free participation in DEI College seminars and a privileged discount card at various stores and services
Why should I choose the Business Administration Program at DEI College, Thessaloniki?
Constantly updated curriculum, which is in line with the needs of the market
Excellent familiarity with the application of theory in diverse areas related to management science and business
Excellent learning of management and finance terminology
Development of intellectual and transferable skills that are an important resource in one's professional career
Fully trained and highly qualified teaching staff to guide and help students understand the subject in depth
Possibility of free English language learning
Recognized study program by the University of Sunderland in the United Kingdom
Possibility of full-time or part-time study, depending on the needs and abilities of each student
A wide range of modules to acquire the necessary knowledge for future professionals
Obtaining a competitive degree for the labor market
Large percentage of professional activity of the graduates of the department
Fully English-language program that facilitates career prospects abroad
Expanded absorption potential in various sectors of the financial and business world
Curriculum
The Business Administration study program in Thessaloniki at DEI College can be completed in 3 years of full-time study or in 6 years of part-time study. Teaching methods include lectures, seminars, group work and research. Assessment methods also include assignments, research, presentations and written examinations.
1st Year
Below are presented in detail the modules of the first year of the School of Business Administration:
Essential Study and Employment Skills
Students will explore key skills such as communication skills, time management, organization and planning, teamwork and collaboration, decision making, problem solving and evaluation.
Introduction to Marketing
Students will examine the basic principles, theories and models of marketing. At the same time they will have the opportunity to get in touch with new practices in the field, such as digital marketing and data analysis.
Introduction to HRM and Talent Development
Students will study the organization and utilization of Human Resources, through the use of theoretical models of best practice, aiming at the smooth operation and development of a business.
Introduction to Accounting and Finance
Students will have the opportunity to practice the three main areas of accounting:, financial accounting, management accounting and business finance.
Introduction to Managing and Leading People
Students will study the concepts of group management and mentoring in an organizational context. Specifically, they will have the opportunity to address issues such as leadership, change management and practical crisis management.
Introduction to Business Operations and Services
Students will explore key processes and practices in organizations, businesses and services. The aim of this program is to determine the nature of businesses and services, taking into account the various aspects of their quality, cost and delivery.
2nd Year
Below are presented in detail the modules of the second year of the School of Business Administration:
Personal and Professional Development
Students will explore the theory and practice of personal development and learning. Following the principles of diagnosis, reflection, execution and evaluation, the aim of the program is to develop skills and personal and professional characteristics.
Management Thought
Students will explore the systems and processes of design, organization, control and decision making, communication, human resource management (HRM) and management information systems (MIS), organizational structures, innovation and corporate social responsibility.
Quality Management for Organisational Excellence
Students will develop skills to be able to apply the concept of excellence in an organizational context, making use of the European Quality Management Framework (EFQM Excellence Framework), Total Quality Management (TQM) and other self-assessment systems.
Business Ethics, Sustainability and Responsibility
Students will explore various ethical issues and dilemmas faced by companies worldwide, at a time when more and more countries, governments and the media expect the business sector to show responsible actions, ethical behavior and sustainable development practices.
Management Entrepreneurship, Innovation and Creativity
Europe has put innovation and start-up at the heart of every country's national and regional economic strategy. In this section, students will understand the requirements of doing business, the requirements of an entrepreneur's role, and the challenges of joining or managing a creative team.
Innovation Management
Students will understand the multifaceted meaning of innovation, in terms of research, discussion, public debate, evaluation and management. As innovation is a very current topic in the field of business administration, the topics and issues presented in the program will reflect current research and practice in the field of Innovation Management.
3rd Year
Below are presented in detail the modules of the third year of the School of Business Administration:
Strategic Management
Students will focus on the goals and methods of operating the business strategy, which contribute to the ultimate goals and objectives of each organization. Business strategy will be studied in relation to the environment and with reference to a timetable that is projected in the future.
Developing the Reflexive Practitioner
Students will have the opportunity to tailor their own research to a reflection cycle (e.g., Gibbs or Gardner) as critical event analysis. The aim of the program is to develop self-knowledge methods for aspiring managers and leaders through a quality research design and strategy.
Global Entrepreneurship and Innovation
Students will study the difficult global economic conditions that have led to the development of business ventures which create and market new products and services that make people's lives easier, increase productivity at work, improve health and entertain in new and exciting ways.
Strategic Corporate Finance
Students will have access to research and evaluation of key theories related to strategic corporate finance and the crucial role it plays in modern business. The aim of the program is to study strategic corporate finance, investment and dividend decision making.
Managing and Leading Change
Students will analyze real organizations and businesses, with particular emphasis on understanding contemporary issues of organizational change. The program aims to manage and guide process actors and human resources related to identifying, planning, and implementing organizational change.
Marketing in a Digital World
Students will study how the digital age has been the catalyst for significant changes in marketing practices. Through the program, they will explore transformations in traditional marketing practices and examine the need for a holistic and integrated approach to strategy in a digital world.
* Modules may change each year.
Academic Staff
The academic staff of DEI College consists of experienced instructors with high educational and professional qualifications . Their professional involvement in this field encourages students to develop their critical thinking so that they can create their own new career opportunities, while at the same time they can meet the challenges of the field. The academic staff's specialization in global issues and trends, such as competition of demand, strategic planning, quality of services and knowledge of the subject, offers ideal help for the students' future development
Career Opportunities
The University of Sunderland is one of the UK's leading universities in terms of student employability. Upon completion of the studies in Business Administration, students will have acquired the fundamental and special knowledge required for the easy start of their career in the field of Business Administration. In addition, they will have developed the transferable skills and competencies required in modern service market segments, including jobs related to providing management and know-how advice to organizations, businesses and banks. In this way, graduates will be able to claim administrative positions, both in small and large companies and organizations, in Greece and abroad, ensuring a successful professional career.