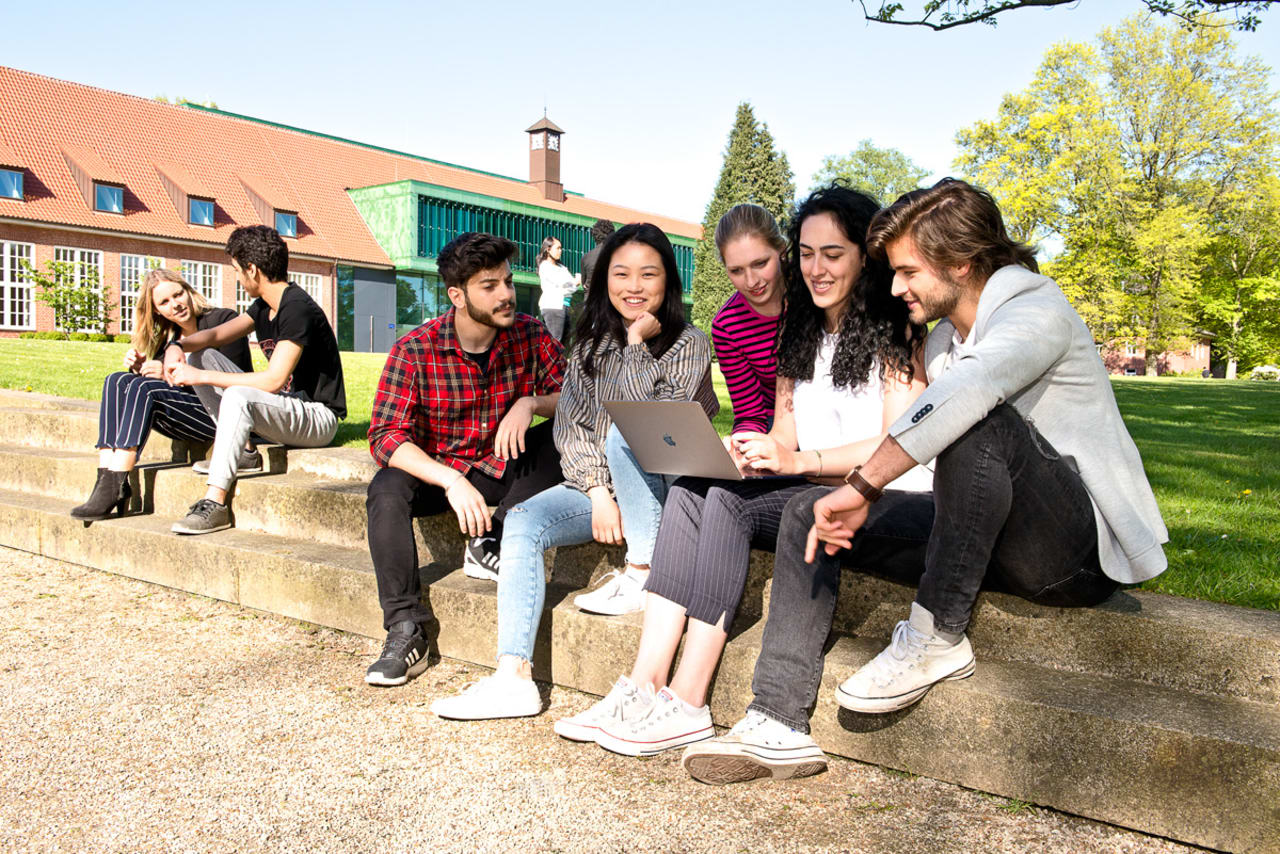 BA in Global Economics and Management
Constructor University Undergraduate Programs

Key Information
---
Campus location
Bremen, Germany
Tuition fees
EUR 20,000 / per year **
Application deadline
Request info *
Earliest start date
01 Sep 2023
* global applicants | 15.07 applicants who do not need a visa
** additional fees apply
Introduction
The Bachelor's program in Global Economics and Management at Constructor University provides students with a comprehensive understanding of the complex and interrelated economic and political forces that shape our globalized world. Through a unique combination of traditional business and economics studies, political science, sociology, and management, students gain a transdisciplinary perspective on the challenges faced by today's firms and economies, with a focus on sustainable development and responsible leadership.
As a result of the program's excellence and its successful integration of various academic disciplines, the program has been consistently highly ranked in recent university rankings conducted by the Center for Higher Education (CHE). This demonstrates the program's ability to equip students with the knowledge, skills, and perspectives necessary for success in today's fast-paced and ever-changing global economic environment.
Why study at Constructor University
International experience
Train your intercultural skills by studying with talents from more than 100 countries and excellent study abroad options.
Top rankings
Benefit from the highest standards in teaching, interdisciplinary learning, early research involvement, and hands-on education.
Global career
Connect with Alumni to broaden your professional network & start your career with our individual career service support.
Career Opportunities
Careers in international companies and organizations in areas such as purchasing, production, sales, engineering, and consultancy and with non-governmental organizations and international aid agencies.
Solid labor-market qualification
With its combination of economics and management, students acquire solid labor-market qualifications for junior management positions with responsibilities in function-specific tasks and projects within areas of employment such as business development, sales and marketing, human resource management, organizational development, strategy and technology consulting, as well as for analyst positions in these fields or in specific industries.
Well-prepared for top global career paths
In the last years, our graduates obtained internships and positions in a variety of institutions, including the World Bank, MIT, or the Harvard Kennedy School, and at companies such as Volkswagen, Deutsche Bank, Ernst & Young, Deutsche Börse, KPMG, Henkel, Daimler, LinkedIn, Microsoft, Uber, Vodafone, Zalando or Deloitte, as well as in various startups. A degree in GEM will also equip students with transferable skills that will allow them to move into other areas of employment in a variety of employers such as national and multi-national companies, governmental agencies, NGOs, international organizations, think tanks, special interest groups, or research institutions.
Well-prepared for top-league graduate education
The GEM program has taken JU's graduates onto a rich diversity of career paths. The academic rigor of the program prepares students for highly-ranked graduate programs. GEM alumni have a strong track record with leading institutions around the world, such as the universities of Oxford, Cambridge, Edinburgh, St Gallen, Bonn, Munich (TUM) and Mannheim, and graduate schools such as ESADE, Copenhagen Business School, BI Norwegian Business School, Hertie School of Governance, London Business School, and the London School of Economics.
Individual career counseling and support
Due to their experience of working and living with students from more than 100 countries on Constructor University's international campus, GEM graduates are well prepared to take on responsibility in intercultural work environments. What is more, the Constructor University Career Services Center offers students, amongst others, access to an exclusive internship program, individual career counseling, professional skills seminars, an online job portal, and employer networking during on-campus recruiting events.
Career services center
Today's business world requires disciplinary knowledge from graduates as well as the ability to apply this knowledge. Career-related services at Constructor University provide information, counseling and training, networks, and events. Constructor University's students participate in training on project management, business communication, job interview skills, and more. Digital job and internship portfolios help students to prepare for their careers.
Alumni association
Studying at Constructor University gives you connections – often for your whole life.
The Alumni Association E.V. was founded in 2004 by the first generation of graduates. Since then, around 4,500 students have obtained their degrees from this University.
Curriculum
The undergraduate program at Constructor University is a three-year, 180-credit-point program designed to prepare students for a wide range of career paths.
Throughout this 3-year full-time program taught in English, students will learn how to analyze and interpret large data sets, design, and develop software applications, and solve complex problems using data-driven approaches. Students will also gain a strong foundation in computer science, programming, and related disciplines such as mathematics and statistics.
The "4C Model" is the program's backbone, with disciplinary content grouped into three themes according to study years: CHOICE-CORE-CAREER. Additionally, the "CONSTRUCTOR Track", an integral part of the program, runs parallel throughout the program. It provides students with multidisciplinary content and essential skills such as argumentation, data visualization, societal engagement, and communication.
The curriculum allows students to tailor their education to their goals and to explore different fields of study, with the flexibility to change their major within the first year. Moreover, the programs include a mandatory internship and a study-abroad opportunity in the fifth semester to provide students with hands-on experience and a global perspective.
Study program structure
Year 1
The first year of study in the Global Economics and Management (GEM) program is designed to provide students with a broad foundation in the relevant disciplines. In this year, students will have the opportunity to select introductory modules totaling 45 credit points from a variety of study programs. Of these, 30 credit points must be from the student's intended major.
Students can still change their major at the beginning of the second year of studies if they have taken the corresponding modules of their desired major in the first year.
GEM students take the following discipline-specific CHOICE Modules in their first year of study:
CHOICE Module: Microeconomics (7.5 credit points)
CHOICE Module: Macroeconomics (7.5 credit points)
CHOICE Module: Introduction to International Business (7.5 credit points)
CHOICE Module: Introduction to Finance and Accounting (7.5 credit points)
These lecture-tutorial combinations give the students a general overview of the basic concepts and theories in economics and business. The associated tutorials allow students to reinforce the material covered in the lectures through discussions, case studies, and exercises.
Year 2
During the second year of study, students will have the opportunity to further deepen their understanding of their chosen major through 45 credit points of discipline-specific CORE modules. These modules will build upon the foundational knowledge gained in the first year and aim to provide students with a more in-depth and current understanding of key theories, principles, and methods in their major.
The GEM program requires students to take 30 credit points of the following CORE modules:
CORE: Development Economics (7.5 credit points)
CORE: Environmental and Resource Economics (7.5 credit points)
CORE: Comparing Economic Systems (7.5 credit points)
CORE: International Economics (7.5 credit points)
CORE: Marketing (7.5 credit points)
CORE: Organization and Human Resource Management (7.5 credit points)
These modules will be delivered through a combination of seminars and tutorials, allowing students to learn through lecture inputs, paper discussions, and interactive group work. As students progress through the program, exams will become increasingly focused on essays and presentations.
In addition to the required 30 credit points, students can choose an additional 15 credit points in CORE modules, allowing them to pursue their interests or even a minor in another field of study.
Year 3
During their third year, students focus on preparing for their post-graduation career by exploring their options and gaining professional experience through a mandatory summer internship.
The fifth semester offers a unique opportunity for students to study abroad and broaden their cultural and academic horizons. In the final semester, students hone their research skills by working on an extended Bachelor's thesis project.
In addition, GEM students take 15 credit points worth of major-specific and related specialization modules to deepen their knowledge in areas of their choice. These modules allow students to consolidate their knowledge and stay up-to-date with the latest research in their field.
GEM students choose 15 credit points of the following Specialization Modules:
Specialization: Advanced Econometrics (5 credit points)
Specialization: Managing Public and Nonprofit Organizations (5 credit points)
Specialization: Information Economics (5 credit points)
Specialization: Lean Management (5 credit points)
Specialization: Managerial Accounting (5 credit points)
Specialization: Contemporary Topics in Marketing (5 credit points)
Internship / Start-up and career skills module
At Constructor University, students are given a unique opportunity to boost their employability through a mandatory two-month internship worth 15 credits. This opportunity usually takes place during the summer between the second and third year of study, providing students with the chance to gain practical experience in a professional setting. Through this internship, students can apply the knowledge and understanding they have gained from their major to real-world contexts, evaluate the significance of their major in the employment sector and society, reflect on their role in employment and society, and make informed career decisions. For students interested in starting their own company, an alternative to the full-time internship is offered as a start-up option, which allows them to focus on developing their business plan.
Constructor University Track
The Constructor University Track, an important feature of Constructor University's educational concept, runs parallel to the disciplinary modules across all study years and is an integral part of the study program. It reflects a university-wide commitment to in-depth training in scientific methods, fosters an interdisciplinary approach, raises awareness of global challenges and societal responsibility, enhances employability, and equips students with extra skills desirable in the general field of study. Additionally, it integrates (German) language and culture modules.
Methods and Skills modules
Methods and skills such as mathematics, statistics, programming, data handling, presentation skills, academic writing, and scientific and experimental skills are offered to all students as part of the Methods and Skills area modules. Students are required to take 20 credit points in the Methods/Skills area.
GEM students take the following Methods modules:
Methods: Applied Calculus (5 credit points)
Methods: Applied Statistics with R (5 credit points)
Methods: Qualitative Research Methods (5 credit points)
Methods: Econometrics (5 credit points)
Big Questions modules
The modules of the Big Questions area intend to broaden the students' horizons with applied problem-solving between and beyond the disciplines. The offerings comprise problem-solving-oriented modules that tackle global challenges from the perspectives of different disciplinary backgrounds and that allow, in particular, a reflection of the acquired disciplinary knowledge in economic, societal, technological, and/or ecological contexts.
GEM students select 2-4 modules (10 credit points) from a broad portfolio of Big Questions modules.
Community Impact Project
In their 5th semester, students must take a 5 credit points Community Impact Project (CIP) module. Students engage in on-campus or off-campus activities that challenge their social responsibility, i.e., they typically work on major-related projects that make a difference in the community life on campus, in its neighborhood, in Bremen, or on a cross-regional level.
Language modules
Constructor University supports its students in acquiring and improving these skills by offering a variety of language modules at all proficiency levels. Emphasis is put on fostering the German language skills of international students as they are an essential prerequisite for non-native-speaking students to learn about, explore, and eventually integrate into their host country and its professional environment.
All students take four language courses in the first and second years.
Scholarships and Funding
Education is a substantial investment in your future, at Constructor University we strive to make it an affordable reality for students from across the world. Therefore, we offer students personalized financing offers to help cover their tuition fees. They consist of one or more types of financial support in the form of scholarships and/or grants and tuition deferrals. You only start repaying the deferred tuition fees once you successfully entered the job market. That way you can focus completely on your studies. We are convinced that a Constructor University education will form the perfect foundation for your future career – that is why we are happy to invest in you.
Scholarships
All students are considered for an academic achievement scholarship based on their school grade point average (GPA). EU and EFTA students are eligible for a minimum guaranteed scholarship of € 4.000.
Academic Achievement Scholarships (per academic year)
€ 4.000 (Minimum guaranteed amount for EU and EFTA students)
€ 6.000
€ 8.000 (Maximum scholarship amount irrespective of nationality)
The number of these scholarships is not limited and no separate application is required.
Students are informed about their scholarship amount immediately following admission.
Tuition Deferral Program
In cooperation with our partner Brain Capital
Deferral of tuition fees is calculated automatically and available to you shortly after admission.
You decide whether you want to take advantage of this personalized financing option.
Granted independently of your financial situation.
Flexible repayment plan based on your future income and personal circumstances.
Apply for need-based aid
In addition to our academic achievement scholarships and our tuition deferral program, students can apply for our personalized, need-based financial aid program.
The amount of the grant (need-based discount) is determined based on your and your family's financial situation
The amount of the grant does not need to be repaid.
Our Student Financial Services team is happy to assist you!
External financing options
These scholarships are not administered by Constructor University Bremen. For further information about the requirements and the application process, please contact the appropriate institution directly.
External Scholarships and Stipends
We have compiled a list of German foundations that offer scholarships and stipends to national and international students: listing of External Scholarships and Stipends
DAAD Scholarship Database
MyStipendium.de: Search engine to help you find the stipend which matches your profile
Elternkompass: Beratung und Hilfe bei der Suche nach einem geeigneten Stipendium (German students only!)
MLP Stipendienprogramm – für MINT-Studenten ab dem 3. Fachsemester
Student Loans
BAföG: Grants and student loans given to German students based on their family's financial situation.
KfW-Studienkredit: The student loan of the Kreditanstalt für Wiederaufbau (KfW) is the most popular student loan among our German students.
studienkredit.de: Here you will find more information regarding educational loans in Germany.