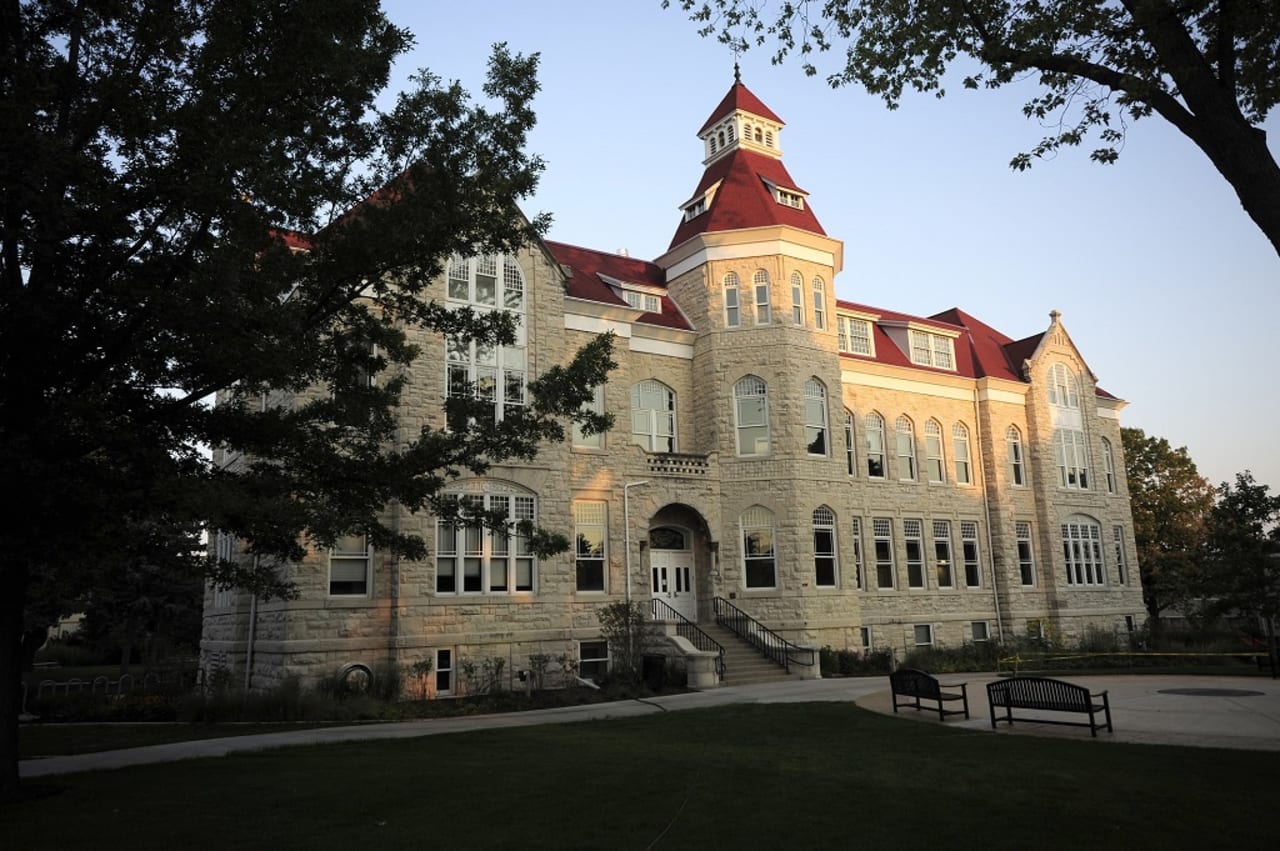 Bachelor in
Bachelor in Graphic Design
Carroll University
Key Information
---
Tuition fees
USD 36,400 / per year *
Application deadline
Request info
Earliest start date
Request info
* additional fees may apply
Introduction
Graphic design surrounds us, from web pages to the logo on your sweatshirt, the cover of your cereal box, and the apps on your phone. Graphic design is the successful integration of words and images to craft meaningful and effective communication. We're visual beings, after all. Education in graphic design will teach you how to properly employ design principles and use the tools of design to craft efficient messaging—and how to analyze and critique design. You'll develop creative abilities and technical skills that translate to a wide variety of potential careers.
In Carroll University's graphic design program, you'll learn about the principles of design, color theory, typography, digital video, photography, 3D design, and multimedia production. You'll gain a thorough understanding of graphic design theory and the digital tools needed to create effective design, whether in print or digital media. In addition to working with state-of-the-art software and hardware to create print, web, video, and cutting-edge digital projects, you'll take courses in marketing, communications, computer science, and art.
Through additional course offerings from the art and business departments, you'll develop your creative skills and learn about marketing as well. And our connections with the local professional design community mean numerous internships are available, where you'll gain real-world experiences and networking opportunities. The major culminates with a capstone project where you'll work alongside professional clients to develop actual marketing pieces. The project is customized to fit your particular abilities and interests. You'll create professional-quality work and finish with a portfolio ready for your first job interviews.
Students with graphic design skills are an asset to any company, non-profit, or small business. The skills you acquire through this program will make you more marketable and desirable to hiring professionals in the industry. Our graduates work as graphic designers, creative directors, art directors, photographers, and web developers.
Minors
In addition to the graphic design major, Carroll offers two minors that complement many areas of study:
Graphic Design Minor
Web Design Minor
Program Outcome
Upon graduation, the graphic design student will be able to:
Measurably demonstrate and apply a high competency working knowledge of various digital software applications and equipment.
Measurably demonstrate and apply industry-standard graphic design principles as they pertain to various digital media vehicles.
Apply learning outcome skill sets to produce digital media projects for the purpose of communication on behalf of client/audience objectives.
Create communication-based creative solutions to effectively broadcast specific messages that utilize typography, color, digital photography, images, digital video, and print.
Utilizing historical documentation for reference, case studies for application, and examples of industry trends, students will apply their skill set to create messages that communicate across a variety of media.
Utilizing "real world" strategy, concept, and application, students will implement their skill set of technology, understanding of design theory, identification with the audience, and association with various delivery methods to produce graphic communication materials that best represent client goals.
Participate in the writing of creative briefs, apply the dynamics of communication practices, as well as investigate and understand the role of branding, marketing, and advertising.
Utilize website construction software and apply the appropriate skill set to develop online portfolios and client-based solutions.
Develop the ability to think critically, problem-solve, and generate creative solutions.
The graphic design industry rapidly and continuously changes. This major has progressive offerings that teach students the use of myriad tools and methodologies needed to succeed in the industry for the 21st century. The graphic design, art, business, and computer science programs combine to provide students with the latest advancements, information, and methodologies.
Career Opportunities
Our majors pursue careers in:
Graphic design
Advertising
Motion graphic production
Animation
Multimedia production
Marketing
Web design
Magazine design
3D/4D design
Education
Example job titles of graduates with a bachelor's degree in graphic design:
Graphic designer
Graphic artist
Marketing coordinator
Production assistant
Digital design specialist
Design coordinator
Junior designer
Visual merchandiser
Types of employers for graphic design graduates:
Publishing and design firms
Corporations
Nonprofit organizations
Government agencies
Educational institutions
Self-employment
Film studios
Internet and software companies
Media
Advertising agencies
Carroll's graphic design graduates have gone into a variety of careers including positions at:
Milwaukee Bucks
Harmann Studios
Trade Press
Regency Centers
Target Corporate HQ
Foley & Lardner, LLP
Society Insurance
Kalmbach Publishing Company
Kohls Corporation
Goodwill Industries of SE WI
AXA Advisors
Curriculum
Requirements
ART 106 - Drawing and Composition 4 Hour(s)
ART 107 - Beginning Design 2D and 3D 4 Hour(s)
GRC 106 - Intro-Communication Technology 2 Hour(s)
GRC 150 - Digital Toolbox - Photoshop/ Illustrator 1 4 Hour(s)
GRC 200 - Color and Typography 4 Hour(s)
GRC 210 - History of Graphic Design 2 Hour(s)
GRC 290 - Digital Design Studio 4 Hour(s)
GRC 295 - 3-D Digital Design 4 Hour(s)
GRC 320 - Intro to Multimedia Production 4 Hour(s)
GRC 330 - Video and Motion Graphics 4 Hour(s)
GRC 390 - Advanced Design Thinking 4 Hour(s)
GRC 395 - Advanced Design Application 4 Hour(s)
GRC 450 - Capstone-Projects for Graphic Communication Majors 4 Hour(s)
GRC 480 - Internship-Graphic Communication 1 - 12 Hour(s)
Recommended Support Courses
ART 209 - Photography 1 4 Hour(s)
ART 230 - Printmaking I 4 Hour(s)
BUS 301 - Principles of Marketing 4 Hour(s)
BUS 320 - Promotion Management 4 Hour(s)
Bachelor of Science Requirements
The requirements for a Bachelor of Science degree are:
CMP 112 - Computational Thinking I 4 Hour(s)
CMP 114 - Computational Thinking II - Statistical Analysis Emphasis 4 Hour(s) or
MAT 140 - Calculus and Its Applications 4 Hour(s) or higher
CSC 110 - Problem-Solving through Programming 4 Hour(s) or higher
ENG 170 - Writing Seminar 4 Hour(s)
Degree requirements cannot be waived.
Note: Each major may have specific course sequencing requirements. For specific requirements, see "Required Support Courses" within each major
Internships
We help you build real-world experience, explore careers, and network with professionals through internship opportunities. GRC alumni have obtained jobs at:
Quad/Graphics Inc.
Milwaukee Bucks
Experimental Aircraft Association
Disney
Make-A-Wish Foundation
Milwaukee Opera Theatre
CPI Promotions
Capture Marketing
PJL Associates
Sky High Marketing
Saturn Lounge
Majoc Productions
Portland Trailblazers
Core Creative
Scholarships and Funding
The University participates in three types of financial aid programs for its International students: scholarships, grants, and employment.
Scholarships
Carroll University offers completive scholarships for international undergraduate students. 100 percent of Carroll University students receive scholarship assistance, which helps them find a balance between studies, work, and extra-curricular activities. Scholarships play a key role in maintaining Carroll's accessibility for all students. On average our international scholarship covers 45-55% of the cost of attendance for full-time undergraduate students.
Grants
Grants are awarded based upon a student's demonstrated financial need in addition to the guaranteed International scholarship. Like scholarships, grants are considered gift aid that does not need to be repaid.
Student Employment
University employment opportunities allow students to work part-time on campus, earn an hourly wage and receive a monthly paycheck while attending Carroll. Students may work from approximately five to fourteen hours each week. The number of hours a student may work depends upon the student's financial aid award. International students get awarded an average of $2,000-$2,500 in university employment grants every year.
English Language Requirements
Certify your English proficiency with the Duolingo English Test! The DET is a convenient, fast, and affordable online English test accepted by over 4,000 universities (like this one) around the world.