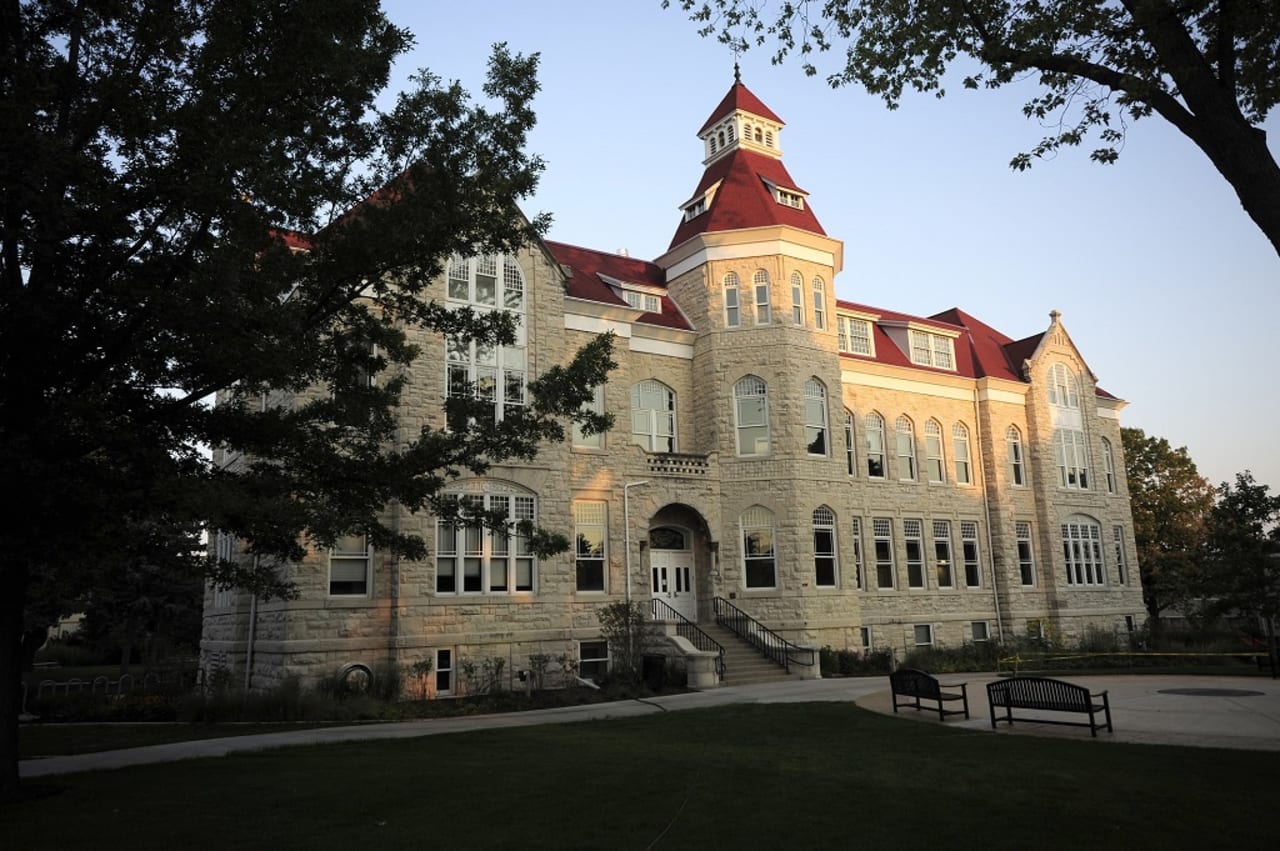 Bachelor in
Bachelor in Business Administration
Carroll University
Key Information
---
Tuition fees
USD 36,400 / per year *
Application deadline
Request info
Earliest start date
Request info
* additional fees may apply / on average our international scholarship covers 45-55% of the cost of attendance for fulltime international undergraduate students
Introduction
A bachelor's degree in business administration takes you where you want to go. Do you want to work for a large, global corporation? Or is your dream to make a difference through non-profit management? Is your goal to become an entrepreneur and build your own company from the ground up? No matter what future you want to create, you'll find that your journey begins here.
We take a pioneering approach to business and take you beyond the basics.
In Carroll University's business administration major, you'll develop the strong skillset you'll need to be competitive in today's business environment. And you'll benefit from faculty who have real-world experience to share, as well as from opportunities to meet and network with successful business leaders from across the country.
We go beyond textbooks to provide you with practical knowledge that sets you apart and prepares you for achievement. What exactly does that include? You'll learn that leadership is more about motivating people than managing them. That the best decisions happen when teams work together toward a common goal. That statistics and strategy play well with creativity and innovation.
You'll also gain a competitive edge by building a foundation in the liberal arts—by taking courses in fields such as English, psychology, foreign language, and more. That adds value to your business degree with the skills employers are looking for—the ability to communicate effectively, think critically and creatively, consider diverse viewpoints, and problem-solve to positive outcomes. And you'll have the opportunity to make a real and positive impact on the community through participation in Carroll's local chapter of Enactus, an international nonprofit organization that believes in investing in students who take entrepreneurial action for others in order to create a better world for us all.
Our business administration major provides a broad background that gives you the flexibility you need to start your career in just about any industry and includes courses in economics, financial accounting, managerial accounting, business law, marketing, management, finance, operations management, and computational thinking.
Program Outcome
Demonstrate Global Awareness
To meet this goal, students will describe similarities and differences among cultures; demonstrate knowledge of and sensitivity to cultural values and issues, and assess how global markets impact business decision-making.
Analyze Critically
To meet this goal, students will demonstrate knowledge of the decision-making process; evaluate the information for credibility and appropriateness; create and use appropriate quantitative analyses to inform decision making, and understand and describe the consequences that result from specific business decisions.
Plan Strategically
To meet this goal, students will formulate an organizational vision, mission, goals, and values; develop a business strategy; and critically evaluate and adjust business strategies.
Communicate Effectively
To meet this goal, students will effectively communicate orally; effectively communicate through writing reports, memos, and papers; and effectively communicate at the interpersonal level by working in teams on varying projects.
Scholarships and Funding
The University participates in three types of financial aid programs for its International students: scholarships, grants, and employment.
Scholarships
Carroll University offers completive scholarships for international undergraduate students. 100 percent of Carroll University students receive scholarship assistance, which helps them find a balance between studies, work, and extra-curricular activities. Scholarships play a key role in maintaining Carroll's accessibility for all students. On average our international scholarship covers 45-55% of the cost of attendance for full-time undergraduate students.
Grants
Grants are awarded based upon a student's demonstrated financial need in addition to the guaranteed International scholarship. Like scholarships, grants are considered gift aid that does not need to be repaid.
Student Employment
University employment opportunities allow students to work part-time on campus, earn an hourly wage and receive a monthly paycheck while attending Carroll. Students may work from approximately five to fourteen hours each week. The number of hours a student may work depends upon the student's financial aid award. International students get awarded an average of $2,000-$2,500 in university employment grants every year.
Career Opportunities
Our majors pursue careers in:
Data analytics
Distribution and supply chain management
Economics analysis and forecasting
Entrepreneurial start-ups
International Business
Operations management
Quality Improvement
Marketing management​
Types of employers for Business Administration graduates:
Multinational corporations
Financial institutions
Government agencies
Hospitality industrie
Nonprofit organizations
Educational institutions
Retail businesses
Small business start-ups
Example job titles of graduates with a bachelor's degree in Business Administration:
Operations associate
Development assistant
Associate consultant
Financial representative
Marketing specialist
Account coordinator
Assistant manager
Sales assistant
Human resources generalist
Our graduates are employed at organizations such as:
CRC, Inc.
Epic Systems
Citigroup
Health Care Services Corporation
Schwaab
Stiefel Laboratories
Door County YMCA
Johnson Outdoors
AT&T
Graybar
Rosen Automotive Group
Frank F. Haack and Assoc., Inc.
Quad/Graphics
United HealthCare
Curriculum
Required Courses (44 credits)
ECO 124 - Principles of Economics I - Microeconomics 4 Hour(s)
ECO 225 - Principles of Economics II - Macroeconomics 4 Hour(s)
ACC 205 - Financial Accounting 4 Hour(s)
ACC 206 - Managerial Accounting 2 Hour(s)
BUS 290 - Principles of Business Law 2 Hour(s)
BUS 301 - Principles of Marketing 4 Hour(s)
BUS 302 - Principles of Management 4 Hour(s)
BUS 304 - Principles of Finance 4 Hour(s)
BUS 305 - Principles of Operations Management 4 Hour(s)
BUS 496 - Business Policies 4 Hour(s)
CMP 112 - Computational Thinking I 4 Hour(s)
CMP 114 - Computational Thinking II - Statistical Analysis Emphasis 4 Hour(s)
Note: CMP 112 and CMP 114 satisfy the Bachelor of Science requirement. Students can also take BUS 114 in place of CMP 114. BUS 114 will satisfy the CMP 114 requirement for the major and CMP 112 and BUS 114 satisfy the Bachelor of Science requirement.
Bachelor of Science Requirements
The requirements for a Bachelor of Science degree are (NOTE: choose either CMP112 and CMP114 OR MAT140 or higher and CSC110 or higher):
CMP 112 - Computational Thinking I 4 Hour(s)
CMP 114 - Computational Thinking II - Statistical Analysis Emphasis 4 Hour(s) or
MAT 140 - Calculus and Its Applications 4 Hour(s) or higher
CSC 110 - Problem-Solving through Programming 4 Hour(s) or higher
ENG 170 - Writing Seminar 4 Hour(s)
Degree requirements cannot be waived.
Note: Each major may have specific course sequencing requirements. For specific requirements, see "Required Support Courses" within each major
Internships
We help you build real-world experience, explore careers, and network with professionals through internship opportunities. Recent placements include the following companies:
SC Johnson
Northwestern Mutual
AT&T
Miller/Coors Brewing Company
Milwaukee Brewers
Milwaukee Bucks
Walt Disney Company
Johnson Controls
Kohl's Department Stores
Merrill Lynch
English Language Requirements
Certify your English proficiency with the Duolingo English Test! The DET is a convenient, fast, and affordable online English test accepted by over 4,000 universities (like this one) around the world.